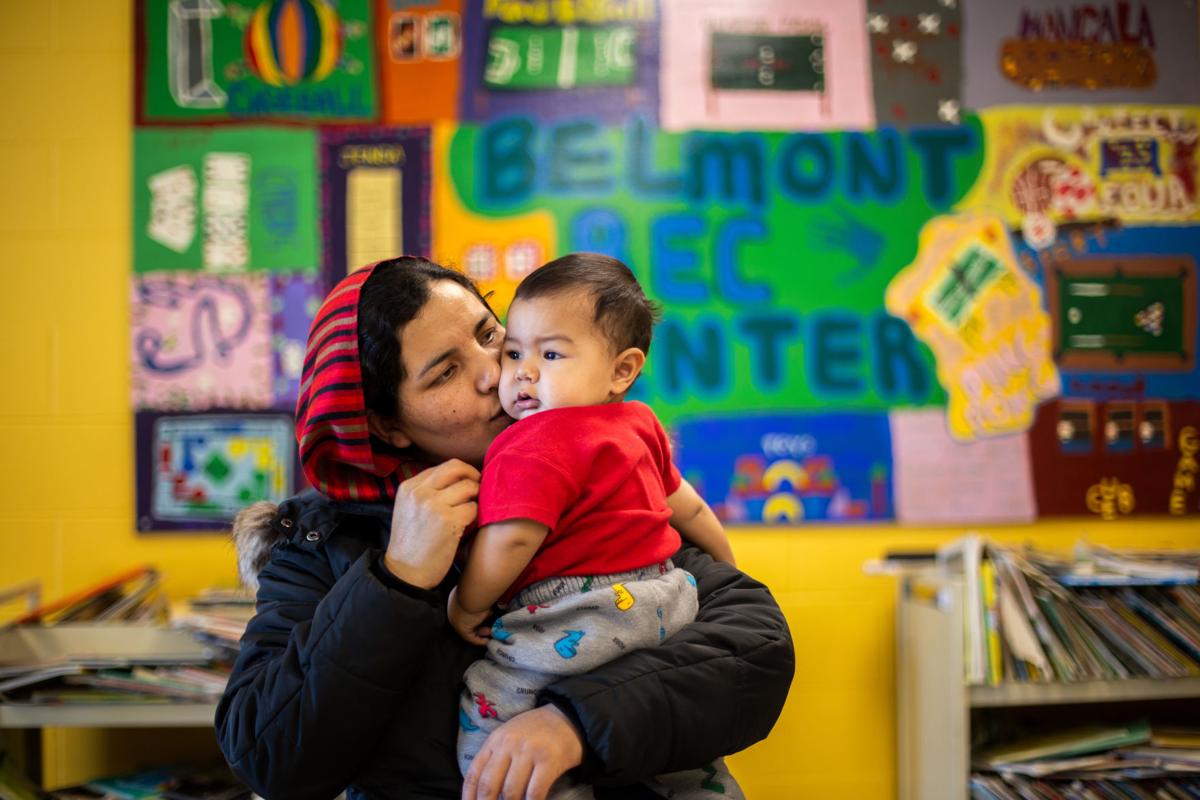 Last fall, before the start of the endless winter, Gabriella Parsons walked around Lincoln.
She wandered the Near South, where she lives, and she strolled around Everett to the west.
She talked to people and she learned their stories and shot their portraits — sitting on front porches and standing in front of their homes.
When winter hit, she headed inside to neighborhood association meetings and community centers to learn more.
"There's a tendency to come in and get the story and leave," said the photojournalist, a 2018 graduate of the University of Nebraska-Lincoln. "I really wanted to be fully present in that process."
The result is Stories of Impact, a deep dive into six city neighborhoods. Part of Collective Impact Lincoln, a coalition of three nonprofits — Nebraska Appleseed, Civic Nebraska and South of Downtown Community Development Organization — to explore and give voice to residents' concerns and ideas.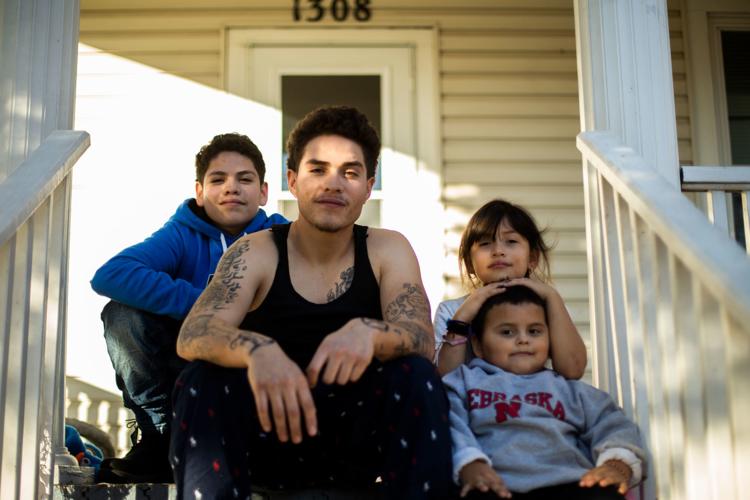 "When this project started, we were getting out, we were knocking on doors, we were connecting with residents but we were having a hard time getting the rest of Lincoln to understand the enthusiasm in these neighborhoods and the sense of community," said Nancy Petitto, Collective Impact's program manager.
They hired Parsons to tap into that richness.
"She just embodies everything we're trying to accomplish with this project," Petitto said.
Beginning in September, Parsons embarked on a monthslong project that unfolded in two parts. The first, a series of photographs; the second, three short films.
Friday night, the public can view the finished works at the Asian Center — snacks and beverages provided, collective members and Parsons on hand to provide more context.
The images — and the words accompanying them — are compelling on their own. A young dad and his son. An interracial couple, arms entwined. Migrant moms gazing out a window. A Hartley business owner in front of his Egyptian grocery.
Some of the pieces are street photography, Parsons said. Humans of New York style.
The project was "a little nerve-wracking at first," said the 23-year-old who grew up in northwest Lincoln and now lives south of the Capitol.
She felt the anxiety of walking up to strangers, asking questions.
But people were kind. Like the couple playing dominoes out front of their apartment complex who invited her to join them.
You have free articles remaining.
And the curious photographer did more than focus her camera and shoot. She asked: What did they think of their neighborhoods? How did they end up there? What did they love about where they lived? What didn't they?
The three films — three to five minutes apiece — shine a light on a person, a community center and a business.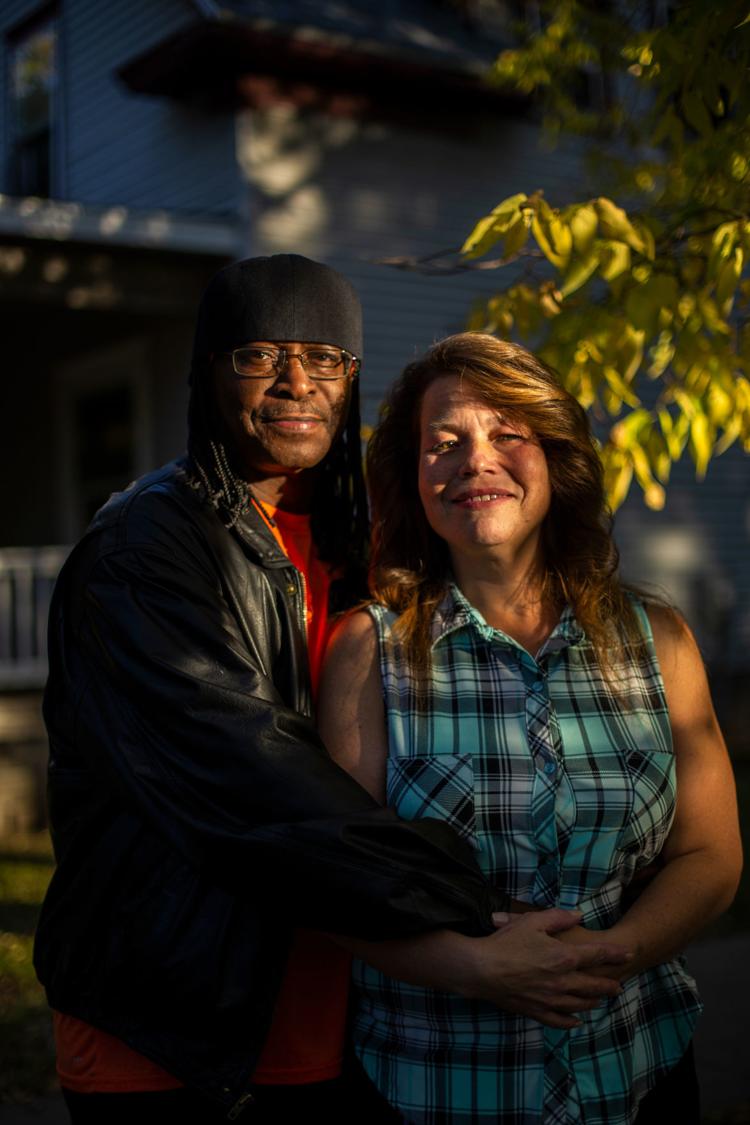 There's Florine Joseph in her Clinton neighborhood living room. "I'm known as the neighborhood watch," the longtime resident says. "And that's OK with me ..."
And Linda London in University Place at her stringed instrument-repair shop, talking about the community she finds in her customers.
And the Belmont Community Learning Center, where Parsons immersed herself in a classroom of English language learners.
"I knew right away I was coming in as an outsider and someone who required trust to better understand this community," Parsons said
So she sat in on the literacy classes at the Belmont Rec Center, leaving her camera behind. She built a relationship with Sakeena Nazari, a young mother from Afghanistan, who shared her story in words from a new language.
She shot portraits, too. Sakeena and her baby boy. Fellow students whose children attend Belmont Elementary School next door.
"Our family literacy group was just the perfect fit for Gabi," said Laura Virgl, the learning center's school community coordinator. "It was such a great opportunity for our families."
And it was a way to showcase Belmont, its richness and diversity. To change perceptions.
Virgl appears on camera, too: "In Belmont we get things done," she says. "We are a community of doers ... and it's really good to know you have that kind of support."
Parsons returned to Belmont on Wednesday morning.
She brought her camera, but this time she came to have her portrait taken.
She posed with Nazari — a 27-year-old who dreamed of being a nurse back home — on her way to her morning literacy class.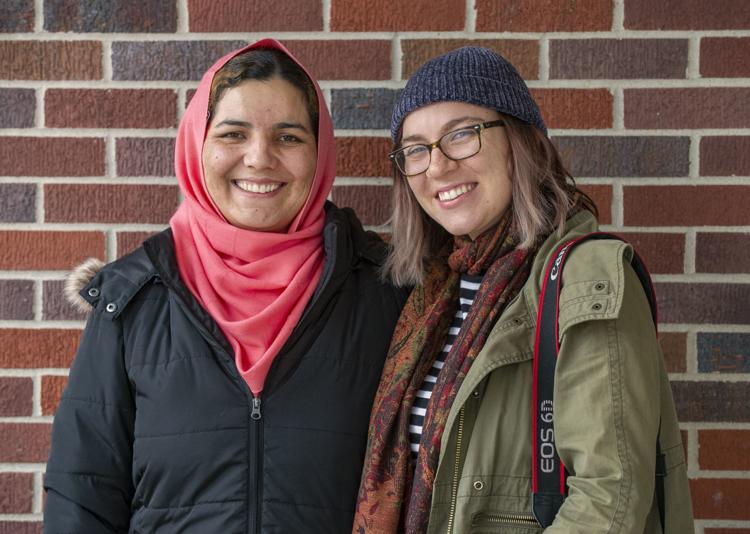 Two young women laughed, arms around each other's shoulders, a shy acquaintance that has evolved into friendship.
She's learned so much from the past six months, Parsons said.
"The project deepened the values I have about how storytelling can empower communities and build this sense of pride, especially with an underrepresented community."
It brought home the positive power of technology to bring people together, if used intentionally, she said.
"We don't know our neighbors anymore, but I realized how simple it is to walk around and say 'Hi,' and what it can do to shift someone's mood and build a connection."