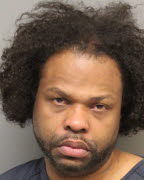 State troopers arrested a 44-year-old man after a pursuit early Sunday morning in Lincoln, according to a press release from the Nebraska State Patrol.
Damian Smith, of Lincoln, was arrested on suspicion of felony flight to avoid arrest, willful reckless driving, driving with a revoked license and an outstanding felony warrant after Smith fled authorities twice.
Shortly after midnight, a Lincoln police officer attempted to stop a 1993 Honda Civic that had been reported stolen from the area of 27th and O streets Saturday afternoon, according to Lincoln police Capt. Danny Reitan.
You have free articles remaining.
Smith fled and a short pursuit ensued, but the chase was ended because of safety concerns, Reitan said.  
Then about 1:30 a.m. near 27th Street and Cornhusker Highway, a trooper with the Nebraska State Patrol spotted Smith's car and tried to pull him over, according to the release. Smith fled again started traveling in the opposite lane against oncoming traffic. The pursuit was ended and a Nebraska State Patrol helicopter was called in to follow the car.
The helicopter followed Smith to the area of Rosa Parks Way and Folsom Street, where troopers on the ground re-initiated a pursuit. The car then spun out near South Folsom and West B streets and began driving through a backyard and into an alley, where a trooper was able to crash into the car and bring it to a stop. 
Troopers were then able to arrest Smith, who was treated and released from Bryan West Campus for a minor leg injury and booked in the Lancaster County Jail.
Lincoln police and the Lancaster County Sheriff's Office also assisted in the incident.