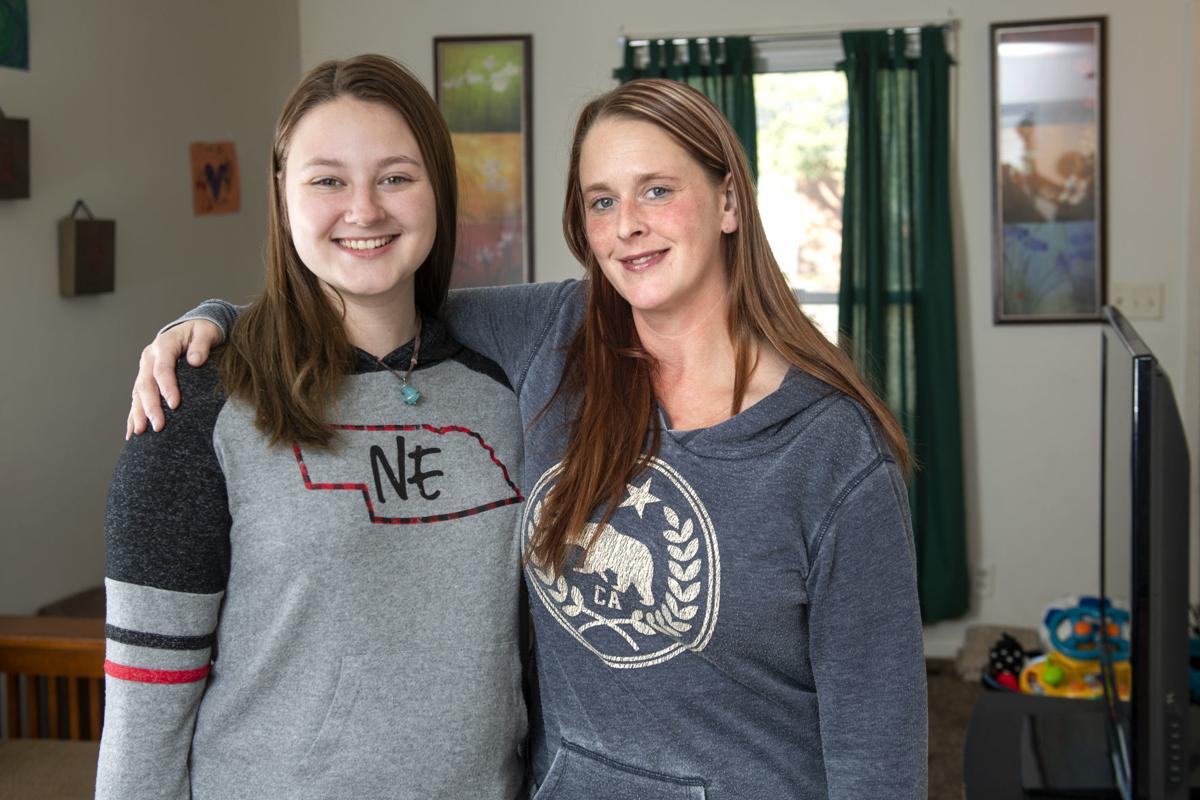 The renter was desperate, living at the mission, keeping clean, but cut off from her kids.
The landlord was wary. He'd been burned before by questionable clients when the service providers that placed them failed to help keep the tenants on track.
But the staff at Matt Talbot Kitchen and Outreach had launched a mission to end homelessness. And three years ago this month, they announced their plan: Find and pay for homes for those who need them most, and then provide the help they need.
The desperate renter was one of the first to move in. It was just a two-bedroom apartment, but it was everything to Stephanie Sherrill.
"I was so grateful," said the 37-year-old mother of six. "Oh, my god. I was kind of in shock. I was like, 'OK, we can make this work.'"
Housing first, help next
She kept it hidden at the time, but Susanne Blue felt a little fear when Matt Talbot announced its First Hope initiative.
The program embraced the housing-first philosophy, taking a no-questions-asked approach to finding beds for the most chronically homeless before addressing the underlying reasons — often mental illness and addiction — they were living on the streets.
First Hope flipped the traditional model, Matt Talbot's executive director said. Past programs required clients to address their problems — get sober, get a job, get mental health treatment — before getting housing.
But those requirements were even more challenging for someone without a stable home, she said at the time. "How can you work on your recovery without having a place to rest your head at night?"
Matt Talbot wasn't breaking new ground. CenterPointe had been offering similar housing help for years, and Region V Services was also getting into supportive housing programs.
But this was new work for the old soup kitchen. Specifically, Matt Talbot would use a $200,000 federal housing grant to find and fill 18 one- and two-bedroom apartments, pledging to pay the rent indefinitely.
"It was theory," Blue said recently. "Honestly, we had this bold hope thing, but in the back of my mind, I was very cautious."
Would they find landlords willing to take on tenants with the worst rental histories? Would their clients respect their new homes if they weren't invested in them? Would they accept the follow-up help Matt Talbot was offering?
"It was kind of a big leap of faith," she said. "I thought, honestly, when we started this whole thing, we wouldn't have as much success as we're having."
They found homes for 15 individuals and three families at first. Then a private donor opened his wallet, pledging to pay rent for five more households.
Three years later, Matt Talbot is supporting 22 households — 17 individuals and five families.
Overall, the program has served 39 households since it started. Some used that first apartment as a ladder toward self-sufficiency, moving up and on to pay for their own housing.
Others returned to the streets, because they couldn't adapt to their own four walls, or they missed the lifestyle.
"That's not the ideal situation," Blue said. "But that's a fact."
Still, she's proud of the success so far. Of the 14 individuals and three families that moved out of their housing and out of the program, 71% have not returned to homelessness.
And she hopes to grow the initiative. Matt Talbot recently applied for $140,000 in additional annual federal funding that would add 10 more apartments.
'But I felt very homeless'
Behind the numbers, there are stories. Grateful clients and broken windows. Patient landlords and alienated neighbors.
Matt Talbot points to Stephanie Sherrill as a success.
Three years ago, the 37-year-old mother of six was stuck in a cycle. Her ex-boyfriend would find her and hurt her, she said, and she'd cope by getting high and getting drunk. She'd lost her job, her home and her kids and ended up at the People's City Mission, pregnant.
She was clean by then, but powerless. "I was looking for work, but nobody was going to hire someone who was that far along pregnant."
Without work, she couldn't afford her own place. Without her own place, she couldn't reunite with her children.
A Matt Talbot caseworker approached her about the First Hope program, and she was holding the keys to her own apartment a few months later.
"They helped me move in the little stuff I had, they helped me get furniture," she said. "It was amazing; they made it seem so easy."
Now she has her kids back, a job as a mental health peer support specialist — and a goal of owning her own home.
The nonprofit also found a place for Casey, a 33-year-old mother of four who doesn't want her last name used, because she doesn't want her story to embarrass her older children.
She was homeless for a year, sometimes sleeping in her car, sometimes staying with friends. Meth and pills were her priorities.
"Every dime I had, I'd spend on drugs. I wasn't being responsible paying for rent and everything that I should have been doing."
She sobered up and moved in with a friend, but was still hitting roadblocks — service providers telling her, no, she wasn't homeless because she wasn't on the streets or at the mission.
"But I felt very homeless. In order to get your kids back, you have to have some place to take them, you know."
Her therapist told her about Matt Talbot's program. She met with a caseworker and moved into a three-bedroom rental. Her caseworker continues to provide food, emotional support and help meeting her goals.
Once in her own home, Casey found work and was reunited with her two youngest kids.  She's hoping her older two, still living with a relative, will join them.
"There's a lot of trauma we've had to work through, but our relationship is way better now. That's still my goal — to get them to come home, too."
Matt Talbot doesn't hand-pick its renters, Blue said. They must meet the federal definition of chronic homelessness, and be deemed priority cases by the city's All Doors Lead Home Review Team, a group of providers that meets weekly to identify those with the most needs.
But sometimes those with the most needs also pose the biggest risks.
For landlords, risk, reward
William Jeffery is a landlord, not a social worker.
The Cornhusker Property founder owns his own apartments, manages others and has tried in the past to offer housing to those who otherwise wouldn't qualify.
But it didn't always go well. Other service providers — he didn't say who — would place high-risk tenants but not provide the continued outreach they needed.
"I felt there probably wasn't enough contact and case management on their end," he said. "They tend to need assistance staying on track."
He'd scaled back on his work with nonprofits when Matt Talbot approached. Now he dedicates 10 to 12 units to housing first tenants.
He liked the program's built-in outreach — that caseworkers return week after week to work with tenants and conduct in-home visits — and that its Landlord Liaison program gives him a clear contact if there are problems.
And there have been problems.
Like the chronically homeless man who moved into one of Jeffery's apartments. The first couple of months were trouble-free, but then neighbors complained about all the coming and going.
"He was having some of his other homeless friends start staying with him and it created all kinds of problems in a one-bedroom apartment."
He and the caseworker tried to work with the renter, instead of moving immediately to evict. After six weeks, though, it wasn't getting better, and he gave the man notice.
The man left a trashed apartment, but Matt Talbot staffers and volunteers cleaned and repainted it, he said.
Not all crises are the renter's fault. He had another tenant whose ex-boyfriend would show up and break windows and doors.
Matt Talbot's contingency fund — set aside to pay for those kinds of damages — covered the repairs and replacements. It's also paid for new locks and eviction-related costs and, occasionally, utility bills, Blue said.
But the program is spending less than budgeted. It's finding fewer problems than anticipated, and, in some cases, landlords have rejected its offers to pay for damages.
She appreciates that, and the 35 property owners the program has formed relationships with, who are willing to take the risk.
The First Hope program wouldn't work without homes for the homeless.
"They see this as not just an income-generating project for them. They're invested in this program and the project, too. They want to see success; they're willing to give the second, third and fourth chances to people."