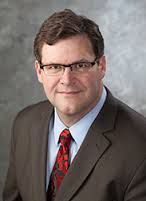 Kirk Johnson knows what's buried in Nebraska: a treasure trove of fossils dating back 35 million years.
"Ninety of the state's 93 counties have supplied fossils to the world ...," Johnson, sant director of the Smithsonian National Museum of Natural History, told an audience in Lincoln on Wednesday. "You have a world resource here -- not just a Nebraska resource."
Johnson, who spent 22 years with the Denver Museum of Nature and Science, sang the praises of Nebraska's museums and paleontological collections, beginning with the University of Nebraska State Museum at Morrill Hall.
"It has the best collection of mammal fossils in the world," he told the 150 or so people at the Nebraska Union on the University of Nebraska-Lincoln City Campus.
Johnson credited Erwin Barbour, the museum's director for 50 years, with amassing the vast collection that includes giant skeletons of mammoths and mastodons. The collection is so big the museum's nickname is Elephant Hall.
"I love fossils," he said. "I love museums, and you have an amazing fossil-filled museum in this town."
He also touted Agate Fossil Beds National Monument near Harrison in the Panhandle and Ashfall Fossil Beds State Historical Park near Royal in northeast Nebraska, as must-see fossil sites.
Nebraska was covered by a shallow, salty sea about 70 million years ago, a key reason paleontologists find so many fossils here, including crazy-looking sharks, killer pigs, giant camels and shovel-nosed elephants, to name a few.
Evidence of the vast inland sea can be found in fossils buried in chalklike cliffs around the state and in outcroppings of the Dakota Sandstone geological formation near Lincoln.
"No matter where you go, there will be fossils there," said Johnson, who wrote "Cruisin' the Fossil Freeway: An Epoch Tale of a Scientist and an Artist on the Ultimate 5,000-mile Paleo Road Trip."
He recently helped move a nearly complete Tyrannosaurus rex skeleton from the Museum of the Rockies in Montana to the Smithsonian.
The best fossils are still in the ground, Johnson said, and they will be found by people who are not paleontologists -- farmers, road builders and others who excavate the soil.
"Chances are, if you're digging in the dirt in Nebraska, you'll find fossils," he said. "And if you find a fossil, call a museum."
Get local news delivered to your inbox!
Subscribe to our Daily Headlines newsletter.