Revenge, it's been said, is best served cold. The same is true with the Reuben sandwich, says Sandy Cox.
"That's the way it was meant to be served — cold," said Cox, who arrives at that opinion on pretty good authority.
Her father, she insists, is also the father of the Reuben. 
So much has been written on when and where the sandwich came to be. New York has laid claim to the Reuben as the brainchild of a deli owner, while Omaha claims to have pinpointed the sandwich's origins to the Blackstone Hotel, along with the tale that a late-night poker game led to some hunger pangs and a call to the kitchen for the chef to rustle up some provisions.
It was then and there that the chef, or so we're told, created the first Reuben.
Not true, says Cox and her sister, Sally Guenzel.
The first Reuben, they insist, was created in Lincoln more than a decade before America entered World War II — at the Cornhusker Hotel — by their father, a man named Reinhold Rebensdorf.
"He never wanted any notoriety for it, but that's the story," Guenzel says.
Rebensdorf, a first-generation American, was born in Harbine, a tiny village southwest of Beatrice. His German parents, George and Marie, escaped Russia in 1906 and migrated to Nebraska after George was promised a job building railroad boxcars.
George died in a train accident in 1913, when Rebensdorf was 11 months old. His mother remarried and relocated to Lincoln's South Bottoms, where he became part of a blended family that included more than a dozen children.
At the age of 8, in order to help the family make ends meet, he was put on a bus to Paxton, where he worked in the sugar beet fields.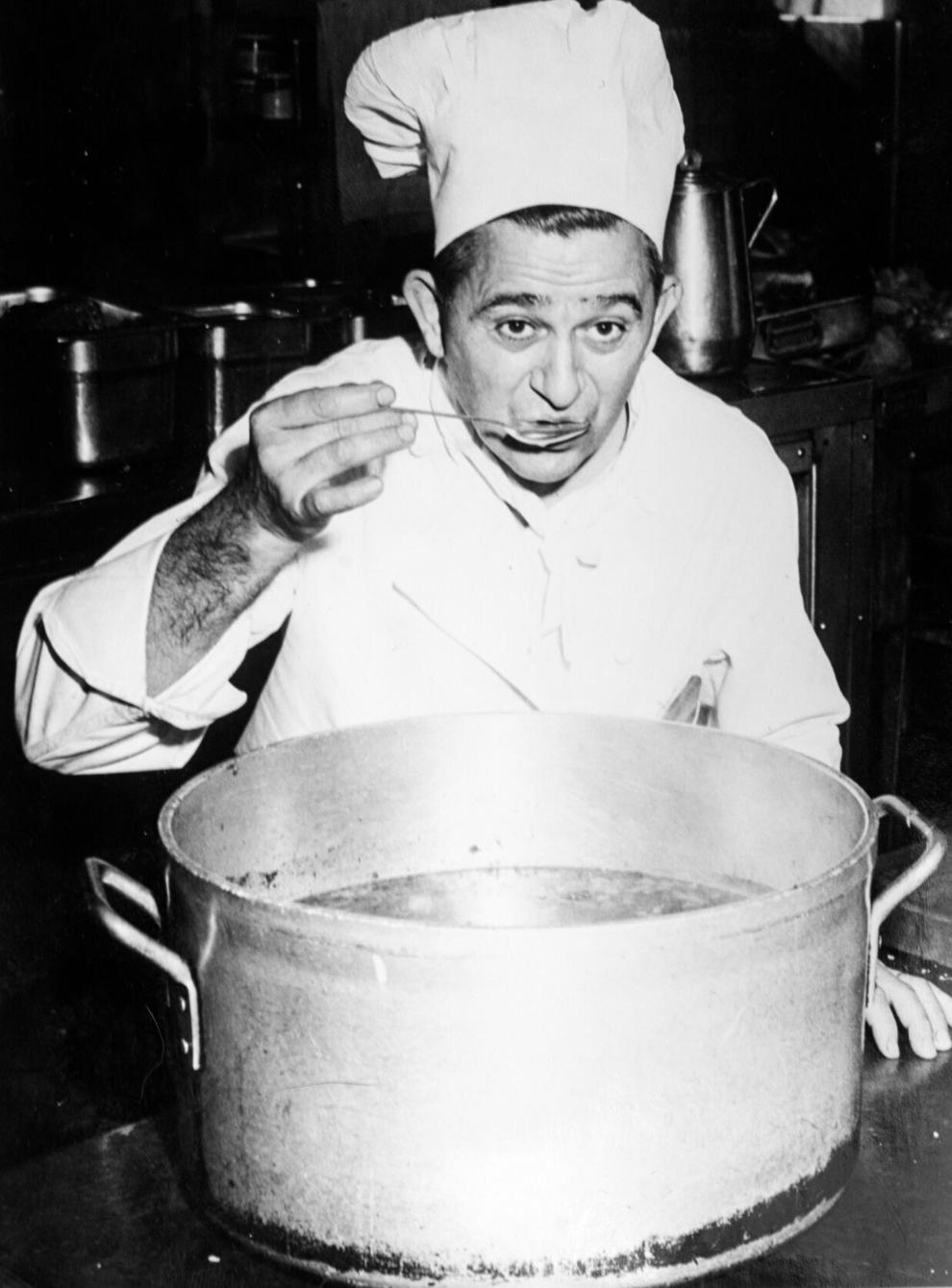 He'd come home and go back to school in the winters, but he never went further than the eighth grade.
"He wasn't a stupid person," Guenzel said. "He just wasn't able to go to school."
In 1930, the 18-year-old was hired as a sandwich boy at the Cornhusker. Over the years, he would be promoted to sous chef and, after returning from serving in the U.S. Navy during World War II, was hired as the Cornhusker's executive chef in 1946 — a job he held until 1970.
"He did well for where he started in life," Cox said.
In his tenure as executive chef, he did everything. He designed the menus, ran the kitchens, did the ordering and even sculpted the ice carvings, a skill he had acquired over the years.
He also appeared on "The Tonight Show," starring Jack Paar, and cooked for many famous people, including eventual President Richard Nixon in 1956.
He left the Cornhusker to open the Nebraska Club and ran it until 1980, when he retired at the age of 69. Retirement was a relative term, though. His idle days were filled with catering jobs for various friends and community organizations like the Shriners and the Lincoln Community Playhouse — "really, he'd cook for anyone he knew," Cox said.
Rebensdorf, who died in April 1994 just days short of his 82nd birthday, loved Lincoln and his job. More than anything, he adored creating great food and seeing the impact it had on the people who ate it.
"He loved to cook and watch people eat his food," Cox said.
Rebensdorf, who went by the nickname "Reine," made a to-die-for black-bottom pie, as well as a corned beef hash that was renowned. He also won awards for his turkey galantine.
Still, it was the sandwich he created years before — long before the war — while still working as a sandwich boy that could be considered his legacy.
Rebensdorf proved to be quite adept at the job — so competent that he was approached early on by AQ Schimmel, the oldest of four brothers who owned and operated a string of Midwest hotels that included both the Cornhusker and the Blackstone.
"He told me AQ Schimmel came to him and asked him to develop a sandwich for a new restaurant at the Blackstone Hotel," Guenzel said.
America, in the throes of the Great Depression, was a different place in the 1930s. Jobs were scarce and those lucky enough to have one did everything necessary to keep it.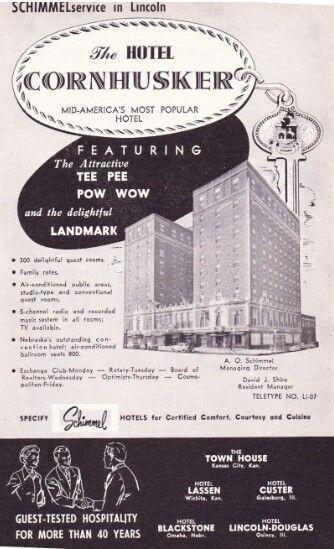 "He was a first-generation American," Cox said. "He was grateful to have a job. I don't think he would have done anything to lose a job that he loved to do."
In addition, the Schimmel family treated its hotels as though they were all a part of the same team. What one did for the Cornhusker benefited all of the hotels, including the Blackstone.
And like with most companies today, when you pay someone to do a job, the intellectual property belongs not to the inventor, but to the company.
And Rebensdorf was fine with that.
"He developed it (the Reuben) and they gave him credit for it," Cox said.
That was more than enough for Rebensdorf, a man who had escaped working the beet fields and had found his true life calling.
"He didn't boast about it," Guenzel said. "He didn't boast about anything."
The great Reuben debate gets contentious when food historians begin going back in time to check who made it first.
It was considered an indisputable fact here in Nebraska that the first Reuben was served sometime in the late 1920s at the Blackstone in Omaha.
The tale goes that a group of men gathered at the hotel to play poker when one of them, a fella named Reuben Kulakofsky, grew hungry in the midst of the game and called down to the kitchen for a snack.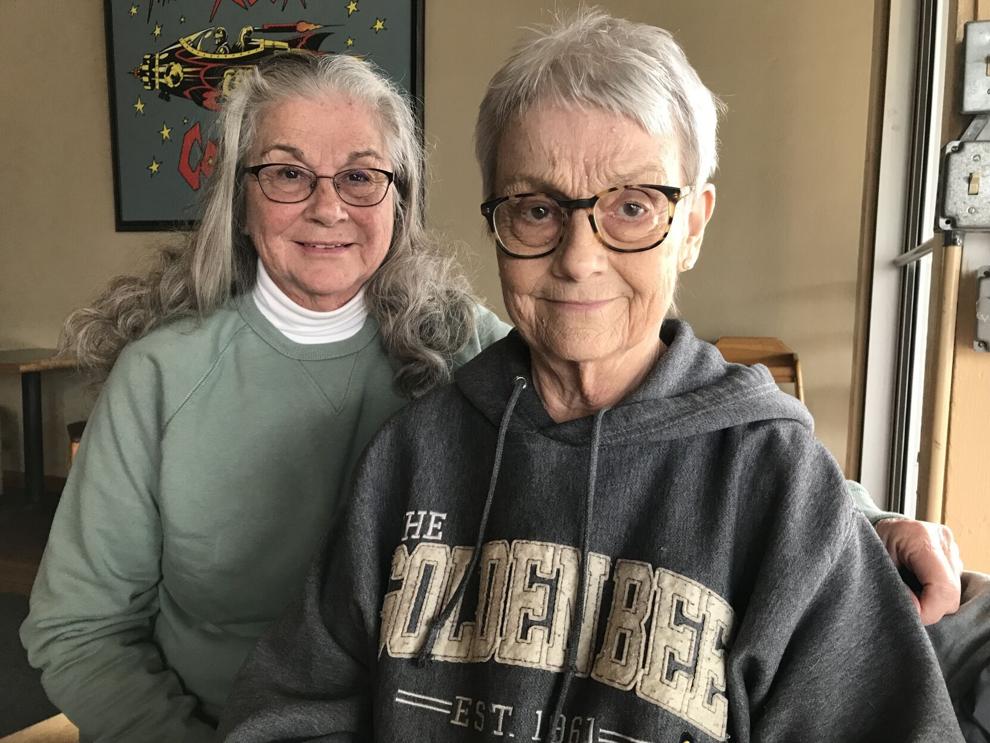 The chef created a sandwich of corned beef, Swiss cheese, sauerkraut and Russian dressing, pressed hot on rye bread.
That is, until the food historians in New York tried to flex their muscles. One such authority, Andrew Smith, an author of 24 books, disputed the Blackstone theory with a letter to the editor of the New York Times a few years after Elizabeth Weil, a great-granddaughter in the Schimmel family, wrote in 2016 about the poker game at the Blackstone and the sandwich it inspired.
Smith claims that the sandwich was first made in 1914 — a decade before — by Arnold Reuben at his sandwich shop in New York City, and he and Weil fought for years trying to prove the other wrong.
Rebensdorf's daughters claim both of them are wrong, that the sandwich was actually made first — in Lincoln by their father — in the early 1930s.
"It's what we have always known," said Cox, who has framed old menus from the Cornhusker and has given them to her children to keep alive their grandfather's memory.
It wasn't considered a secret that the first Reuben was made in Lincoln, but it wasn't something that anyone — the Cornhusker management, its kitchen staff or Rebensdorf himself — screamed from the mountaintops, either.
A victory for the Blackstone was a victory for everyone in the organization, the Schimmels believed.
"I've always believed it because he told me," said Bob Guenzel, who began dating Sally when the two met in the 1960s while attending Lincoln High School and married soon after they finished school. "This is not something Reine would have made up. That would not have been in his character at all."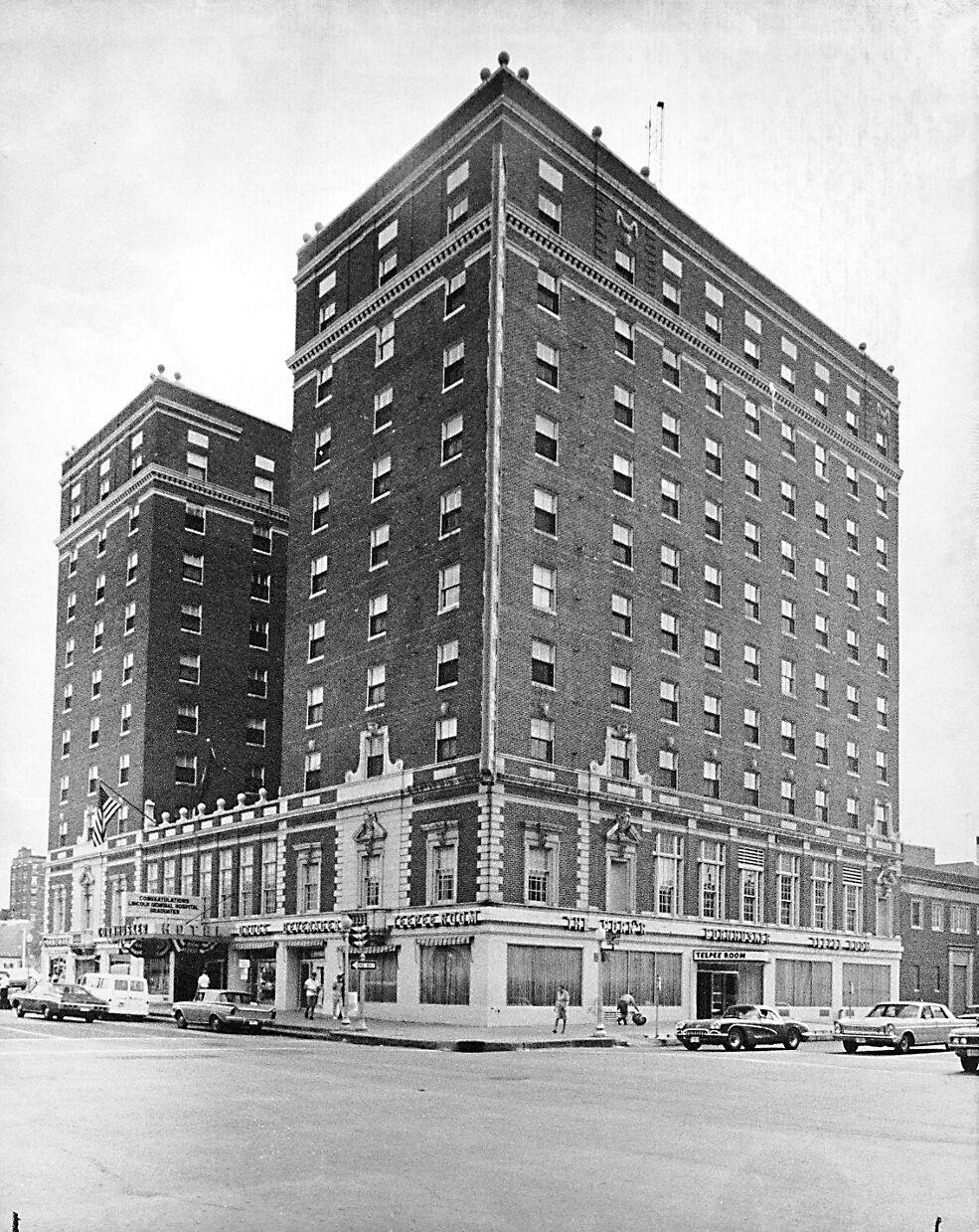 To this day, longtime employees at the Cornhusker lay claim to the sandwich. Janis Davis, the hotel's director of food and beverages for the last 10 years, has heard the stories.
And she always passed them off as folly — nothing more than "Cornhusker lore," as she calls it.
"There is a lot of it," she says. "The people who have been here for years talk about things like that. I've heard all of the rumors over the years."
It was only recently that she began to believe. Her change of heart came with the revelation that the Cornhusker was known for its corned beef — and a delectable corned beef hash — at the time Rebensdorf was approached by Schimmel.
That, she said, provided Lincoln's argument some plausibility that was never there before.
"That gives it an extra layer of context, otherwise it doesn't makes sense that they first served it in Lincoln," she said.
With people coming from all over to sample the corned beef, the Schimmels needed a way to sell what wasn't made into hash. Remember, the country was in economic straits. Wasting food would have been an unthinkable sin.
"They were trying to figure out a way to use all of their corned beef," said Doug Evans, a senior partner at Research Associates who has known since boyhood that the Reuben originated in Lincoln.
He didn't know the names or any of the details, but like many lifelong Lincoln residents, he had heard the stories.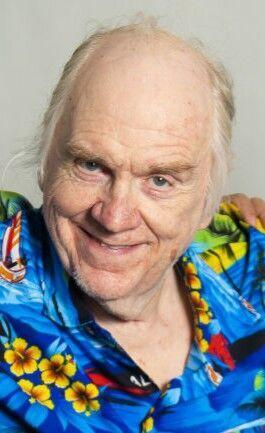 While in junior high school, he remembered his parents taking him to dinner at the Teepee Room, the sandwich shop inside the Cornhusker, following a show at Pershing Auditorium.
Milton Evans, his father and the dean of students at Nebraska Wesleyan University, ordered a Reuben, something his teenage son detested at the time.
"I hated Reubens, just hated them because I didn't like the sauerkraut," Doug Evans said. "I wasn't a fan, but my dad was and he would eat them and we started talking about the sandwich that night."
It was then that Leola Evans, his mother, who was born and raised in Lincoln, told them "the first Reuben sandwich was served, not sold, at the Teepee Room in the Cornhusker," Doug Evans said.
It was considered common knowledge among the long-timers and it prompted Brendan Evans, Leola's grandson and Doug's son, to revive the conversation with a story in the Lincoln Journal Star last month after he and a group of his cohorts were completing a yearlong search for Lincoln's best Reuben.
"I'm saying it was invented in Lincoln," said Brendan Evans, the executive director of Leadership Lincoln who believes that after the sandwich was created and tested favorably here, it was shipped off to the Blackstone and its new restaurant.
So how did this fly below the radar for so long? Why is it that Lincoln stayed mum while New York and Omaha were fighting over the birthright to a sandwich that has gained worldwide notoriety and is featured on the menus of virtually every restaurant in America?
That's just Lincoln, Doug Evans says.
"To the people in Lincoln, it's just not as important to them as it is to the people of Omaha or New York," he said. "Sauerkraut and (Russian) dressing? Big whoop.
"We're not pretentious here. Omaha is different. It's much more pretentious. I think that's why the Schimmels, who had hotels all over the Midwest, chose to live here. This was their home base."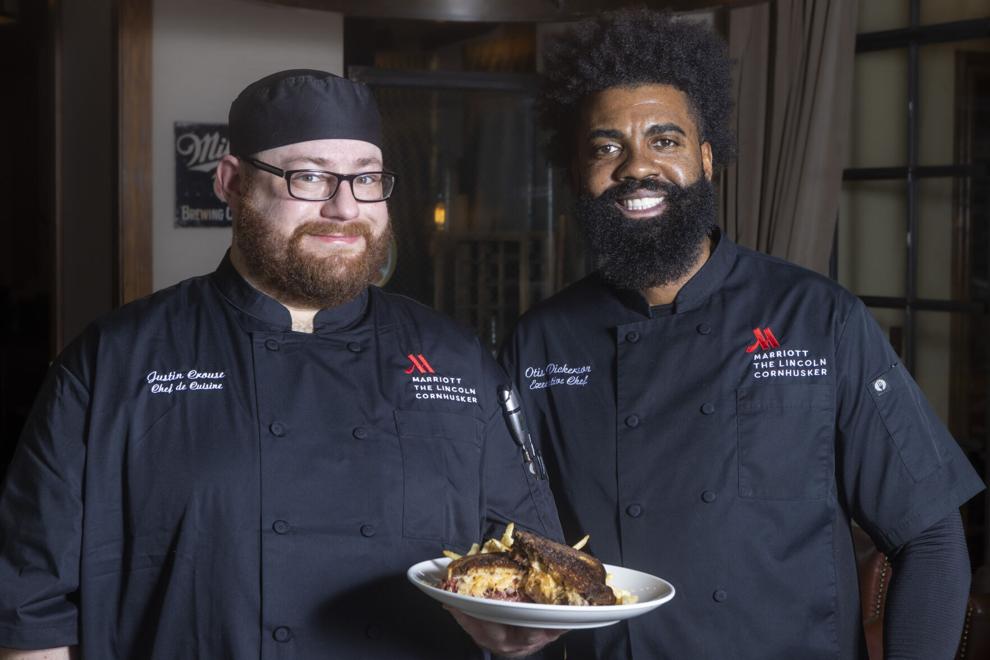 Nearly 29 years after his death, Rebensdorf's daughters are ready for their father to get recognized for his contribution to the culinary world.
"When the story came out (last month), we got lots of phone calls," Guenzel said. "They told me we need to let them know. Everyone in our family knows that daddy invented the Reuben.
"We want to continue his legend."
Perhaps the only debate you'll get in the Capital City is how it should be served: cold or grilled.
Sally Guenzel has adapted. She's tried the grilled version and can appreciate the goodness in the way the Swiss cheese melts into the other ingredients, causing the corned beef and sauerkraut to meld together, while also providing the much-appreciated crunch to the rye bread.
"I like them grilled, but they were meant to be served cold," she said.
Cox takes a by-the-book method when making Reubens. Like her father, she takes the time to squeeze all of the liquid out of the sauerkraut and then marinates it in the dressing overnight. She'd never consider using a skillet or panini press in the preparation.
"He meant it to be served cold," she says, noting that she last made six loaves' worth of Reubens on Christmas Day. "So that's how I serve them."