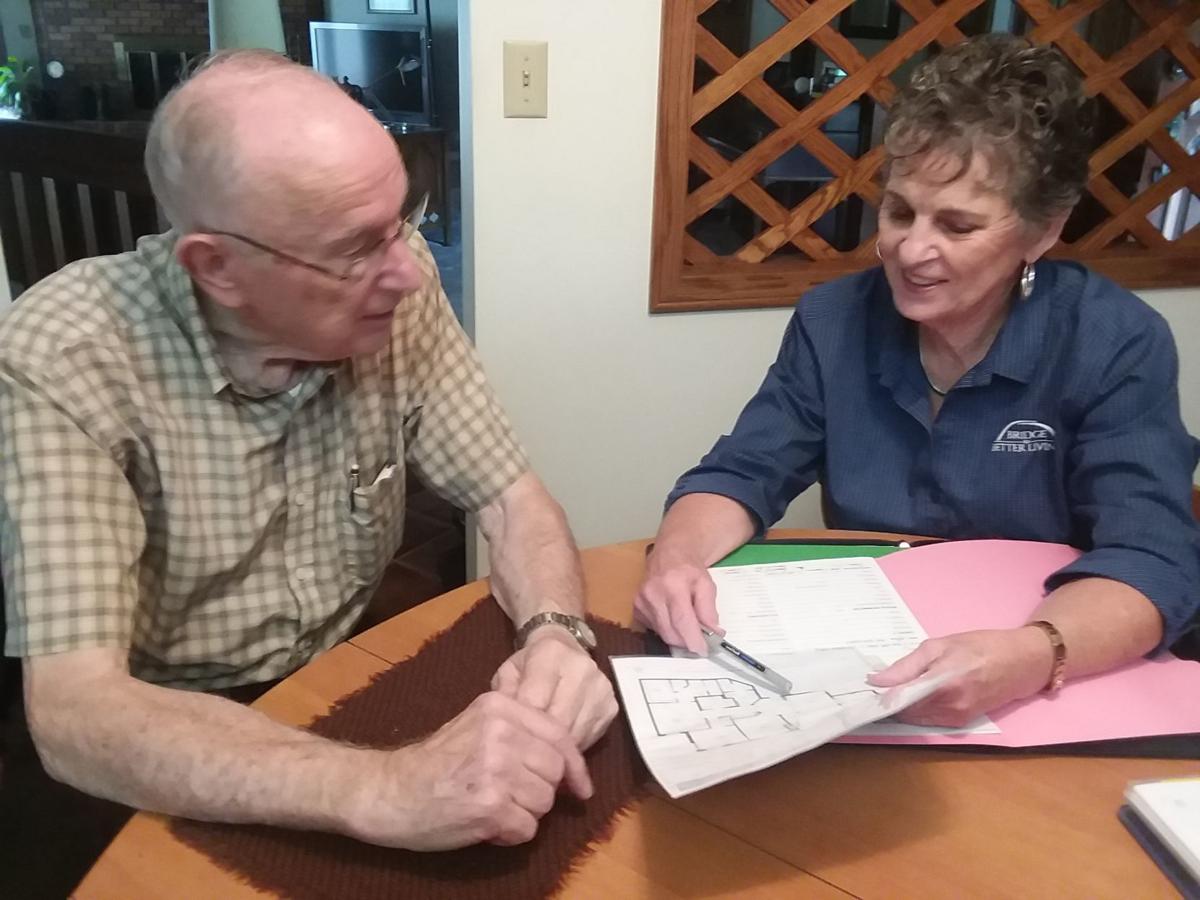 On Jan. 16, 2010, just one day after officially retiring from Lincoln Public Schools, Mary Ann Stallings was promoting a new business venture.
Sharing a booth with professional photographer and daughter Jamy Sullivan at the Lancaster County Event Center Women's Expo, Stallings began spreading the word about Bridge to Better Living. The company offers senior transition consultant services, connecting clients to a senior living community where their social, physical, medical and financial needs will best be met.
"It was so needed at that time," said Robbie Nathan, who was working for Care Consultants for the Aging when she happened across Stallings' expo booth nine years ago. Bridge to Better Living was the first to offer services like it in the Lincoln or Omaha area, Stallings said.
She received great advice from Nathan, who was well connected to the senior services community.
"She told me what organizations to join, people to call," Stallings said.
Now Nathan is a vital part of the Bridge to Better Living team of five, which serves clients in the Lincoln, Omaha and surrounding areas at no cost. Instead, admitting communities pay Bridge to Better Living a fee when a client moves in.
Also on staff is Mary Ann's daughter, Margaret Burnham, a registered nurse.
"It's great because she brings that medical background," Stallings said.
Stallings' team orchestrates Placement with Passion. That passion comes from Stallings' own past experiences seeking out just the right senior living communities for multiple family members and a close friend. Stallings found it a confusing process and realized that others were facing the same dilemma. So she dedicated her second career to alleviating frustration and simplifying the search process.
As a middle school teacher, Stallings teamed up with children and their families to problem solve and find solutions.
"I do the same thing here, trying to find the best quality of life for seniors," she said.
After going over the client's needs during an initial consultation, a consultant sets up and accompanies them on tours of senior communities that best match their criteria. Once the touring process is complete, clients can request a spreadsheet comparing costs, services and amenities for the communities they are interested in.
"Basically it's caring," Stallings said. "As a teacher you care about your students and their families, and here we care about the clients and their families."
Over the years, Bridge to Better Living has grown substantially. Stallings moved the business out of her home about seven years ago and has been leasing space in the Southeast Community College Entrepreneurship Center ever since. Starting in October, Bridge to Better Living will move to a suite at 4230 Pioneer Woods Drive, where it can continue to grow.
You have free articles remaining.
The business has been a good fit for the Entrepreneurship Center, said director Steve Bors. Stallings has been very willing to share advice with her fellow entrepreneurs.
"She's been very supportive," he said. "She attends (weekly Perk-up meetings) when she can and has been a speaker in the past. Mary Ann is an incredibly driven person. Just hearing what she does in a week makes me tired."
In February Stallings' business was approved to sell franchises, a first in the 12-year history of the Entrepreneurship Center, Bors said.
Baby Boomers like Stallings, 71, have a lot of valuable life experience to share in the business world, he said. The way she has run her business with integrity and care stands out, too, he said.
Many clients, like Linda Duren, are repeat customers. Stallings helped Duren find an independent living community for her parents six years ago when they moved to Lincoln from a small rural community.
"We spoke intensively about what our needs were," Duren said.
She added that it was helpful to have someone like Stallings along who she trusted to know the ins and outs of each community.
"I didn't have to start from scratch," she said.
Stallings helped her find skilled care for her dad after he was hospitalized, too.
Recent client Robin Szwanek, a Medicare insurance counselor, used Bridge to Better Living's services last fall to search out a placement for a friend. She knew Stallings from a book club. Although the friend decided to stay in her rural community, Szwanek said the process provided a positive introduction to Bridge to Better Living's services.
"You just pick up the phone and they do it all," she said. When touring communities with Stallings' daughter, Szwanek noticed that there was a relationship of respect between Bridge to Better Living staff and the community representative giving the tour.
Stallings does fewer of those tours herself now, as most of her time is spent with administrative duties — "I'm not out in the field like I used to be."
But her second career has truly been rewarding, she said.
"The relationships we've built, it's been phenomenal."
And while some people can't wait to retire, Stallings said she is not looking forward to it.
"I couldn't have asked for a better closure to my career."