Most came for the nostalgia.
A small group of Lincolnites set up folding chairs in the parking lot of The Shoppes at Piedmont a few Saturdays ago to watch "Terms of Endearment" projected on a blow-up screen, the same spot where some scenes of the movie were filmed.
Moviegoer Sue Gable remembers sitting in her car with her friends watching the Academy Award-winning film being shot over 35 years ago.
"I had a '74 Nova, sat there and watched Debra Winger come out of the grocery store. It was pretty cool," she said.
The sounds of popcorn crunching and soft drinks opening, combined with the movie's soundtrack and dialogue, filled the June night during the shopping center's first movie in the Sunset Cinema series.
"Terms of Endearment" was the perfect choice to kick off the weekly summer events because of Piedmont's place in the film, shopping center owner Steve Glenn said.
The Piedmont shopping center has been an enduring landmark in Lincoln. When it was built in 1956, it was one of the first shopping centers in Nebraska, and "kind of groundbreaking at the time," Glenn said.
Back then it was on the edge of town, famous for K's Restaurant and Scott's Pancake House. It also had a paint store and a Safeway that was one of the first supermarkets in the area, Glenn said.
"It was the shopping center back then," he said.
But Piedmont started to fade after Gateway Mall and other shopping centers came to town. In 2013, when Glenn bought the shopping center, it had fallen into disrepair with broken sidewalks and disheveled awnings.
"It had these really ugly awnings that were torn and ripped and it looked downtrodden," Glenn said. "Obviously we had to change everything."
Glenn undertook a multimillion-dollar renovation project: updating façades, adding light poles and a fire pit, renewing the landscaping.
"It may be 60 years old, but probably 90 percent of it's new," Glenn said with a laugh.
Pre-renovation, Piedmont was also a quieter place with eight shops. Today the center is at full capacity with a mix of 18 shops — old and new, thrifty and pricey, services and shopping. Decades-old businesses like Ole's Boot & Shoe Repair stand alongside newer additions like Adorned Bridal.
You have free articles remaining.
When Ole's co-owners Stephanie and Jay Haes took over the business in 2005, the shopping area wasn't as busy.
"It looked rundown when we moved here," she said. "We got a new awning and ours stuck out like a sore thumb."
Since Ole's provides a more unique service, it has about the same amount of customers as before, Stephanie Haes said. The difference now is that the neighboring businesses work together more.
"Some of the businesses cross-reference each other really well," she said. "People who come here to get their shoes fixed might come to the coffee shop or hardware shop or Blu Velvet."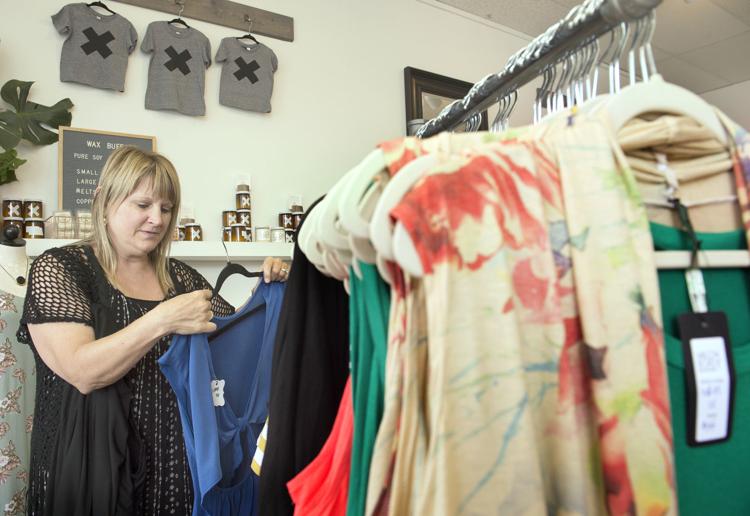 Blu Velvet is a boutique that opened in 2006 and moved to Piedmont in 2017. Owner Kelly Merklein decided to open up shop one day when she was eating at Piedmont Bistro and noticed the renovations.
"Piedmont's nostalgic to everyone and it's so midtown, I thought it would be the perfect spot," she said.
As the shop's owner, Merklein is passionate about offering trendy clothing and accessories for all ages, with "things that appeal to late teens to grandmas in their 70s," she said.
Her clientele has embraced Piedmont's new look, Merklein said, and the community-centered events make it more than just a shopping center.
"Everybody that comes in seems to be really happy that Piedmont's back in the mainstream again," she said.
In addition to the Sunset Cinema movie night series, Piedmont has had Oktoberfest, wine fest and Easter Egg hunts to cultivate a sense of community among business owners and Lincoln residents, Glenn said.
The events are a way to bring more people to the shopping center and see how renovations have brought new life to the area, Glenn said.
"This is one of the great areas that is one of the true first neighborhoods of Lincoln," he said. "We thought if we could do it up right, that it could be restored to its original glory or better."