One of the city's most expensive hiker-biker bridge projects yet — a 350-foot span over a pair of railroad tracks to connect two major trail systems — will cost even more than expected.
And its builders are racing a deadline to make up the difference — with as much private funding as possible.
The Rock Island to Jamaica Connector, proposed in 2017 and scheduled to start taking shape later this year, would marry the busy Rock Island Trail to the Jamaica North Trail near Densmore Park in southwest Lincoln.
The bridge would replace the unofficial and illegal shortcut cyclists and runners have been using for years.
"People are already making this connection unsafely; they're going down the hill and crossing the tracks and that's not good for anybody," said Gary Bentrup, a Great Plains Trail Network board member. "It (the bridge) really eliminates a critical safety hazard."
It would also link hundreds of miles of trails. The Jamaica turns into the Homestead and runs south into Kansas as the Standing Bear Trail; the Rock Island connects to most of the city's trail system — including the MoPac, which stretches northeast into Cass County and could ultimately carry cyclists to Omaha.
But all of that comes with a cost: $2.2 million, up $900,000 from its original estimate.
"It ended up being a lot more expensive than we'd hoped," said Sara Hartzell, a city parks planner.
Here's why: The more engineers studied the site — conducting hydrological, topographical and geotechnical studies — the more costs increased.
"The original estimate was based on going out and walking it, having some aerial photography so we could measure distances," she said. "But what they learned from those studies changed the design."
For instance, they realized they'd need to sink the bridge pilings 85 feet into the earth, to tie into bedrock. They'd originally thought they could use shorter pilings.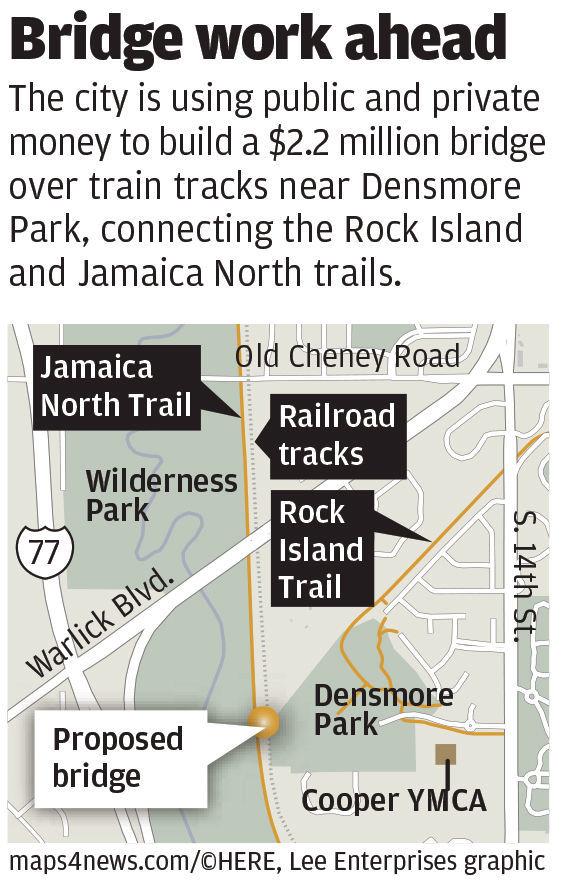 You have free articles remaining.
At the same time, tariffs have driven up the cost of steel, she said, and the demand for construction — and what companies can charge — has increased since the statewide spring flooding.
"These contractors are busy," she said. "They have lots of work."
Originally, the city was going to contribute $250,000 to the project. The Railroad Transportation Safety District committed $600,000, and the Great Plains Trail Network was in for $450,000.
The city is reluctant to increase its share, Hartzell said, because that would put other projects behind schedule.
So it plans to seek another $300,000 from the Railroad Transportation Safety District, and $150,000 more from the trails network.
The network will help, Bentrup said. "This is a project a lot of people recognize as pretty important," he said. "We've been fortunate to have people stepping up to the plate and donating."
But that still leaves the bridge project $450,000 short, and the city is seeking private contributions — from individual donors, grants and foundations — to help make that up.
One big donor, bearing a gift of at least $1.1 million, would earn naming rights to the bridge. And contributions of at least $1,000 will be recognized on a display east of the bridge.
The city is getting fundraising help from Susan Larson Rodenburg, a 30-year trails advocate.
"I care so much about this project," she said. "I really feel like this is one of the most important connections that the Lincoln trail system has had for many years, probably since the Rock Island and MoPac trails were developed in the '90s. Maybe more important because of the safety component."
But time is short, for a couple of reasons. The Parks and Recreation Department needs to sign a contract and start work this year, to secure some of those key donations, Rodenburg said.
Before it can do that, though, it must prove to the City Council it has all of the funding in place by Aug. 15, Hartzell said. The city plans to start seeking bids this month and select a contractor in July. If it raises the money and signs a contract in September, work would begin this fall and the bridge could be open by roughly this time next year.