From his wheelchair in a shed on the edge of Lincoln, 94-year-old Ron Doan points to the collection he spent his lifetime chasing.
The collection that will scatter at auction late next week, emptying this building.
That's his oldest car, he says, a 1906 Reo. He bought that in 1947 from L.L. Coryell, a real estate magnate who ran his filling station empire from Lincoln.
That's a Citroen Traction Avant, the model he'd wanted since he was 13. This one sold new in Switzerland in 1951, traveled the world and landed in Vancouver, Washington, where Doan found it about 10 years ago.
That's the horse-drawn buggy he bought for $15 when he was courting Shirley, hauling it home from Otoe County on the top of his Studebaker. And that's the 1975 Oldsmobile Delta Royale convertible he gave her decades later. Not yet 40,000 miles on it.
He takes a break from the stories. He wants to be clear about these cars, that he bought them to drive them. He wouldn't hesitate to pull one out of the shed, run it around town, get some enjoyment behind the wheel.
"I drove them quite a bit," he said. "I wasn't out chasing show trophies."
He once owned about 50 antique and rare autos, but he's down to a dozen or so. The longtime car dealer also owned Crooked Herman's pedal cars, and the remnants of that business — about 60 children's cars, from a turn-of-the-20th century pedal-powered Gendron to a gas-fueled junior Jaguar — are up for auction, too.
So are boxes of pieces and parts, dozens of antique toy cars, just about every piece of steel and rubber that defined a 90-year love for wheels.
But he's not broken up about it. He can't enjoy them like he used to at his age, he said. Time for somebody else to.
"The business person in me thinks about it like this is a store, and you're going to sell full out. Does that make you sad?"
As a boy, his son Houston grew accustomed to coming home and finding something new in their driveway. Later, he would spend nearly 20 years working with his father at Doan-Rose Auto Sales near 21st and O streets.
The cars meant something to his father. But so do the stories behind them. Those will remain, even after the shed empties.
"The big thing that most people miss about my father is that while he has a great love and interest in any kind of motorized vehicle, he's a merchant," Houston said. "And to him, it's the chase that counts. It's the game that's always made him tick."
A career with cars
Ron Doan's passion started early, nearly 90 years ago.
"I remember in kindergarten, other kids were drawing pictures of Mom and Dad and home. I was drawing pictures of cars."
He returned from military service to a job as display director at Gold's department store, in charge of 39 window displays and a half-dozen floors of retail.
He stayed busy. The scenes changed weekly — though they didn't decorate for Christmas until the day after Thanksgiving.
It was a good job, he said. "But what I really wanted to do was play with cars."
He and Ted Rose opened their lot in 1949 on the east edge of downtown. They sold used cars, but then they found a way to sell some new ones, too: If Lincoln's Buick dealer was selling out of a popular model, for instance, Doan would hit the road for small-town Buick lots. He'd pay sticker price for a new car and park it on their lot in Lincoln.
You have free articles remaining.
It was legal and lucrative. They might not earn much selling the new car, but they could make more selling the buyer's trade-in. And Doan could build his collection.
"If a car came along in a trade that interested me, I'd often buy it and put it away."
They became new car dealers themselves in 1968, selling Datsuns. They added Volvos two years later. The timing was good, just before the gas crisis. But some of the initial reaction to their Datsun line was harsh.
"There were people who would come in and say nasty things, just because they were Japanese cars," Doan said.
They sold the dealership in the late '80s, giving Doan more time to collect and restore pedal cars, and to build his new business.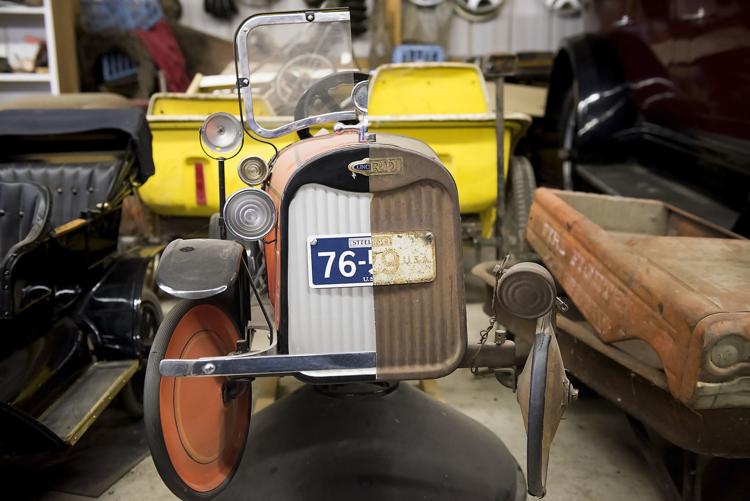 As Crooked Herman, he made and sold parts — manufacturing fenders, wheels, tires and hubcaps and more — from the basement of the house he'd built on Bonacum Drive.
"He was pretty much a one-man show," his son said. "But he had a worldwide following."
Cars for sale, stories included
Doan has more stories to tell inside the shed.
That '39 Buick — maybe the first car with factory turn signals — was parked at a gas station at 48th and O. He and his son drove by it daily on their way to lunch until he finally made an offer.
And that mid-1920s American National pedal car is one of his rarest pieces. It came with a working grease gun — so kids could do their own maintenance — and could sell at the auction for more than some of the real cars.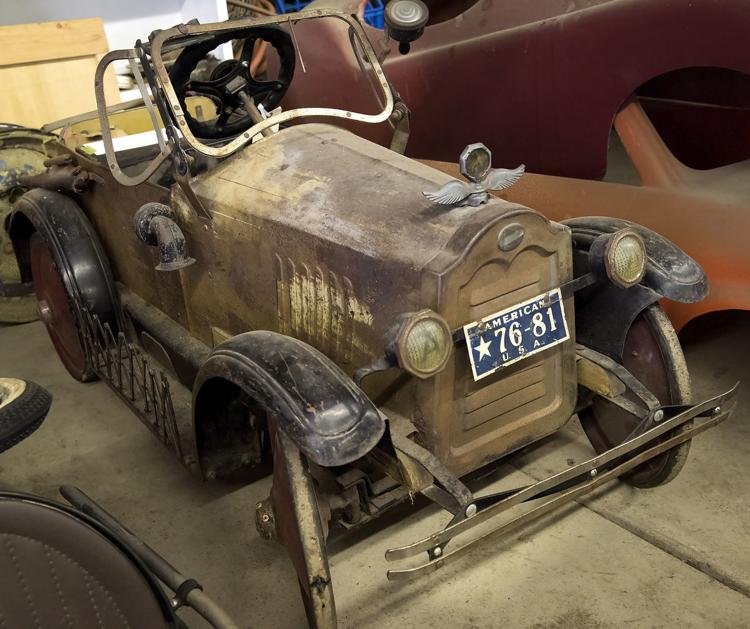 He decided to sell it all earlier this year. It had something to do with being 94, he said.
"It became obvious I wasn't going to be able to drive them or fool around with them as much."
They hired auctioneer Yvette VanDerBrink from South Dakota. She became known in Nebraska five years ago, when she sold Lambrecht Chevrolet's 400-car collection on national TV in a farm field near Pierce.
Doan's collection isn't nearly as big, but it's interesting, she said.
"It just was really unique," she said. "I thought it looked like a lot of fun. I also really like the family."
The auctioneer expects a crowd Oct. 20.
The son expects it to be bittersweet.
Doan hopes the buyers get as much from his cars as he did.
"A dozen people will now have their own stories."