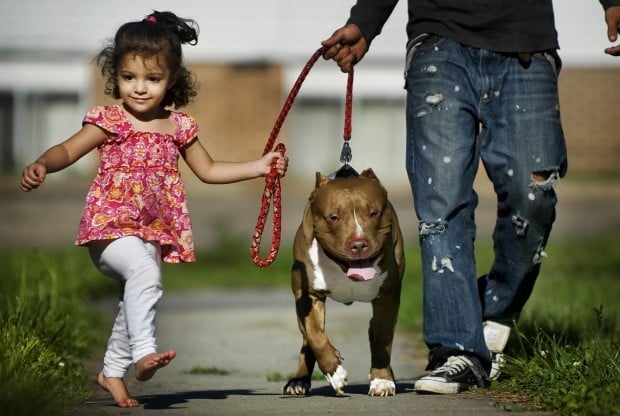 Daniel Marshall used to own two pit bulls. Now he owns one.
His other brown pit bull, Diesel, also there that day, has been declared dangerous.
"My little daughter rides him like a horse," he said Friday. "He's not dangerous."
Regardless, Diesel is one of 11 pit bulls in the city that's been declared dangerous. 
In all, Lincoln has 74 dangerous dogs and more than 400 potentially dangerous dogs, a less severe classification.
They range from what some call "aggressive breeds," such as bulldogs with names like Meathead and Hellbent, to a tiny Pekingese named Pookie. 
And Lincoln is home to three pit bulls named after the notorious gangster Al Capone.
Judy Halstead, director of the Lincoln-Lancaster County Health Department, which oversees Animal Control, said dangerous dogs come in all shapes and sizes.
"We recognize that all dogs bite, and we have examples of that," she said. "We look at enforcing the local ordinance and state statutes that say dogs must be declared dangerous if they bite a human and requires medical treatment -- we don't have a choice."
Animal Control responded to 483 bites and attacks, ranging from nips to mauls, in fiscal year 2009-10.
Animal Control Manager Steve Beal said there were three classifications of dogs: vicious, dangerous and potentially dangerous.
Vicious animals -- a designation that can come from killing a domestic animal or biting a person three times in a year -- are put down.
To be deemed dangerous, a dog has to kill a domestic animal without provocation or injure someone so badly he or she requires medical treatment, Beal said.
The potentially dangerous label means the dog bit a human but the wound did not require medical treatment, bit a domestic animal or chaseed or approached people in a menacing fashion. 
The 74 dangerous dogs in Lincoln include 13 pit bulls, nine Labradors, five German shepherds, four Chihuahuas, four huskies, three Australian shepherds, three boxers and three Weimaraner.
The count includes mixed and full breeds.
According to an analysis of records from Animal Control, the 74 dangerous dogs in Lincoln live all over town, with a cluster of about a dozen in the Near South neighborhood and another dozen between 27th and 33rd streets, from Randolph to Holdrege streets.
If online comments on stories about pit bulls are any indication, the debate about whether certain breeds are naturally more aggressive or whether they're made that way by their owners is a heated one.
The Lincoln-Lancaster County Health Department and the Capital Humane Society both subscribe to the nurture argument.
"Any dog can be a good dog," said Bob Downey, director of the Humane Society. "It's about how these dogs are socialized around people and how they're trained. It boils down to human responsibilities.
"There are folks who breed animals for bad temperaments, and that puts them behind the eight ball."
Halstead said the Health Department wanted to hold owners responsible and wasn't entertaining a breed ban. 
"It's the owner's responsibility to manage and control their animal regardless of breed," she said. 
What happens to a dangerous dog
You have free articles remaining.
Ordinances say potentially dangerous and dangerous dogs must be neutered or spayed and implanted with microchip IDs. Dangerous dogs must be on leashes at all times and muzzled while out and about. If a dog has multiple offenses, it can be put down.
* Post signs at their residences.
* Pay $25 annual registration fees on top of annual license fees.
* Pay fines for bites or attacks. Fees increased in August from $50 to $200 for the first offense; $75 to $300 for a second offense; and $100 to $500 for a third offense.
A person convicted of owning a dangerous dog that bites someone cannot own another dangerous dog for 10 years.
Downey said he got dangerous dogs from Animal Control to be euthanized on at least a monthly basis. 
He said neutering, obedience training and supervised socialization tended to help reduce aggressive tendencies. 
He said if a dog has its ears laid back against its head and its legs are very stiff, it probably is warning a person that it feels threatened and will protect itself if it must. If a dog is growling or barking with his teeth showing, it means it's ready to bite.
Animals behave aggressively for many reasons, he said, including fear, dominance, food or object possessiveness, territorial behavior or protective behavior.
Experts recommend a person freeze, then slowly move away from the dog. If the dog jumps, a person should curl into a ball and cover his or her face and head.
Not many appeal a decision from Animal Control, Halstead said.
"Not every owner thinks their dog is an angel," she said. "Most accept what happened." 
For Beal, the perfect world would equal calm canines and a bite-free environment -- but that's not reality.
"I don't like making those declarations," he said.
Beal said he was willing to review cases to see if there were evidence an animal was provoked. But they're not overturned often, he said.
Owners can appeal through Animal Control and then the court system if they aren't satisfied.
James Wallbridge, owner of Booker, a Cairn terrier, is going through the court system.
According to court documents, he argues his dog was provoked by someone who has a history of tormenting dogs. A ruling has not been made in the case.
Daniel Marshall said his pit bull, Diesel, didn't attack anyone, and he doesn't care that the dog is labeled dangerous, because he knows he's not. 
But one thing does bother him: He has to neuter the animal.
"I paid $1,200 for him so I can breed him. Now I've got to get him neutered."
He has not pursued an appeal. 
Dangerous dogs since 2000
| Breed | One breed | Mix | Second breed listed |   |   |   |   |   |
| --- | --- | --- | --- | --- | --- | --- | --- | --- |
|   |   |   | Bulldog | Ger Shep | Husky | Lab | Rottweiler | Total |
| American Stafforshire Terrier | 2 |   |   |   |   |   |   | 2 |
| Australian Cattle | 1 |   |   |   |   |   |   | 1 |
| Australian Shepherd | 1 | 1 |   | 1 |   |   |   | 3 |
| Blue Heeler | 1 | 1 |   |   |   |   |   | 2 |
| Boston Terrier | 1 |   |   |   |   |   |   | 1 |
| Boxer | 2 | 1 | 1 |   |   |   |   | 4 |
| Bulldog | 1 |   |   |   |   |   |   | 1 |
| Cairn Terrier | 2 |   |   |   |   |   |   | 2 |
| Chihuahua | 3 | 1 |   |   |   |   |   | 4 |
| Chow | 1 | 1 |   |   |   |   |   | 2 |
| Dalmatian | 1 |   |   |   |   |   |   | 1 |
| Doberman | 2 |   |   |   |   |   |   | 2 |
| Eastern Springer Spaniel | 1 |   |   |   |   |   |   | 1 |
| Great Pyrenees |   | 1 |   |   |   |   |   | 1 |
| German Shepherd | 3 | 1 |   |   |   |   | 1 | 5 |
| Golden Retreiver | 2 |   |   |   |   |   |   | 2 |
| German Shorthai Pointer |   | 1 |   |   |   |   |   | 1 |
| Husky | 4 |   |   |   |   |   |   | 4 |
| Labrador | 2 | 6 |   |   | 1 |   |   | 9 |
| Malamute | 1 |   |   |   |   |   |   | 1 |
| Mastiff | 1 |   |   |   |   |   |   | 1 |
| Pitbull | 10 |   |   |   |   | 1 |   | 11 |
| Portuguese | 1 |   |   |   |   |   |   | 1 |
| Rottweiler | 1 | 1 |   |   |   |   |   | 2 |
| Schnz | 1 |   |   |   |   |   |   | 1 |
| Scottish Terrier | 1 |   |   |   |   |   |   | 1 |
| Shar Pei | 2 |   |   |   |   |   |   | 2 |
| Shiba Inu | 1 |   |   |   |   |   |   | 1 |
| Springer Spaniel | 1 |   |   |   |   |   |   | 1 |
| Weimaraner | 3 |   |   |   |   |   |   | 3 |
| Yorkshire Terrier | 1 |   |   |   |   |   |   | 1 |
| Total | 54 | 15 | 1 | 1 | 1 | 1 | 1 | 74 |