PERU — It's Senior Day at the Oak Bowl, and as the Peru State College football players charge onto the field, two are clutching a jersey.
No. 21 — Justin Haystrand's number.
The 23-year-old from New Port Richey, Florida, died Feb. 26 in a crash south of Nebraska City. For every game this season, what would have been his senior season, Haystrand's teammates have carried his jersey on to the field.
But Saturday, it was something more.
Haystrand was an organ donor, and after his death, his heart went to Christopher Jones, a retired Lincoln firefighter and paramedic.
Saturday's pregame ceremony honored the Bobcat seniors, and Jones and the Haystrand family stood in Justin's place.
Haystrand played in 17 games for the Bobcats, rushing 92 times for 362 yards and catching nine passes for 152 yards.
He'd played football since age 5, said his mother, Denise.
"Football was his whole life, and he dreamed of playing football in college," she said. "He was always the little guy, so he always had to prove himself every year. It meant a lot to him to be able to play during college."
The team's support had helped Justin adjust to life in Peru, 1,300 miles from home, Denise Haystrand said. And that same support helped her after his death.
"He made some really good friends, brothers, on the team," she said. "I can't say enough about the coaches."
Jones, who suffered a career-ending heart attack while fighting a house fire in 2012, had been on the transplant list since September 2016.
He said he constantly thinks about Justin Haystrand and his decision to donate his organs.
"I wouldn't be here if it weren't for Justin making that decision and his mom allowing it, and she followed through with his wishes," Jones said.
A coin collector, Jones designed and ordered coins to commemorate his heart transplant — one side honoring Haystrand's sacrifice, the other side thanking heart doctors at Nebraska Medicine. 
You have free articles remaining.
Keep reading for FREE!
Enjoy more articles by signing up or logging in. No credit card required.
"It seemed like the right thing," Jones said. "People have T-shirts and pictures, but this is something you can keep all the time, and its substantial."
There are variations of the coin, one for the Haystrand and Jones families, and one for the football team.
Each Peru State player and coach received a coin. Some planned to drill a hole in theirs so they could wear it every day. One of the coins was used in the game's coin toss.
(The coins are for sale — $20 apiece, available on Justin's memorial Facebook page — to raise money so Jones can travel to Florida to help Denise Haystrand raise money for a scholarship she created in her son's name.)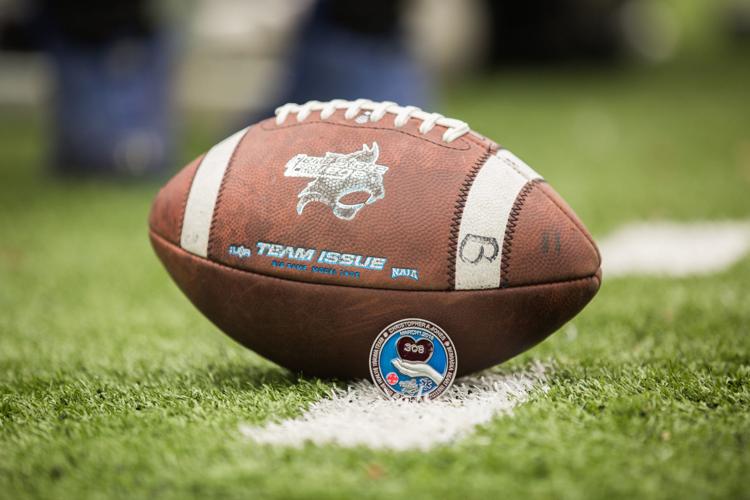 "He was a great guy, one of my best friends," said Robert Tillman, Haystrand's former roommate, who wore a T-shirt with Justin's jersey number and likeness. "He was a guy you could talk to. We would talk about life and what our plans were for the future. He was one of the first people I met here, so we grew close right away."
He still tries to keep in touch with Haystrand's family.
"It is really nice to be here for her (Denise Haystrand), and to be a part of their family now is important to me, outside of seeing them at these events," Tillman said. "I try to call and keep up-to-date. It means a lot to be here and support them."
Peru State President Dan Hanson said Justin Haystrand was a special success.
"Each of our students at a small school is really important," Hanson said. "He was building a good life here and he was important, not just to a few students, but so many of us knew Justin and what he was doing."
Hanson said to see Haystrand's heart help another person was great for the community.
Haystrand's father died just more than a year before he did, his mother said, and Justin's goal was to do right and support his family.
Jones said he was returning his life-saving gift by helping the family, the way Justin wanted to.
"He is a part of me now," Jones said. "I'll take care of Denise and his sisters and aunts, with whatever they need. I can't thank him enough for his gracious donation. Thank you very much, Justin. I will take over."