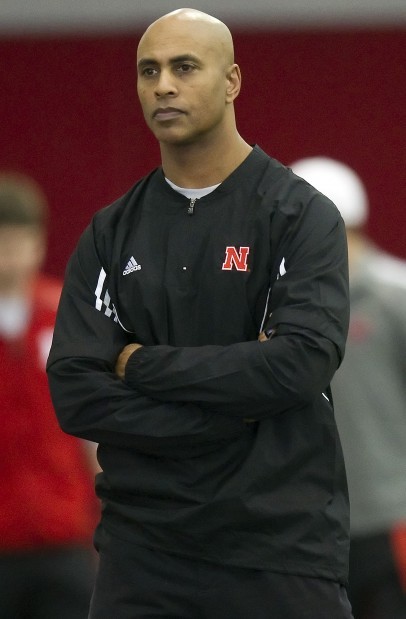 Ron Brown agrees with his boss's boss: Not a good idea to give his address as 1 Memorial Stadium when testifying at an Omaha City Council meeting.
And next time he speaks publicly, the assistant Cornhuskers coach will make it clear his views are his own -- and not the University of Nebraska-Lincoln's.
But there likely will be a next time.
"As a Christian, and as a citizen, I believe I have the responsibility to stand for what I believe in," he said Thursday. "I'm firm on my stance."
The running backs coach testified Tuesday against a proposal that would ban discrimination based on sexual orientation. He was one of hundreds -- including filmmaker Alexander Payne -- who packed city hall during the marathon meeting.
"For those of you on this council who have a relationship with Christ, and only you know if you do, you will be held to great accountability for the decision you make," he said.
But his testimony drew a warning admonition from UNL Chancellor Harvey Perlman. In a letter to the editor, Perlman wanted to make it clear the university doesn't discriminate based on sexual orientation.
The university defends the right of its faculty and students to share their personal views -- but they must clarify they're not speaking on behalf of UNL, Perlman said.
"Unfortunately in this instance, Coach Brown did not make it clear in his comments that he was asserting his personal viewpoint and not representing the university. I have asked him to make that clarification explicitly in the future."
Perlman sent a letter to Brown, and the two spoke by phone, the coach said.
Brown apologized to Perlman, he said.
"I had no intention of wanting to pull the University of Nebraska into my belief system, so I want to clarify that," he said.
He should have given his home address, he said, but he spends so much time at Memorial Stadium. He also collects his mail there, and he thought -- naively -- the City Council wanted his mailing address, he added.
The proposed law would add gender identity and sexual orientation to the list of classes -- like race and religion and sex -- already protected from workplace and public accommodation discrimination.
Brown is well-known for his strong and vocal Christian beliefs; he's written several books, served as the leader of the state's Fellowship of Christian Athletes and received national attention last fall for leading the pregame prayer before Nebraska's game against Penn State.
He lives in Lincoln but said he testified on an Omaha issue as the leader of his statewide ministry -- FreedMen Nebraska. Many of its members live in Omaha.
He encourages the men and boys in his ministry to live their faith publicly. And the Bible declares homosexuality a sin, he said.
So he testified. He doesn't support discrimination but can't support the ordinance, either.
"I was there because I realize that protection of one group of people as a class is going to unprotect another group."
And he didn't want the Christian viewpoint to become unprotected, he said.
The Omaha City Council is expected to vote on the ordinance Tuesday.