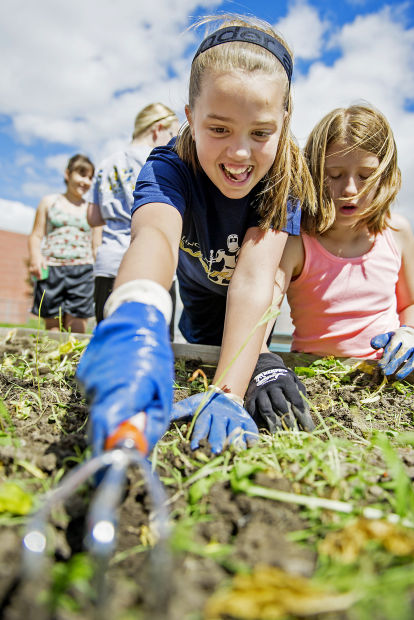 At least twice a week Jagdeep Singh and his wife, Lauri Dettmer, walk from their apartment to their garden in Peter Pan Park, to water, weed and watch the progress from seed to shoot to vegetable.
This is their third year growing everything from tomatoes to cilantro in a community garden plot.
They eat most of it, but freeze some of the tomatoes and peppers to save something savory for the fall.
"We live in an apartment and there is nowhere we can garden," said Dettmer. "So this is a good opportunity."
Dettmer and Singh are among the 250 families, or 900 people, growing stuff at community garden sites this year.
Community Crops Gardens, in its 11th year, is a big operation -- 65,044 square feet of garden space at 11 sites across the city. Those sites include private vacant lots, church land and this year at Peter Pan Park, a 13,000-square-foot space, which is the largest site so far and the first owned by the city.
There are always more people who want to garden than land available, said Ben McShane-Jewell, community garden program manager. There are currently about 100 families on a waiting list.
Last year gardeners grew more than 14 tons of food, he said, "so it really adds up."
That's a lot of peppers and cucumbers, melons, greens, beets, turnips, kale, cabbage, radishes and tomatoes.
One person is growing all herbs for herbal remedies and tinctures.
There are entire plots full of just eggplants, which are popular, particularly with immigrants from the Middle East, McShane-Jewell said.
Sweet potatoes are also really popular.
And McShane has even seen gardeners grow rice, "which took a ton of water," he said.
Some people have flowers in their plots for bees and other pollinators, he said.
Kat Shiffler is one of those pollinator people. Shiffler, who works on a pollinator study at the University of Nebraska-Lincoln, has flowers in the middle of her vegetable patch, hoping to attract native bees, butterflies and moths. 
Shiffler has seen some bumblebees at the garden, which are really good for tomatoes, she said.
She and two friends are site coordinators for the Peter Pan Park garden area.
They share a larger-than-normal plot -- 20 by 80 feet. It's a little bigger than a bus but smaller than a tennis court, she said.
And they give all their excess to the local Food Bank and FoodNet.
The community garden program was started in 2003 by university students and local residents who wanted gardening space for people who didn't have access to all the food they needed.
Their mission was to help people in need, including immigrants and refugees accustomed to growing some of their own food but without the space in Lincoln, said McShane-Jewell.
It grew from one garden, at 23rd and P streets, to multiple plots across town and gardeners from 25 countries who speak seven different languages, said McShane-Jewell.
The garden at Peter Pan Park is very intercultural, said Shiffler.
"It's a fun place to be in the evening," she said. "Lots of people are there together watering and chatting, talking about plants and the weather. It is a really nice community."
The parent organization of the community gardens, the nonprofit Community Crops, has a $450,000 budget, with about one-third from federal grants, one-third from corporate and private donations and one-third from program revenue. There is a staff of six full-time employees and four AmeriCorps interns.
Community Crops also operates a farmer training program at a 5-acre plot at 112th and Adams streets. This is a three-year program on how to become a small-scale farmer, learning both the farming and marketing aspects.
Nine families have an eighth- to a quarter-acre where they grow vegetables for a vegetable subscription program, said Ingrid Kirst, executive director of Community Crops.
This year, 125 people have signed up to get a weekly supply of vegetables from the farm.
Community Crops also operates a youth education program at five Lincoln Public Schools where they teach children about nutrition, how to garden and how to cook their produce, McShane-Jewell said.