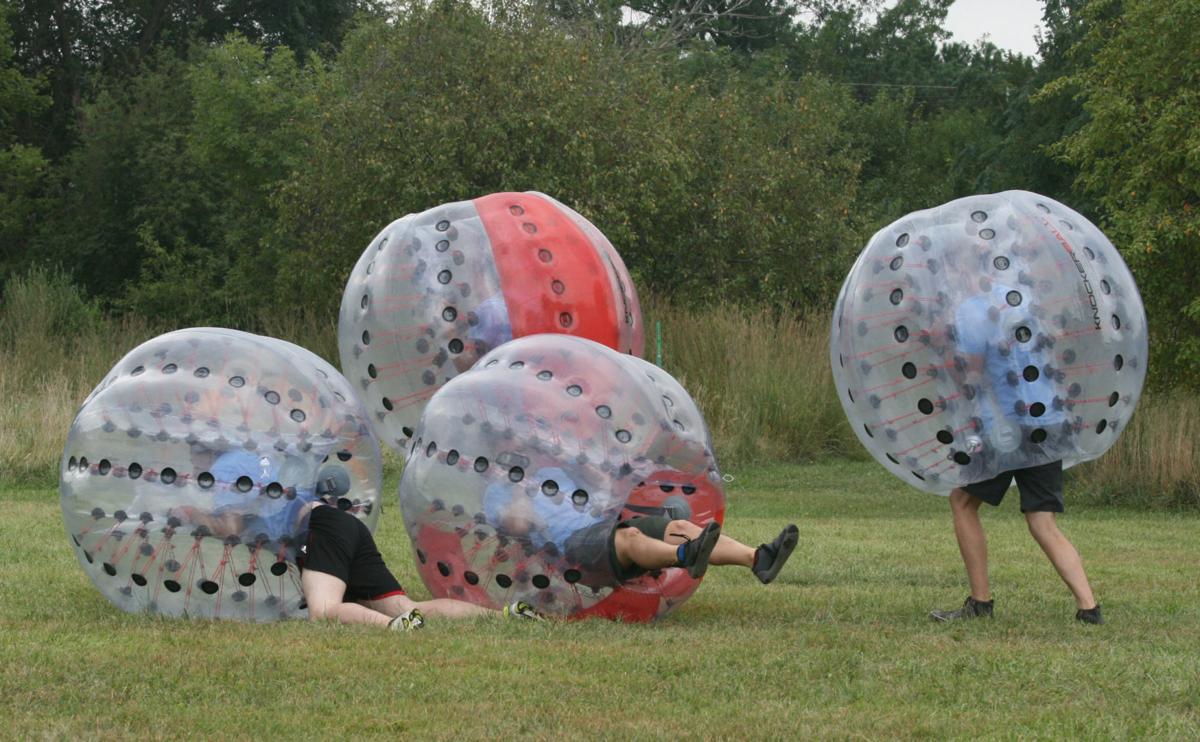 (Events from Aug. 24 - Oct. 5)
Aug. 24 – Colors of Hope: Cancer Research fundraiser
Doors will open at 5:30 p.m. for this event at the Country Club of Lincoln, 3200 S. 24th St. Includes a plated meal, silent auction and live auction of donated items. Proceeds benefit Nebraska Cancer Research Center. Details/tickets: necancerresearch.org.
Aug. 26 – Amazing Chase XII
Teams are signed up and ready to decipher clues and complete the wild and whacky challenges in order to cross the finish line. Will the teams don huge spheres to become human soccer balls again this year? No one knows until Aug. 26, when the event takes place from 8:30 a.m. to noon! You can support a team by making a donation. Your gift helps teams earn a better start time on Chase day and supports the critical work of St. Monica's and the women and children who come through its doors. St. Monica's thanks its 37 corporate community partners in this event. More details: stmonicas.com.
Aug. 26 – Nature Center hosts murder mystery dinner theater event
Friends of Pioneers Park Nature Center invite the public to "Mystery on the Prairie," a murder mystery dinner theater event, 6 p.m.-9 p.m. at PPNC, 3201 S. Coddington Ave. "Mystery on the Prairie" is set in 1890 in the fictional town of Coyote Canyon along the banks of Salt Creek. Guests are encouraged to dress in character; a prize will be awarded for best costume. More details/tickets: lnknaturecenter.org.
Sept. 9 – Art in the Garden
This fifth annual art show and sale features over 50 artists from Noyes Art Gallery displaying their work at the Sunken Gardens, 27th and Capitol Parkway, 11 a.m.-7 p.m. The event supports the Sunken Gardens. This year's theme is "Purple Reign," as garden designers Steve Nosal and Alice Reed honor the late rock musician Prince and his groundbreaking hit, "Purple Rain." Musicians and dancers will perform throughout the day. For a small fee, create your own flower crown and have your picture taken at a photo booth. Food trucks available. Free admission; park across 27th Street at the Rose Garden. Rain location: Auld Center, 1650 Memorial Drive. More details: 402-475-1061.
Sept. 17 – ZERO Prostate Cancer Run/Walk
ZERO – The End of Prostate Cancer joins forces with Urology P.C. to host this event, 8:45 a.m., at Pioneers Park, 3201 S. Coddington Ave. Funds raised will go toward national efforts to provide research for new treatments, to enhance patient support resources and to educate men and families about prostate cancer. Details/registration: zeroprostatecancerrun.org/lincoln.
Sept. 17 – Walk to End Alzheimer's
Take the first step to a world without Alzheimer's disease by participating in the Walk to End Alzheimer's, which begins with a ceremony at 12:30 p.m. and the 2-mile walk at 1 p.m., Holmes Lake, 70th and Normal Boulevard. Can't walk that day? Sponsor a walker! Details: Laura Wynn, 402-420-2540, ext. 8259, or lkwynn@alz.org.
Sept. 17 – Tastes in the Tallgrass
Enjoy fine wine and beer, a champagne bar, appetizers and a delicious buffet meal served at a long, winding table outdoors on the beautiful autumn prairie while supporting education and habitat conservation work for future generations at Spring Creek Prairie Audubon Center, 11700 SW 100th St., near Denton, Nebraska, 4-7 p.m. Prairie walks, live music and an auction of artwork and experiences will be part of the festivities. Registration: springcreekprairie.audubon.org/events/tastes-tallgrass or 402-797-2301.
Sept. 21 – Lincoln's Finest Event for Cystic Fibrosis Foundation
The Cystic Fibrosis Foundation in Lincoln will host its second annual Lincoln's Finest cocktail-style reception, 6 p.m., in the historic Jasmine Room at the Grand Manse, 10th and P streets. The event celebrates young professional honorees for their contributions to the community while also helping to improve the lives of people living with cystic fibrosis. Includes food from a variety of Lincoln's headlining restaurants and a silent auction. Tickets: lincolnsfinest2017.finestcff.org or call 402-330-6164.
Oct. 5 – Tabitha's Signature Event
Each fall, friends of Tabitha join together to support the more than 2,500 elders Tabitha serves each day throughout 28 southeast Nebraska counties. Tabitha's Signature Event is an elegant, social evening celebrating life's experiences. It begins with experiences, a silent auction and cocktails at 5:30 p.m., followed by dinner and a program from 7:15 p.m.-9 p.m. at the Country Club of Lincoln, 3200 S. 24th St. The event supports and celebrates Tabitha's mission to provide innovative elder care regardless of someone's financial situation. More details: GiveToTabitha.org, foundation@tabitha.org or 402-486-8509.