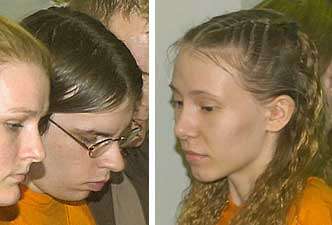 The Nebraska Supreme Court was scheduled to hear arguments in Jessica Reid's case Thursday. Gregory Fester's appeal will be argued before the high court Friday morning. Fester and Reid broke into Wayne and Sharmon Stock's home on April 17, 2006. They shot and killed the Murdock couple as part of a burglary.
Both Reid and Fester, who are from Horicon, Wis., pleaded guilty to second-degree murder charges in hopes of avoiding life sentences. But they each received two consecutive life sentences earlier this year.
Fester also was sentenced to an additional 10 to 20 years on a weapons charge.
Assistant Attorney General George Love argued that the life sentences were appropriate for Fester and Reid because of the nature of the crime.
"The brutal execution of Mr. and Mrs. Stock was a senseless act of violence," Love said in written brief.
Reid's lawyer Thomas Olsen said she shouldn't have received such harsh sentences because she cooperated with prosecutors and played a smaller role in the Stock murders.
"Appellant's culpability with respect to the Stock murders was significantly less than that of her co-defendant Gregory Fester," Olsen said. "Not withstanding, appellant was painted with the same brush and was sentenced to the exact same sentence as Gregory Fester."
According to prosecutors, Reid and Fester stole a pickup, a shotgun and some ammunition from a farm outside of Horicon, Wis., on April 15, 2006.
They drove down through Iowa the next day, vandalizing and burglarizing another farmhouse and stealing another shotgun and more ammo.
After midnight, prosecutors say, the two arrived at the Stocks' for another burglary but instead found them and killed them.
Reid told a Wisconsin detective she shot and killed Wayne Stock, 58, after Fester shot him in the leg. She said she shot him above the right eye and Fester shot him again in the back of the head before shooting Sharmon Stock, 55, in the head.
The pair have said they abandoned the pickup the next day in Louisiana after leaving the weapons in a ditch along the way. The shotguns have not been found.
Fester and Reid were charged after two Nebraska cousins, Matthew Livers and Nick Sampson, were arrested and charged with the slayings. Charges against Livers and Sampson have since been dropped.
Get local news delivered to your inbox!
Subscribe to our Daily Headlines newsletter.