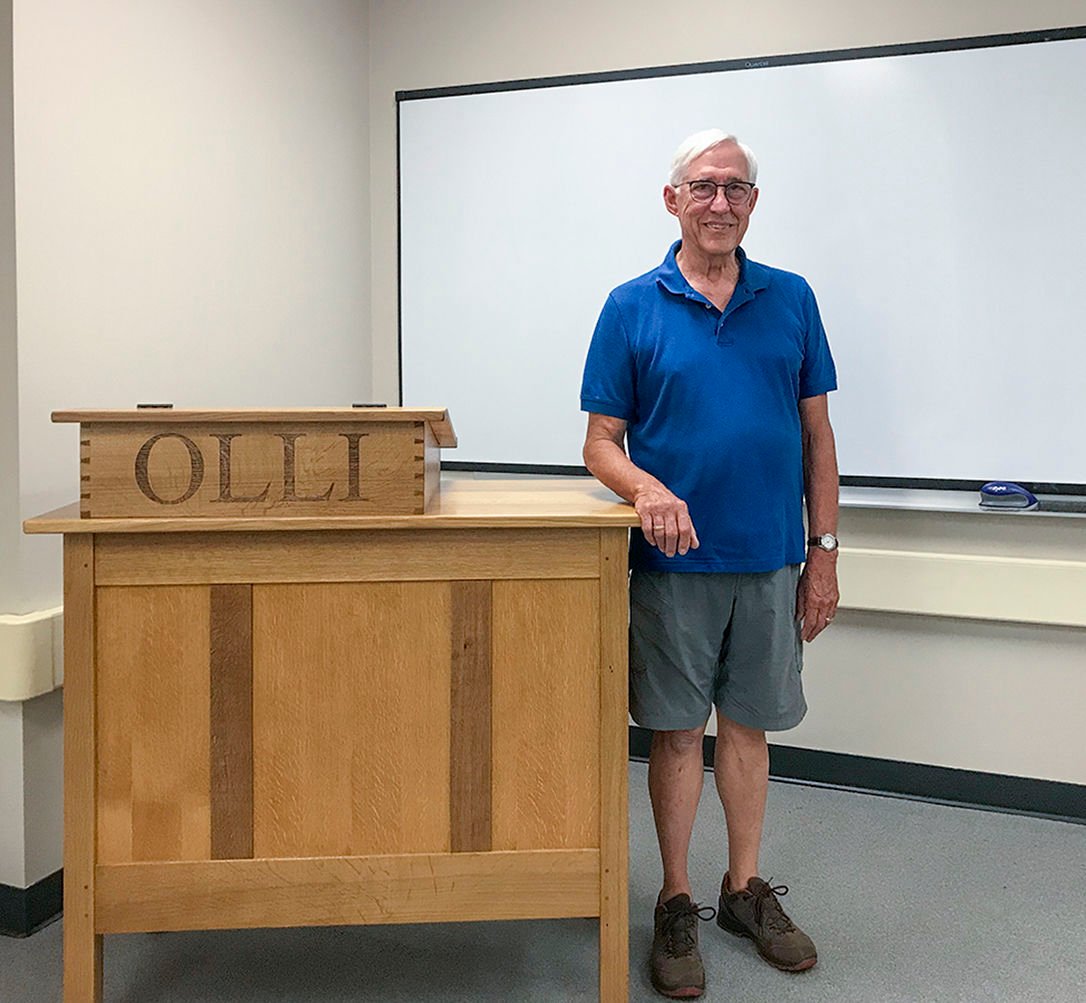 When leaders of OLLI at UNL identified the need for a wood lectern to place in the program's newly dedicated classroom, they didn't have far to look for help: Woodworking happens to be one of nearly two dozen interest groups formed under the Osher Lifelong Learning Institute umbrella.
In late April, OLLI Director Bob Michl shared his plans with Mike Jess, an avid builder since retiring in 2009 from the UNL School of Natural Resources. Jess sent an email to the roughly 25 members of the six-year-old woodworking interest group.
Stan Riggle, who formed the interest group, offered to donate some white oak from his ample inventory in his garage and shed, but medical issues prohibited his hands-on involvement. Craig Hahn offered to help wherever he could, but knee replacement surgery limited his mobility. Hahn made several visits to Schweitzer's Custom Woodworking and Engraving, a Milford-area business, to work on producing the lettering and OLLI logo, and to complete the engraving.
That left most of the heavy lifting in the very capable hands of Jess, who modeled the lectern after a Roycroft piece he had seen at the Grove Park Inn in Asheville, N. C.
Jess, 77, devoted 80 hours of work (by his wife Carol's calculations) to make sure the lectern — measuring roughly 54 inches in both length and height — was delivered to Michl by the Aug. 1 deadline.
Labor of love
As you might imagine, Jess, Hahn and Riggle are all bonded by a love of wood.
Jess, whose self-made rolltop desk is a source of pride, spent many years manufacturing furniture that matched the design of the Colonial-style homes in the Roycroft Arts & Crafts style and design.
"The quality of the lectern is amazing — both in the wood quality and the craftsmanship," said Hahn, now 74. Hahn spent 10 years overseas in the Peace Corps; he still works as a part-time pharmacist for Bryan Health and helps at Clinic with a Heart.
Hahn said his building experiences date back to the days when he teamed with his dad, Roy Hahn, to build a boat. He also made the stock for his BB gun.
Riggle also has a history in boat construction. Nearly 20 years ago, after he retired and his wife passed away, Riggle enrolled at Port Washington, a boat school in Washington state, to learn how to build wooden boats.
The woodworking special interest group meets the last Thursday of each month. Activities include tours of lumber yards, sharing ideas and exchanging tools.
About the interest groups
OLLI at UNL has been encouraged by a combination of growth in the interest groups and a greater emphasis on Zoom and Hybrid classes, said Doug Wood, co-coordinator of OLLI's interest groups along with Jess.
"I got involved through the science and technology group and the international affairs and politics group," said Wood, a three-year member of OLLI at UNL.
"Interest groups pre-COVID met in person. When COVID arrived, we followed UNL policy and Health Department directives," said Wood. "Now, some groups meet in person, following safety protocols, and some Zoom. We don't have any Hybrid special interest groups, but that method of taking classes is nice for shut-ins and the snowbirds who move away for the winter and want to keep in touch."
Wood, 69, said that in retrospect, COVID created an outreach opportunity that allowed OLLI at UNL to reach more prospective members from outstate Nebraska and well beyond.
Wood said any OLLI member can propose forming an interest group if they can find enough members and submit a proposal by filling out the form at the OLLI website at https://olli.unl.edu.