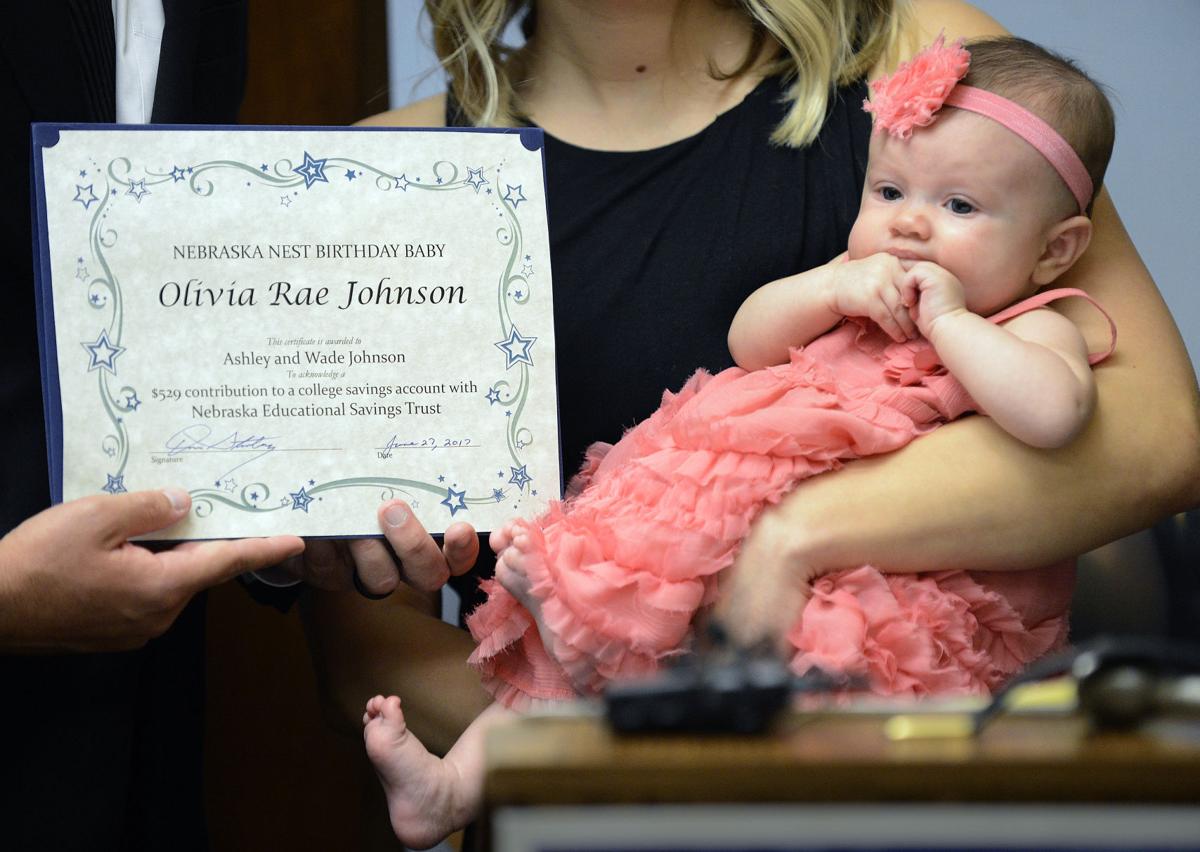 Olivia Rae Johnson, who was born in Lincoln on March 20, now has $529 in a college savings account thanks to a state-sponsored college savings program.
Olivia, the daughter of Ashley and Wade Johnson of Lincoln, showed up at the state treasurer's office in the Capitol with her parents on Tuesday to be designated as the fifth Nebraska NEST Birthday Baby chosen in a yearlong celebration of Nebraska's 150th birthday.
State Treasurer Don Stenberg is overseeing a monthly sweepstakes drawing of the names of babies born in 2017 with the winners receiving a $529 contribution to a Nebraska Educational Savings Trust (NEST) college savings account.
NEST is a state-sponsored 529 college savings program and Stenberg serves as program trustee. The 529 figure refers to Section 529 of the U.S. Internal Revenue tax code, which provides tax advantages for college savings programs.
Olivia's parents both relied on student loans to help them earn degrees from the University of Nebraska. Wade is a banker; Ashley is a property manager.
The $529 initial contribution to NEST will help "allow Olivia to live all her dreams," her parents said at a news conference in the state treasurer's office.
Olivia, who was born at Bryan Medical Center East, is the first Lincoln baby selected in a monthly random drawing. Earlier winners were born in Omaha, Waverly, Central City and Plainview.
Entries will be accepted until Jan. 10, 2018, for babies born in 2017.
"Focusing on the next generation of Nebraskans by helping young families save for college is our way to celebrate Nebraska's 150th birthday," Stenberg said.
NEST now has more than $4.4 billion in assets in more than 250,000 accounts, including 76,000 in Nebraska, Stenberg said.