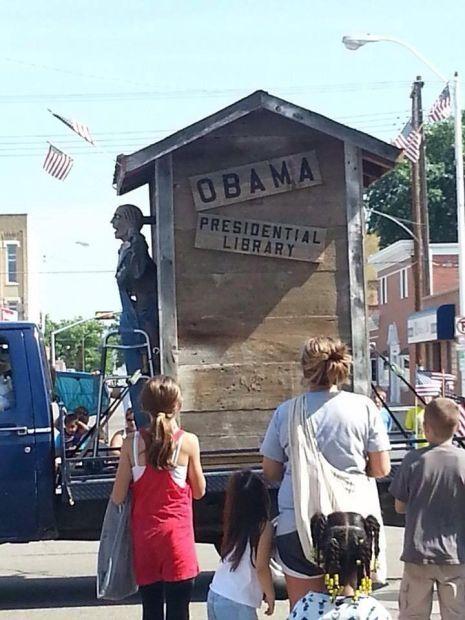 It was the parade float that elicited the loudest cheers Friday at Norfolk's Fourth of July parade. The crowd lining the streets clapped and laughed as the flatbed truck went by.
But one loud voice rose above the rest: "This is not OK," Glory Kathurima said. "That's not OK."
She kept repeating herself as the float passed, she says. She started to raise her phone to take a picture of the blue truck with the outhouse on its flatbed, along with a dark figurine in overalls propped up by a metal walker.
And nailed to the sides of the wooden privy, two signs in all-black capital letters: "OBAMA PRESIDENTIAL LIBRARY."
Kathurima didn't take the photo, though pictures of the float went viral on the Internet, sparking long threads of comments about freedom of expression and racism.
She didn't take the photo because she was too busy trying to be heard, Kathurima said Saturday. Too busy trying to answer her 9-year-old daughter's questions about the float.
"Mommy, what does that mean? What's so funny?"
She has fielded Malaika's tough questions before. The times her daughter comes home from the predominantly white school in Norfolk and asks why the kids don't look like her. Why they always want to touch her hair.
Kathurima moved to Nebraska from Kenya when she was Malaika's age and became a naturalized citizen a few years ago. She's raised her daughter in Norfolk and has found ways to explain the meaning of skin color. She's turned on the TV and pointed to President Obama, showing Malaika that there was someone that looked like her — half Kenyan, half American.
"I'm angry and I'm scared," Kathurima said. "This float was not just political; this was absolutely a racial statement."
Parade committee member Rick Konopasek said the float wasn't meant to be any more offensive than a political cartoon would be. The only restriction for entering a float is that it can't be considered morally objectionable. That basically translates to a ban on nudity to sexually explicit messages, Konopasek said.
"We don't feel its right to tell someone what they can and can't express," he said. "This was political satire. If we start saying no to certain floats, we might as well not have a parade at all."
Konopasek and parade announcer Wally Sonnenschein said the outhouse float was the most popular one in the parade, and the three judges awarded it an honorable mention.
"It's obvious the majority of the community liked it," Konopasek said. "So should we deny the 95 percent of those that liked it their rights, just for the 5 percent of people who are upset?"
This year's parade also included a float of Pete Ricketts supporters. Had a liberal-oriented float been entered, the parade committee would have welcomed it as well, Konopasek said.
"For the most part, this is a strong conservative community," Sonnenschein said. "I really don't see anything wrong with the Obama float and I'm kind of amazed anyone is complaining."
Sonnenschein and Konopasek said the man who built the float has been a longstanding member of the community, and people shouldn't be quick to judge him for expressing his opinions.
"This was a day to celebrate independence and part of that is speech and expression," Konopasek said. "He exercised his rights."
Kathurima wasn't surprised by the float. There are many photos floating around the Internet of the same joke — an outhouse labeled as Obama's library. Somehow, Glory had hoped her community wouldn't stand for that.
"We are supposed to be celebrating independence but people are quick to forget about 300 years of history," she said.
"My daughter keeps asking me, 'Why?' and I don't have an answer for her. We made this place our home, but right now it doesn't feel like it. It's shameful."
The parade committee plans to meet in the next week to discuss the float and possible policy changes for future parades.