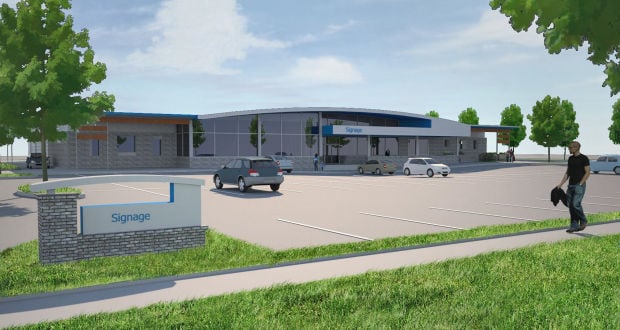 The former OfficeMax building at 23rd and O streets soon will find new life as an integrated behavioral health care and medical clinic with an on-site pharmacy.
Two local nonprofit health providers, Lutheran Family Services of Nebraska and the People's Health Center, are planning to combine operations to form the Health 360 Clinic. The clinic is expected to open in December 2015 in the 23,000-square-foot building, which OfficeMax left in November.
"By coordinating care for the most vulnerable in Lincoln, we are significantly improving their chances for a healthier, more stable life and a healthier community for everyone," said Kerry Kernen, the new chief operating officer for the clinic, in a news release.
The two nonprofits chose the OfficeMax building in part because of its central location and its proximity to bus lines, sidewalks, trails, cultural and ethnic centers, downtown and schools.
The clinic will seek to provide clients a one-stop shop and will offer services on a sliding fee scale.
It's a much-needed service, considering 70 percent of adults with a behavioral health disorder also have at least one physical health condition, according to Lutheran Family Services. Conversely, nearly one-third of adults with a medical condition also struggle with behavioral health issues, such as substance abuse or depression.
The integrated clinic will provide primary health care and behavioral health services, including outpatient mental health services, community support, medication management, counseling and substance abuse treatment.
In the meantime, Lutheran Family Services and the People's Health Center plan to open a smaller integrated clinic in Lutheran Family Services' offices at 2201 S. 17th St., the former home of the Lancaster County Community Mental Health Center.
Lutheran Family Services took over the Community Mental Health Center's core services and moved into the building in February.
The smaller clinic will begin providing primary health care in January. The People's Health Center will sublease about 1,900 square feet of the building from Lutheran Family Services.
You have free articles remaining.
The smaller clinic will continue to operate until the larger clinic opens next December. At that time, Lutheran Family Services will move out of its current offices and into the former OfficeMax building, said Bev Carlson, director of public relations for Lutheran Family Services.
The People's Health Center will continue to operate its clinic at 1021 N. 27th St.
Lutheran Family Services currently leases the 2201 S. 17th St. building from Lancaster County.
The city-county Planning Commission voted Oct. 29 that the project conforms to the county's Comprehensive Plan for land use. The Lincoln City Council approved an amendment Monday to the Antelope Valley Redevelopment Plan that allows renovation of the building into a health clinic.
Apples Way LLC, which owns the building, has proposed a $5.3 million redevelopment of the building, including a possible 7,500-square-foot addition. The renovation is expected to take about nine months.
The project is expected to generate about $500,000 in tax-increment funding, which draws from the increase in property taxes that a renovated building will bring in over a 15-year period to pay for improvements that benefit the public. However, the developer hasn't said how much TIF it will seek or how it would use that funding.
County Commissioner Deb Schorr said county officials have known about Lutheran Family Services' plans to move out of the 17th Street building and have planned to find a new tenant for the building's first floor, which the nonprofit leases. The county Mental Health Crisis Center uses the building's second floor but also has future relocation plans, Schorr said.
The Crisis Center eventually plans to move either into the Benesch building at 825 J St. or the former county jail at 605 S. 10th St., at which point the county would seek to find a buyer for the former Community Mental Health Center building.
"We were certainly aware that that building wouldn't meet their needs long-term," Schorr said. "We've had some interest over the years from various parties interested in that place because of the location."
She said the smaller clinic will allow the People's Health Center and Lutheran Family Services to practice working together before opening a larger clinic.
"We certainly didn't want to have them wait a year to put in that medical component," she said. "I'm glad they're getting started on that."
Get local news delivered to your inbox!
Subscribe to our Daily Headlines newsletter.