Ali Kenani was a long way from home, but longer still from where he was headed.
And now the California-bound 58-year-old from Lincoln had wandered off the interstate and into the Colorado mountain town of Basalt, on the road to Aspen.
A pair of police officers on foot patrol that afternoon in May could tell he needed help.
"We asked if he needed any assistance," said Lt. Aaron Munch. "He seemed to be a little turned around in his directions."
Munch remembers such a language barrier that Kenani pulled out his phone and called a friend or family member who spoke better English, and who helped the small-city cop and the Iraqi native communicate.
He pointed the traveler to a nearby ATM, then showed him how to get back on Interstate 70 — 23 miles away to the northwest — to continue his trip to see his son near San Diego.
And that was that, Munch said. Maybe a 10-minute interaction.
"We didn't think anything of it. In hindsight, I wish we would have watched him and made sure he got on his way."
Weeks later, a detective in Lincoln would watch Munch's body camera footage from the encounter with Kenani.
The transplanted Nebraskan looked confused, and he also looked cold; at 6,600 feet, the midday temperature would struggle to break 50 degrees on May 10 — the last day he was seen alive.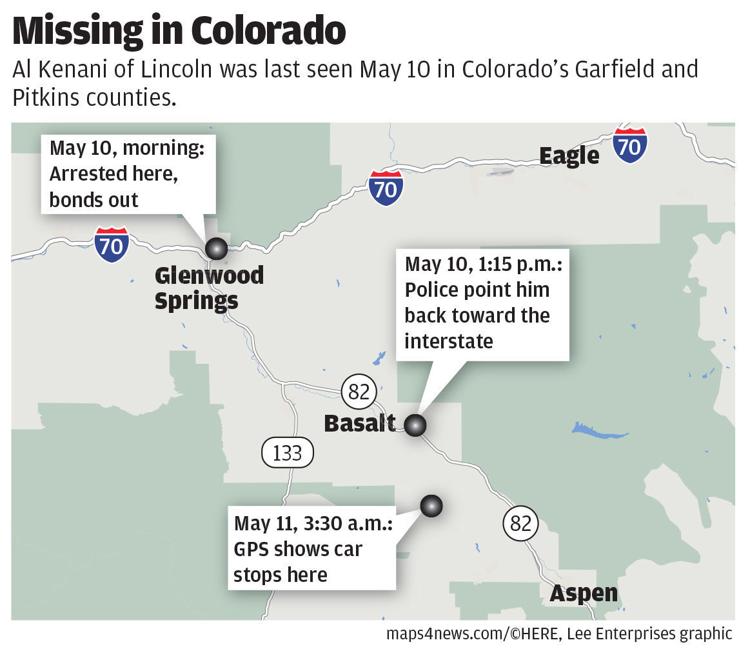 The Lincoln Police Department took the missing person report weeks after Ali Lazem Kenani left in early May for what should have been a two- or three-day drive to California.
He hadn't checked in with his ex-wife in San Diego, or with the family in Lincoln who had befriended him, and had programmed his GPS before he left town in his 2005 Honda Accord. He wasn't answering his phone.
"They didn't report it until June 1," said Ken Koziol, the Lincoln police detective assigned to the case. "We were behind by three weeks at least, maybe close to a month."
But he started punching Kenani's name into law enforcement databases, and he started getting hits.
On May 10, an officer found Kenani stopped along the interstate near Glenwood Springs, Colorado, about 150 miles west of Denver. He had a warrant for a traffic infraction, so he was booked into the Garfield County Jail for a few hours until he paid $500 to bond out.
And that might be where he started to get lost. Instead of continuing west on I-70 from Glenwood Springs, Kenani instead headed southeast on Colorado 82 and into Basalt, where he encountered Munch.
The jail had taken his cash and given him a loaded debit card in return, which is why Kenani needed an ATM. But with the help of his interpreter, he seemed to understand the directions out of town, the police lieutenant said.
"We thought he was on the right track, but it sounds like he got turned around and went a different way."
In Lincoln, Koziol kept unraveling the story. Some of those who know Kenani believed he  must have abandoned his trip and flown to Iraq, but passport records ruled that out; he'd last used it in April, when he returned to the United States from a visit with family.
You have free articles remaining.
Keep reading for FREE!
Enjoy more articles by signing up or logging in. No credit card required.
Koziol learned Kenani had struggled with his health — heart problems, diabetes — and his recent living conditions weren't clear; he may have slept in his car, he may have crashed with friends.
Kenani's friends who reported him missing told the Journal Star he'd emigrated to California, moved to Lincoln, returned to California and then — at about the time of his divorce — returned to Lincoln, alone.
He didn't work, they said, because he was on disability.
Koziol kept digging, and then he found the missing man's Honda. On May 12, two days after Kenani had talked to Basalt police, a woman living 8,000 feet off a dead-end rural road near Snowmass — even farther from the interstate — had called about an abandoned car in her driveway.
It had been towed, impounded and untouched, until the Lincoln police detective called Colorado's Pitkin County.
Koziol has watched the body camera footage. He knows Kenani's passport and phones were found in his car. He downloaded the Garmin's GPS data, and was able to follow the traveler's final known movements.
For hours May 10, Kenani drove county roads. He wandered around Aspen. And then he reached the end of Capitol Creek Road, where he was stopped by snowpack.
The GPS recorded the Honda's last stop at 3:32 a.m. May 11, more than 12 hours after Munch had pointed him in the right direction.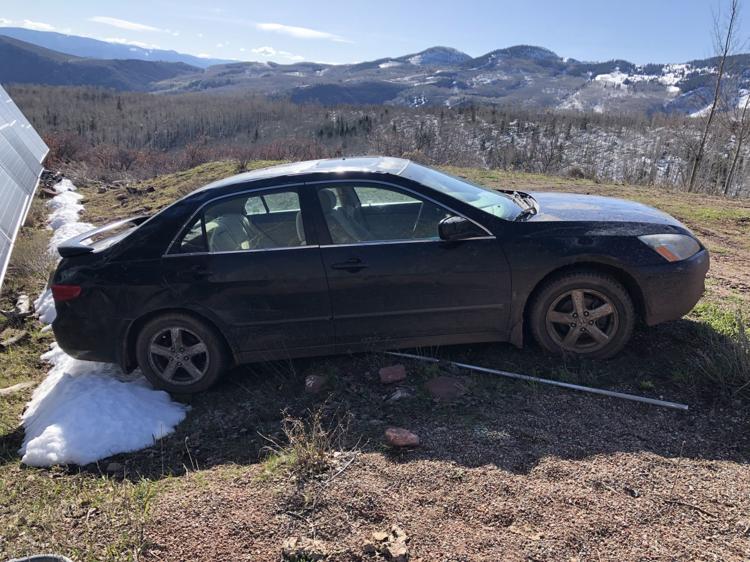 "It's hard to say what's in his mind — if he's just totally confused or if he's not able to figure out his Garmin anymore. You're wondering why he's going up 8,000 feet on an extremely remote road."
Pitkin County officers found signs the Honda had been stuck in the snow before Kenani disappeared, but found no evidence of foul play, Koziol said.
He's collected the clues and formed a theory of what happened: Kenani wasn't in good health, he had little or no cell service, he was lost in unfamiliar but rough country with the temperature dipping below freezing, and he was stuck near a stranger's driveway.
He must have tried to walk away but didn't survive. "There's no way, no way, he made it out of there," he said. "I wonder why he didn't stop at the house."
Authorities in Pitkin County have tried to find Kenani or his body, conducting three searches so far and covering hundreds of acres with officers, search and rescue volunteers, cadaver dogs and drones.
And now that some of the heavy brush is thinning, they plan to return next week for the first of at least two more searches, focusing on four miles of roadside and four miles of creek bed, said Detective Brad Gibson of the Pitkin County Sheriff's Office.

Koziol has collected a DNA sample from a relative in case they find something, so they can make a positive identification and close this case.
He plans to give the possessions found in Kenani's car to the man's son in California. He'd like to be able to give the boy an explanation, too.
"Any missing person is important, but the circumstances here led us to believe something serious happened," he said. "It's important to the family to find out."