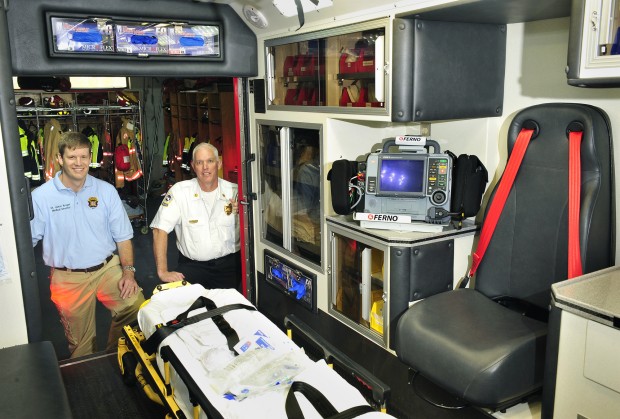 Lincoln's hospitals have forever shaped the region's response to medical emergencies, but a new arrangement gives them primary responsibility for it.
The public should notice few if any changes, but architects of the new Emergency Medical Services Oversight Authority -- they call it "Em-So-Uh" -- believe it creates a lasting foundation for continuous improvement of emergency services.
"Nothing in emergency medicine stays the same," said Deb Schorr, Lancaster County Commissioner.
The new authority provides a formal structure to identify and adopt care improvements long into the future.
Since 2003, emergency response oversight has rested with the Lancaster County Medical Society, said its director Joan Anderson. It was an expedient solution based on her background in emergency medicine. That responsibility now shifts to Lincoln's hospitals, without regard to individual personnel, she said.
Topped by a 13-member governing board, the new authority includes representatives from both medical centers, area physicians, the city and Lancaster County.
The overall change affects only the oversight authority of emergency services. Lincoln Fire & Rescue continues to provide Lincoln's emergency medical response.
The EMSOA board will decide issues such as which respiratory assistance devices to provide en route, how responders must maintain their skills and which narcotics to deliver for pain.
In addition to oversight for Lincoln Fire & Rescue, the authority works cooperatively with more than 20 rural agencies, plus private providers of non-emergency medical transportation.
In all, the authority affects the actions of 500 area emergency medical responders, including 300 city employees, and guides the care provided to 18,000 emergency transport patients annually.
"Lincoln has always had independent oversight," Anderson said.
The latest arrangement dated to 1996, when Lincoln firefighters began providing advanced life support services to complement those of a private ambulance service.
That oversight authority structure was unaffected by Lincoln's decision in 2001 to have Lincoln Fire & Rescue take over emergency ambulance services, although the contract to provide oversight shifted to the Medical Society in 2003. A first step toward a new, lasting structure was taken in 2008.
Over time, the bill to taxpayers for providing oversight has declined, Anderson said.
In 2003, the society's contract was for more than $280,000 per year. By 2010, that had fallen to $231,325.
The contract that took effect Sept. 1 calls for annual taxpayer contributions of $138,900, with Lincoln's hospitals providing a total in-kind contribution -- mostly salaries -- valued at $82,000.
The oversight board is expected to meet quarterly once dust from the transition settles, and those meetings will be open to the public, Schorr said, even though that is not legally required.
An advisory committee of roughly equal size to the board will meet more frequently to take public and expert input on a variety of issues, forwarding some to the governing board.
Historically, Lincoln has been an innovator in emergency services, Anderson said. It was the third city in the nation to train firefighters as first responders. Contemporary innovations include an early alert system for probable strokes, increasing the odds of saving patient brains.
Dr. Jason Kruger, board certified in emergency medicine and practicing at Saint Elizabeth Regional Medical Center, has been named the authority's part-time medical director.
Kruger will oversee technical proficiency, performance and quality, and evaluate emerging medical research. He will be assisted by two full-time staff, who will work out of all three Lincoln emergency departments.
The new structure evolved out of discussions among 22 members of an oversight review committee appointed in 2010 by Mayor Chris Beutler.
Ruth Radenslaben, BryanLGH Medical Center director of emergency services, said the hospital partnership built on successes of the jointly sponsored ED Connections program, which works to resolve problems for people who make frequent visits to emergency rooms.
Creating a new authority was a larger task than anyone envisioned, said those involved.
Emergency medical services describes a confederation of independent agencies that cooperate to deliver seamless services. Its language is highly nuanced and relationships politically charged, with its operations guided by numerous state and federal regulations.