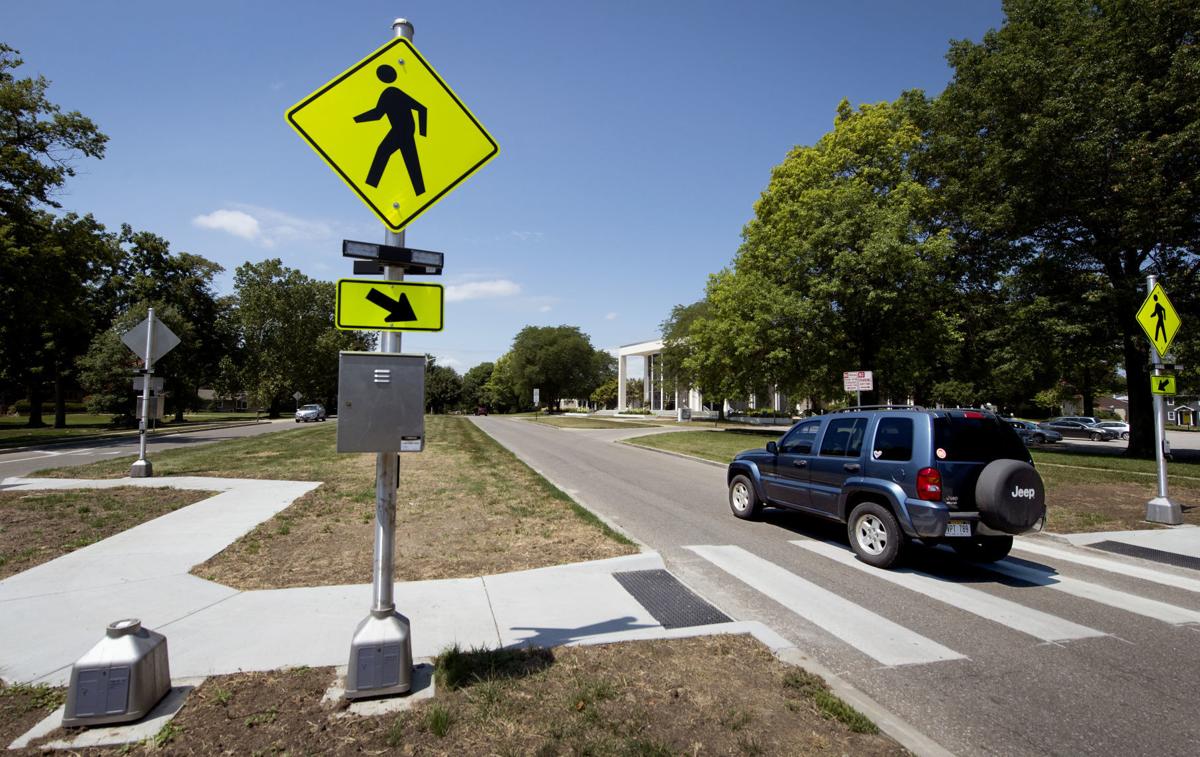 Advice to motorists who see flashing yellow lights at the crosswalk on Sheridan Boulevard near 37th Street: Stop.
The strobe-like lights, called Rectangular Rapid Flashing Beacons — RRFB for short —  are mounted below the pedestrian crossing sign. The lights are a relatively new form of traffic control in Lincoln — and something school, city and police officials hope will relieve a daily before- and after-school bottleneck at the intersection.
Jeremy Ekeler, principal of Cathedral of the Risen Christ School, said he'd been concerned for some time about the traffic jam that happens when both the grade school and Southeast High School, farther north on 37th Street, let out for the day.
There are lots of cars: Southeast students leaving school, Southeast and Cathedral parents picking up their students. And there are lots of students from both schools crossing Sheridan Boulevard at 37th Street.
Ekeler reached out to Southeast administrators, as well as Lincoln police and city traffic engineers. A group of concerned parents also got involved.
Mark Lutjeharms, manager of the city's traffic engineering division, said for years there'd been a traffic light at the intersection for pedestrian traffic. But it was 37 years old, didn't have the overall volume of pedestrian and motorist traffic to meet national criteria for a light, and really wasn't solving the problem.
Most times of the day there's little traffic at that intersection, but that changes before and after school. 
While the pedestrian light stopped traffic on Sheridan, it did nothing to stop the traffic on 37th Street trying to turn right just as students were trying to cross, Lutjeharms said.
Teachers, volunteers — sometimes even students — would patrol the intersection, Ekeler said, but rain, snow and ice made the area treacherous.
The solution: City officials removed the old light and built a crosswalk with the flashing lights to the west of the intersection — on the south side of Cathedral of the Risen Christ, which sits on the corner of 37th and Sheridan.
That will move the pedestrian traffic away from the intersection, reducing congestion. A sidewalk now crosses the grassy median and there's a crosswalk on both east- and westbound lanes.
"We're hoping it will be much more visible and able to move pedestrians across the street," said Lincoln Police Officer Luke Bonkiewicz.
Cathedral also moved its start and end times five minutes later, so more of the Southeast traffic can get out of the way before the elementary school students get out of school, he said.
School at Cathedral starts Friday. Southeast freshmen started Monday and upperclassmen started Tuesday.
State law requires motorists yield for pedestrians and bicyclists, but motorists don't always see pedestrians waiting to cross. The flashing lights can help with that, though pedestrians who push the button to activate the lights should still be cautious to make sure cars stop, Lutjeharms said.
Studies show that using the lights makes it more likely motorists will yield to pedestrians, he said.
"The lights are really intended to bring greater awareness," Lutjeharms said. "We've seen this as a useful tool we didn't previously have to address pedestrian crossing locations."