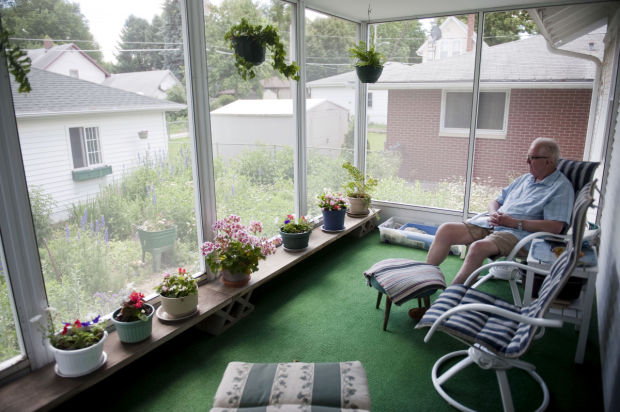 Dick Patterson might be the only person living in the house at 230 S. 29th St., but he certainly doesn't live alone.
He's got his cats (two of them) and his books (shelves of them). And he has his neighbors on 29th Street, who are really closer than just neighbors.
The retired high school guidance counselor has lived in and restored his house — with a new porch and navy blue shutters, four bedrooms, an office and a library — since 1992. 
His house was one of six in his neighborhood included in a tour Sunday, one Pat Anderson of NeighborWorks says is to encourage families to buy neglected houses in Lincoln, restore them and live in them. Patterson bought his house while living in a duplex down the street, and now shows off his restoration work during NeighborWorks tours.
On Sunday, Patterson greeted visitors like they were his neighbors, telling stories to anyone who would listen about how he got that one picture on the wall, who does his gardening now that his knees are bad, his journey to recover all the albums his friend sold without permission years ago, which are now proudly displayed over one of his two pianos.
The neighborhood just south of O Street isn't the most popular, says neighbor Shawn Fitzgerald. But with NeighborWorks' help reclaiming many of the houses from rowdy renters and lousy landlords, the effect on the area can be significant.
"People always say, 'Oh, that neighborhood over there isn't so great,' but it is great. You just have to look at it closer," said Fitzgerald, who has lived in the area since 1984.
NeighborWorks helps first-time homebuyers with their journeys to find a home, offering classes that are open to the public. The organization also offers eligible first-time buyers loans of $15,000 to help with a down payment, and if eligible, will give them another $15,000 urban development loan to refurbish and rejuvenate the home.
"We have great Lincoln neighborhoods," Anderson said. "Every neighborhood has assets. We want to show that."
Becky Martin, who showed her house off Sunday, said NeighborWorks gives families a chance they otherwise might not get.
"People can have the dream, the American dream of owning a house, even if they don't have the money yet," Martin said. "And if you get a house that's run down and remodel it and put in a family there, it does so much for the neighborhood."
Mark and Ashley Larson live in the house kitty-corner to Patterson, who urged them to show their home. So on Sunday, they did for the first time.
"We have a 2-year-old and a 4-year-old, so we weren't worried about anything breaking," Ashley said. "If something broke we wouldn't be fazed by it."
The Larsons bought their house at 221 S. 29th St. in 2009. They didn't go through NeighborWorks, they said, but they wish they did.
Their home, with its wedding and baby photos on the coffee table, is Patterson's dream for his home one day.
"One old man and two cats don't need nine rooms," he said.
Though he calls his place messy, people walk in and around his house saying things like, "Oh my gosh, I love this floor," "Look at that piano," and "I sure wouldn't mind living here."
"It's all about getting people, young people, interested in older neighborhoods," Patterson said after buying lemonade and cookies from neighbor girls across the street.