It's Monday morning and Stefanie Flodman is reassuring her antsy 8-year-old, a boy in a puffy coat and a shiny backpack who is waiting for the school bus to come and take him to Maxey Elementary School and his second-grade classroom.
The bus is late, and A.C. is antsy and anxious. But today, on a snow-spitting November morning, he isn't cold.
Alexander Carter — A.C. for short — is autistic. He lives in southeast Lincoln with his mom and his big brother, Joe, and his Grandma Pat.
Their house is set back a long way from the street. Before last week, A.C. had a bench where he sat (sometimes impatiently) waiting for the bus.
It could get pretty cold on the bench, even with a blanket, even with his mom or grandma keeping him warm.
But Monday the bench was gone. In its place was a small bus made of plywood with two seats and a steering wheel.
Pat Dugan built it for the little boy. He found an old ice fishing hut in Denver last spring, and drove to pick it up last month.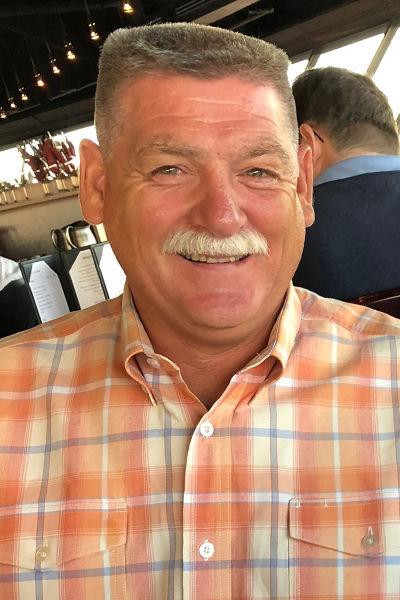 When he told the seller what he was going to do with it, the man wouldn't take his money.
"He said, 'Put it in the collection plate.'"
He hauled the hut home and built a frame and filled in the fishing holes. He went to a salvage yard and found a pair of jump seats in the back of an old Mazda. He pulled a steering wheel, too, and set to work turning the inside of that fishing hut into a cozy waiting room.
Pat and Michaela Dugan live next door to the Flodmans on this secluded circle near 84th Street and Pioneers Boulevard.
They were here when the family arrived next door five years ago. A.C. was so shy then, Pat Dugan says.
But one day he was out mowing and saw the boy on his Big Wheel. Pat tooled over on his John Deere and the pair raced up and down the long driveway.
"Now we're just like a couple of buddies," Pat says. "We're just good pals."
Pat grew up on a farm near Greeley, Nebraska. He'd been a teacher and principal in Colorado before he got into the insurance business on the other side of the border. He's 58 now and retired. But when he and Michaela moved to Lincoln to be closer to their aging parents, he took a job directing a community learning center.
"He really has a soft spot in his heart for old people and little kids," Michaela says.
After Pat got that ice fishing hut home, he set to work. He added plywood and bright-yellow paint to the outside. He painted black tires and white headlights. He cut out a window and angled the little bus for the little boy so he could watch for the big bus all winter long.
You have free articles remaining.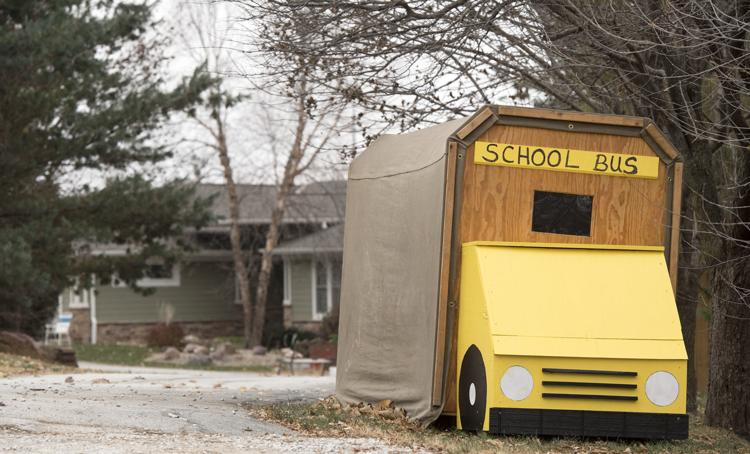 "He saw a need and he just filled it," Grandma Pat says. "I had no idea he was doing it; it was a total shock to me."
The bus has been in the yard for a week.
That first night, Stefanie sent Pat a picture.
"A.C. was in there with his favorite blanket and some toys," Pat says. "It looked like he was moving out there."
He built a treehouse for Joe. He fixed the Flodmans' chicken coop. He put that bench at the end of the driveway for A.C.
"From Day One, he's been kind of amazing," Stefanie says. When he showed her the wooden school bus, he told her he could turn it into a fire truck, too, or a race car, whatever A.C. wanted.
Super thoughtful, Stefanie says.
For a long time, A.C. wasn't very verbal. But now he and Pat jabber away.
"He's really blossomed," Michaela says. "He talks and Pat gets really into it whether he understands him or not."
Monday morning, A.C. is talking.
He's wondering where the bus could be.
He's worried he'll miss school.
He thinks his mom should get the car and drive him to Maxey.
Let's go, Mommy, he says. Let's go.
The bus is close, his mom says.
A.C. peers out the window.
He wrote his name on the plywood next to his seat.
He wrote his brother's name, too. Then he crossed it out.
That bus is finally here, out where it's cold, waiting ...