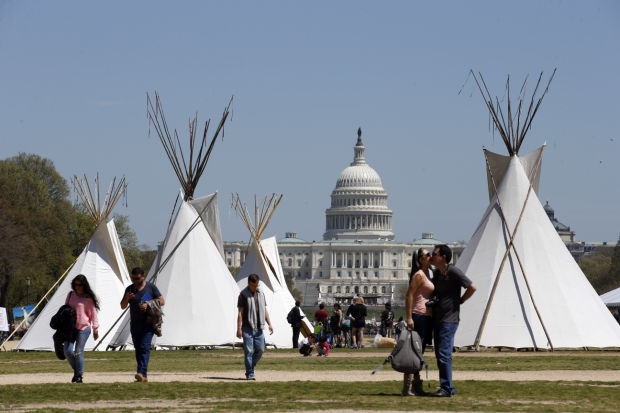 Ten years ago, if you had asked retired school teacher and Antelope County farmer Art Tanderup if he wanted to fly to Washington, D.C., for a political rally on the National Mall, he might have said you're a few ears of corn short of a bushel.
"I never thought I'd see myself doing things like this, but here we are," he said during a recent interview.
Monday afternoon, he was on the road with Carol Smith of Plainview and Oakdale-area rancher Mike Blocher, headed to Eppley Airfield in Omaha.
They plan to spend the week taking part in a "Reject and Protect" demonstration against the Keystone XL pipeline organized by the Cowboy and Indian Alliance, a group of farmers, ranchers and tribal leaders.
Nebraska, not normally known as a hotbed of political discontent, has become the epicenter of the ongoing saga surrounding Calgary-based TransCanada's efforts to get a federal permit to build a pipeline that would ship 830,000 barrels of crude oil daily from western Canada and the Bakken formation in Montana and North Dakota to U.S. refineries along the Gulf Coast.
On Friday, the U.S. State Department put TransCanada's application on pause — again — while the Nebraska Supreme Court sorts out a challenge to a state law that allowed the pipeline's path through the state. The permit process won't resume until after the Nebraska route has been settled, federal officials said.
It's unlikely Nebraska's high court will make a decision on the case before the November election.
The $5.4 billion northern leg of the pipeline would run 1,179 miles and cross three states — Montana, South Dakota and Nebraska — connecting with a hub in Steele City.
The southern part of the pipeline was built at a cost of $2.6 billion and began shipping oil in January from Cushing, Okla., a trading and storage hub for the oil industry.
On Monday, TransCanada reiterated its commitment to the pipeline project and its frustration at the latest in a long line of delays since it proposed the Keystone XL in 2008.
"Energy infrastructure projects like Keystone XL are designed to meet a need — and that need has not has changed," TransCanada spokesman Shawn Howard said in a news release. "Our customers want a direct connection between U.S. and Canadian oil fields and American refineries — and the energy security that provides — this has not changed.
"Despite more than three years of misinformation from extremely well-funded, well-organized professional activists, a majority of Americans continue to support Keystone XL in poll after poll after poll."
Bloomberg recently reported Doug Horner, Alberta's finance minister, said growing crude oil production from Alberta's tar sands region could run into a "significant issue" as volume catches up to current transportation capacity in the next three to four years.
With the State Department announcement, Nebraska pipeline opponents feel historic momentum filling the sails of their cause, said Sue Luebbe, one of three landowners who challenged the state law (LB1161) that gave authority to review major pipelines to the Nebraska Department of Environmental Quality and final approval to Gov. Dave Heineman.
About 100 Nebraskans plan to be in Washington for the rally that kicks off Tuesday with a ceremonial horseback ride from the Capitol down the National Mall to a tipi camp and culminates Saturday with a rally organizers expect to draw 5,000 people.
White House staff plans to meet with Bold Nebraska leader Jane Kleeb, four landowners and five tribal leaders on Tuesday to discuss the group's message, Kleeb said.
Luebbe made her sixth trip to Washington on Monday, but planned to return Tuesday night to brand cattle on her ranch south of Stuart. She said she hates big cities but was looking forward to sharing hugs and handshakes with friends she met at past rallies.
It's tough keeping momentum strong among farmers and ranchers who have fields to plow and calves to birth.
Tanderup tested his soil this weekend and would like it to warm up a bit more before he puts down his corn and soybean seeds, leaving him free to get away from the farm for the week.
"This is such a big issue. People need to speak out about it. There is no chance of stopping it if we don't say anything," he said.