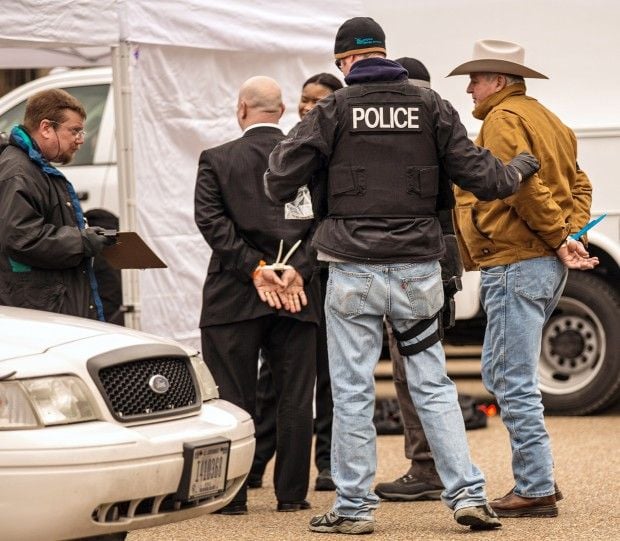 Nebraskans arrested in a Wednesday protest against the Keystone XL pipeline outside the White House talked about their time in custody Thursday in a mixture of serious and humorous comments.
Randy Thompson of Martell, who owns land on the proposed pipeline route in Merrick County, said he spent about three hours in "a paddy wagon" with his hands cuffed behind his back.
Thompson, known for his Stetson hat and as a "Stand with Randy" leader of the pipeline opposition in Nebraska, was one of about 50 people arrested and one of four from his state.
He was not among those who zip-tied himself to the White House fence.
"That was optional," he said, "so I never did tie myself to the fence. I'm not crazy about being tied up to anything."
The response of arresting officers was "very respectful," he said.
"In fact, some of the policemen were on our side of the issue. We asked them what they thought about it."
Susan Luebbe of Stuart, Abbi Kleinschmidt of Sutton and Jim Turnick of Fullerton also were arrested.
Luebbe said she paid a $100 fine for civil disobedience. It was the third time she'd flown to Washington to protest, but the first time she went to jail.
She was planning to fly back Friday night after meetings with State Department officials. Nebraska was already much on her mind Thursday.
"We're just days away from calving," she said of what's waiting for her back home.
Kleinschmidt said it was also her first time in police confinement, but the pluses far outweighed the minuses.
"Just with the company I was with, and as kind and polite as the policemen were -- and we knew why we were doing it. So it was just fine."
Kleinschmidt and several other members of her family planned to stay in Washington for a larger protest on the Capitol Mall on Sunday. Organizers of the "Forward on Climate" rally say they expect more than 30,000 people to participate.
The Keystone XL is TransCanada's latest plan for connecting the oil sands of Alberta with refineries along the U.S. Gulf Coast. It has been in regulatory channels for more than three years.
The U.S. State Department is expected to release a supplemental environmental review of the proposed route through Nebraska and other states by April 1.