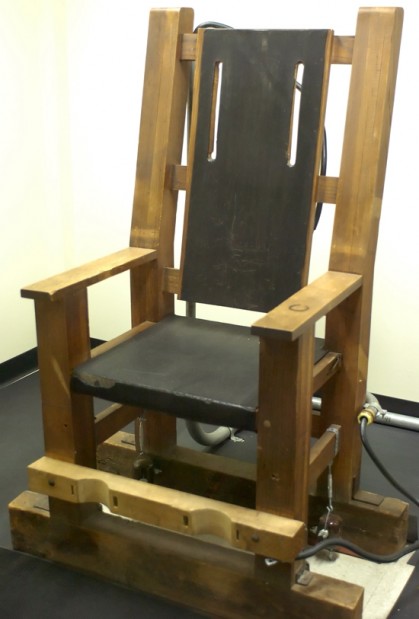 Robert Williams died 11 years ago sitting in Nebraska's electric chair.
It's almost a sure bet he will go down in history as the last man executed in Nebraska by electrocution.
After Nebraska Attorney General Jon Bruning announced Thursday evening he would not appeal the Nebraska Supreme Court ruling in February that the electric chair is unconstitutional, it almost guaranteed the 10 men lodged on the state's death row today will not face the chair.
In its February ruling, the state Supreme Court upheld Raymond Mata Jr.'s first-degree murder conviction, but called the electric chair an archaic form of torture.
Bruning said the resources of his office would be better used to seek a legislative solution to the situation the state now finds itself in — having a death penalty with no legal means to carry it out.
"The Legislature has yet to identify another method," Speaker Mike Flood said.
But it decided three times in the past two years that capital punishment should continue in Nebraska.
A number of senators are interested in the issue, Flood said, and they are talking about what kind of bill might be introduced next session.
"I fully expect it to happen," he said.
Bruning's office is researching the issue, looking in particular at lethal injection. But other methods exist, including hanging, the firing squad and the gas chamber.
Gov. Dave Heineman has said he would wait for Bruning's office to study the issue, and likely would not call the Legislature into a special session this year.
The strongest opponent of the death penalty — Sen. Ernie Chambers of Omaha — is still in office, and capable of preventing or tying up any legislation dealing with the death penalty. He will leave office in January because of term limits.
Chambers and others have argued that the men sentenced to die by electrocution in Nebraska cannot be executed by another means.
The U.S. Supreme Court in April upheld lethal injection as a constitutional method of execution, ruling that Kentucky's use of a specific cocktail of three drugs to exact death did not constitute cruel and unusual punishment, under the Eighth Amendment. 
Since that ruling, there have been nine executions in six states, eight by lethal injection and one by electrocution, in South Carolina, according to the Death Penalty Information Center.
Nebraska was the last state to use the electric chair as its sole means of execution. In a few other states, inmates are able to choose electrocution as an alternate means.
Fifteen men were executed in  Nebraska's electric chair between 1920 and 1997.
So what will happen to the executioner's chair that sits at the Nebraska State Penitentiary in Lincoln?
Steve King, planning and research administrator with the Department of Corrections, said that decision will most likely be up to the Legislature or the governor's office — not the department.
"That's beyond us, but that's just my opinion," he said. "We just carry out the dictates of the law."
Bob Houston, department director, may have his own opinion on the question, King said. Houston was out of the office on Friday.
A number of options exist, from discarding the chair to putting it into a historical museum.
"This is an artifact," he said. "It's a grim reminder of the punishment practices for the state."
Flood said he personally would not want to see the chair on display anywhere. Other than that, he had not considered what to do with it.
"This is a serious and solemn issue," he said.
And ultimately, it would be a legislative decision, he said.