The trail cutting across Havelock is only partially paved — the city couldn't afford to finish what it started nearly 25 years ago, and hasn't been able to pay for it since.
It's uneven in places. The city can't clear snow from the limestone during winter, making the Murdock Trail temporarily useless to cyclists and other users.
"This poor trail has been so ignored," said Elaine Hammer of the Great Plains Trails Network. "It isn't really that it got the shaft, it just never won the battle of getting grant money."
But runners have learned to love it, finding the Murdock's limestone stretches more forgiving.
"We want to be on soft surfaces as much as possible," said Ted Bulling, track and cross country coach at Nebraska Wesleyan University. "As serious runners, we want to stay off the hard concrete as much as possible."
Three to four times a week, dozens of Wesleyan athletes run north from campus to the trail and then head east, through Havelock and into the countryside. They've logged those miles for years.
"Every day in the fall, we were on it," said Ann Ringlein, a former Wesleyan coach and vice president of the Lincoln Track Club's board of directors. "It's beautiful. It's a great route."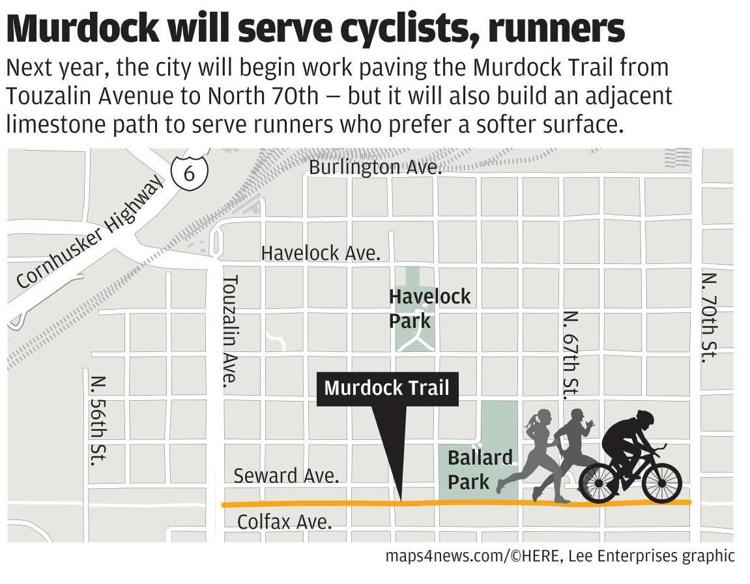 As manager of the Lincoln Running Company, Ringlein often hears from runners about Lincoln's lack of limestone. "The first thing people who have moved here or are visiting, they say, 'Where are the soft trails?'"
If they didn't want to travel to the edge of town — to the MoPac or the Jamaica North trails — their only choice was the Murdock Trail.
But the city's Parks and Recreation Department views that trail as an unfinished puzzle piece in Lincoln's 135-mile paved trail system. With northeast Lincoln growing, particularly on the trail's east end near 84th Street, the Murdock Trail needs to be able to carry more weight, more of the time.
"When I look at that neighborhood, it's really underserved by concrete, four-season trails," said Sara Hartzell, a parks planner.
You have free articles remaining.
The city saw the potential conflict: Paving the trail would alienate runners; not paving it would continue to shortchange cyclists and stroller-pushers.
"There was some resistance when we started talking about paving it," Hartzell said. "We started thinking, 'Is there some other way to do this?'"
There was, in Scottsdale, Arizona, and at Petroglyph National Monument in New Mexico, and in other areas that accommodate the two types of trail users by simply building two trails.
Late next year, the city plans to start replacing a stretch of the Murdock Trail — from Touzalin Avenue to 70th Street — by building a 10-foot-wide concrete corridor with a 4-foot-wide limestone path alongside it.
This is new to Lincoln, and engineers are still working on the design. They need to determine the best fit for both in the trail corridor — whether they're flush with each other or separated by a buffer — and how to prevent the concrete from draining on the limestone, Hartzell said.
It's also an expensive compromise; the estimated cost is $600,000. The city will contribute about $160,000, and the Great Plains Trails Network and Lincoln Track Club are raising the rest, with matching dollars from the Jayne Snyder Memorial Fund.
But it was time to do something with the Murdock Trail, Hammer said.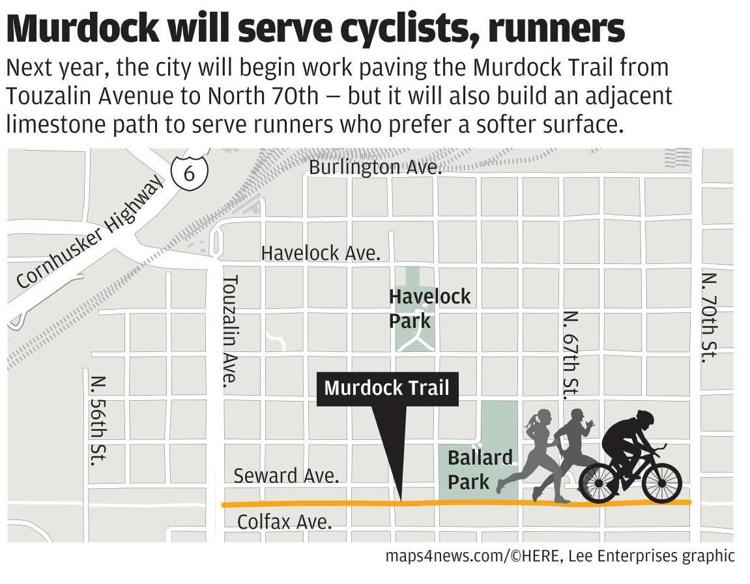 "We said, 'Let's see if we can get it done.' We'll just have to raise the money and use all of the resources we can find to finally get this finished."
When it's done, that stretch of the Murdock Trail will be Lincoln's first side-by-side trail. But likely not its last, Hartzell said: If it works, the city could add limestone paths along other trails.