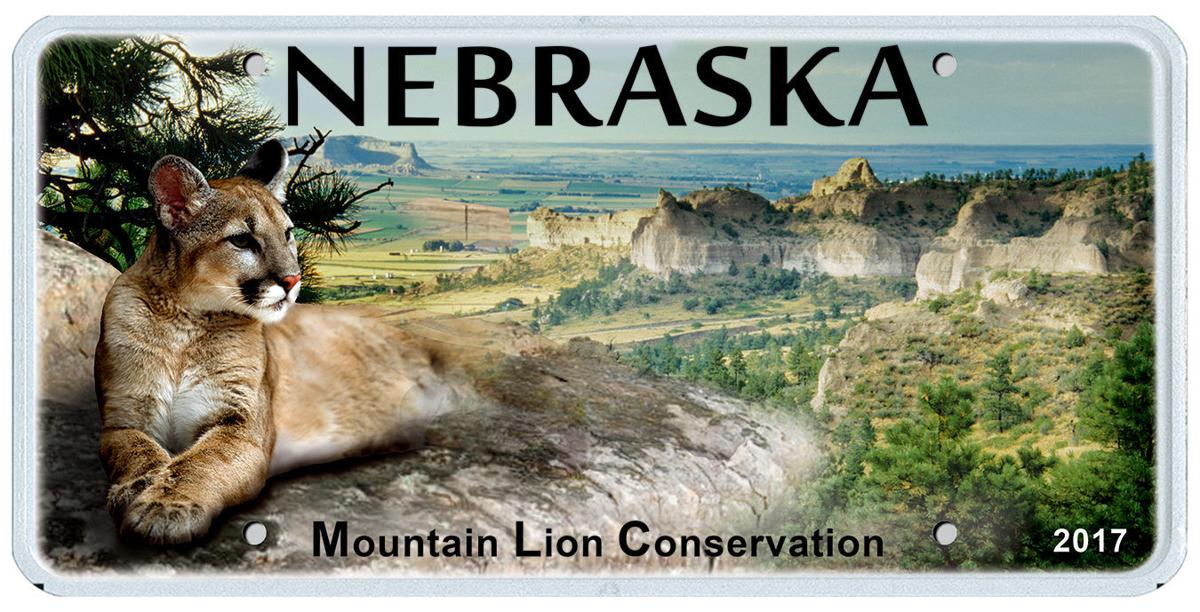 This story started on Capitol Parkway, with one passing Prius, then another right behind it.
Both wore mountain lion license plates.
And after that, they started standing out. A lion-plated Prius at Whole Foods, and in the Haymarket, and at the post office, Target and a Wilderness Park trailhead.
Which raised the question: Are there more mountain lion plates on the Toyota Prius than other makes and models?
The short answer? No — but more on that later. First, here's a look at the popularity of the plates, where they came from, where they've gone and what it means:
10 times hotter than predicted
The state lowballed the appetite for the mountain lion plate a few years ago, when it was still just a hopeful bill introduced by Sen. Ernie Chambers of Omaha.
The Department of Motor Vehicles filed a fiscal note — a dollars-and-cents estimate of the impact of legislation — predicting it would sell 2,500 plates the first year.
They could have added another zero. Since Oct. 1, 2016, when the plates were introduced, the state has sold nearly 25,000.
With an additional cost of just $5 — money that goes straight to the Game and Parks Commission's educational efforts — the mountain lion quickly became the state's most popular specialty plate.
"My impression is because of its unique design, it's a very pleasing design," said Betty Johnson, administrator of the department's driver and vehicle records division. "And I think the other thing that impacts it a lot is the low $5 fee."
About 20 percent of the mountain lion plates are also message plates, meaning nearly 5,000 car owners paid the extra $40.
The next best-selling plate isn't even close: Since October 2016, the state has sold nearly 11,000 military honor plates.
Lion sightings in 91 counties
At the end of 2017, most of the lion plates predictably lived in the state's three largest counties, Lancaster (6,258 plates), Douglas (5,796) and Sarpy (2,415).
They'd also spread to their natural, rural habitat, with the plates landing in 91 of Nebraska's 93 counties — though not always in great numbers. Blaine, Deuel, Hayes, Keya Paha and Thomas counties each had just one.
And none had made it to Grant and Arthur counties by the beginning of the year.
So are those counties anti-mountain lion or anti-Ernie Chambers? Neither, said Al Davis, who represented the area as a state senator.
They just don't like to waste money. "We come from a frugal part of the state. A lot of people don't want to pay extra for a plate. We look at it as a utilitarian piece," he said.
Plus, he added, there aren't that many cars to license out there.
Carolyn Cerny, the Arthur County treasurer, said her neighbors aren't interested in mountain lions.
You have free articles remaining.
"If they were going to spend the money," she said, "they'd get the beef plate."
The lion on the plate
The image on the license plate is a digital marriage of two photos taken by NEBRASKAland photographers, a sweeping view of the Wildcat Hills taken by Bob Grier, with a closeup of a lion by Justin Wambold.
But Wambold, who now manages The North Face store in Boulder, Colorado, hadn't heard of the plates until last week.
And when he took a look, he didn't immediately recognize his cat.
"If it is my photo, I wish I could regale you with a story of traipsing across the wildlands, but unfortunately not," he said.
Here's the real tale: When lion sightings were increasing in Nebraska 15 years ago, the magazine realized it needed more stock photos of the animals.
So Wambold took his camera to the Henry Doorly Zoo in Omaha.
"It was a 40-mile drive up the road, and maybe a couple of hours at the zoo. It was nothing exciting."
Where the money goes
The money started adding up for the Game and Parks Commission's education fund, $5 for each set of regular plates, and $30 from each set of message plates.
The most recent total? More than $265,000.
"It's a great surprise," said Tim McCoy, the commission's deputy director. "It's a great addition for our wildlife educational activities."
Specifically, the commission is spending the money to partner with the Bird Conservancy of the Rockies to pay for an educator in the Wildcat Hills, about a dozen miles south of Scottsbluff.
"That person will do a lot of conservation education with the public and landowners, talking to them about bird-friendly conservation things they can do, going out and having field tours with landowners," he said.
The educator will also teach students about wildlife and birds and the importance of conservation, by going inside their schools and hosting them at the visitor center.
Back in our time zone, the mountain lion money will also pay for state-of-the-art interactive displays at Ak-Sar-Ben Aquarium in Schramm Park State Recreation Area, midway between Lincoln and Omaha.
Ford vs. Honda
And finally, the make and model with the most mountain lion plates?
The Ford F150, with three of its styles making the Top 20, for a total of 761 pickups bearing the photo from Wambold's visit to the zoo.
(A note on the numbers: The state distinguishes between specific styles of the same make and model. For example, it lists more than 30 types of Toyota Camry — SE, LE, XLE, DLX, etc. Altogether, the state has sold mountain lion plates for more than 3,000 vehicle types. We considered the 20 vehicles with the most lion plates, and combined multiple styles of the same model if they ranked in that range.)
So three styles of the Honda CR-V are No. 2, with 479, and two styles of the Chevy Silverado K1500s are third, with 462 trucks.
And at No. 4, the basic Prius — the car that started all of this, with 154 mountain lion plates that seem to be lurking everywhere.
Top 20 makes, models with mountain lion plates
Here's the top 20 makes and models of vehicles with mountain lion plates. Also of note: 19 Mercury Cougars have mountain lion plates. And nine Rabbits have photos of the animal that often eats them bolted to their bumpers.
| Vehicle model | # of plates |
| --- | --- |
| 1. Ford LGT F150 SUP | 385 |
| 2. Chevy Silverado K1500 | 294 |
| 3. Ford LGT F150 | 257 |
| 4. Honda CR-V EX | 187 |
| 5. Honda CR-V EXL | 186 |
| 6. Chevy Silverado K1500 LT | 168 |
| 7. Toyota Prius | 154 |
| 8. Ford Escape XLT | 132 |
| 9. Ford Ranger Super | 126 |
| 10. Chevrolet Equinox LT | 121 |
| 11. Ford F150 Supercrew | 119 |
| 12. Jeep Grand Cherokee Laredo | 116 |
| 13. Honda Accord EX | 111 |
| 14. Honda Civic LX | 107 |
| 15. Honda CR-V LX | 106 |
| 16. Ford Fusion SE | 105 |
| 17. Ford Explorer XLT | 101 |
| 18. Toyota Camry Base SE/LE/XLE | 99 |
| 19. Chevrolet Equinox LT AWD | 97 |
| 20. Chevrolet Impala LT | 97 |
Cougars by county: Number of mountain lion license plates in each Nebraska county
A county-by-county look at the number of mountain lion license plates on vehicles across Nebraska. Data provided by Nebraska Department of Motor Vehicles.
| County | Mountain lion plates |
| --- | --- |
| ADAMS | 157 |
| ANTELOPE | 33 |
| ARTHUR | 0 |
| BANNER | 17 |
| BLAINE | 1 |
| BOONE | 32 |
| BOX BUTTE | 45 |
| BOYD | 7 |
| BROWN | 3 |
| BUFFALO | 218 |
| BURT | 71 |
| BUTLER | 66 |
| CASS | 312 |
| CEDAR | 46 |
| CHASE | 18 |
| CHERRY | 15 |
| CHEYENNE | 59 |
| CLAY | 33 |
| COLFAX | 77 |
| CUMING | 59 |
| CUSTER | 29 |
| DAKOTA | 158 |
| DAWES | 45 |
| DAWSON | 61 |
| DEUEL | 1 |
| DIXON | 43 |
| DODGE | 371 |
| DOUGLAS | 5796 |
| DUNDY | 2 |
| FILLMORE | 55 |
| FRANKLIN | 29 |
| FRONTIER | 19 |
| FURNAS | 18 |
| GAGE | 232 |
| GARDEN | 8 |
| GARFIELD | 3 |
| GOSPER | 5 |
| GRANT | 0 |
| GREELEY | 8 |
| HALL | 303 |
| HAMILTON | 53 |
| HARLAN | 21 |
| HAYES | 1 |
| HITCHCOCK | 7 |
| HOLT | 62 |
| HOOKER | 3 |
| HOWARD | 76 |
| JEFFERSON | 59 |
| JOHNSON | 59 |
| KEARNEY | 43 |
| KEITH | 47 |
| KEYA PAHA | 1 |
| KIMBALL | 42 |
| KNOX | 58 |
| LANCASTER | 6258 |
| LINCOLN | 183 |
| LOGAN | 3 |
| LOUP | 11 |
| MADISON | 274 |
| MCPHERSON | 5 |
| MERRICK | 41 |
| MORRILL | 48 |
| NANCE | 30 |
| NEMAHA | 81 |
| NUCKOLLS | 17 |
| OTOE | 201 |
| PAWNEE | 25 |
| PERKINS | 2 |
| PHELPS | 55 |
| PIERCE | 45 |
| PLATTE | 262 |
| POLK | 35 |
| RED WILLOW | 31 |
| RICHARDSON | 45 |
| ROCK | 10 |
| SALINE | 115 |
| SARPY | 2415 |
| SAUNDERS | 291 |
| SCOTTS BLUFF | 435 |
| SEWARD | 217 |
| SHERIDAN | 15 |
| SHERMAN | 13 |
| SIOUX | 7 |
| STANTON | 84 |
| THAYER | 41 |
| THOMAS | 1 |
| THURSTON | 19 |
| VALLEY | 21 |
| WASHINGTON | 291 |
| WAYNE | 46 |
| WEBSTER | 14 |
| WHEELER | 4 |
| YORK | 95 |
| TOTAL | 20773 |