Kasey Moyer remembers feeling hopeful in 2004 as she watched then-Gov. Mike Johanns sign a mental health care reform bill that would shift the focus of treatment from state psychiatric hospitals to community care.
"We were really excited about transformation," said Moyer, executive director of the Mental Health Association of Nebraska.
But 14 years later, that promise of reform remains unfulfilled, she and other mental health advocates and care providers say.
The system that serves more than 32,000 Nebraskans each year is plagued by care provider shortages in 88 of the state's 93 counties, long waits for service and few beds for those whose conditions deteriorate and require hospital care.
Hospitalizations because of mental illness surged by 20 percent across the state between 2007 and 2014, adding up to 85,000 stays during that time period, according to a report that assessed the state's behavioral health needs.
Concern is also growing that more people with mental illness are ending up in jail or the state's prisons, which now operate their own mental health unit.
Since 2003, the state has eliminated more than 200 inpatient beds at its three psychiatric hospitals as it poured the corresponding money into community services, according to the Nebraska Department of Health and Human Services.
But despite increases in state mental health spending per capita, adequate reimbursement remains an issue, and it has pressured some programs to close, care providers say.
"(The people) went to the community, and the money didn't follow," said Tom Adams, who recently retired as executive director of the National Alliance on Mental Illness for Nebraska.
Though some care providers say critical fixes, like more public beds, are pressing problems, state officials say Nebraska's reform has come a long way and is headed in the right direction.
"You can't just bed your way out of challenges," said Linda Wittmuss, deputy director of the state DHHS Division of Behavioral Health.
'THEY JUST KEEP COMING BACK'
Fourteen years ago, the emergency room at Bryan West Campus admitted 1,800 people seeking voluntary help for a mental health crisis.
The Lincoln hospital's specialty emergency room for mental health patients will see nearly four times as many this year, said Dave Miers, counseling and program development manager for mental health services at Bryan Health.
Those patients stay an average of three to five days in the hospital's mental health unit, and once they're stabilized, insurance companies want them moved into lower and cheaper levels of care.
Discharge planning starts at admission. But outside the hospital it can take up to a month to get into outpatient treatment, so some patients fall off their treatment plans and return to the emergency room, Miers said.
"They kind of circle back into the crisis system," he said. "They just keep coming back."
Before reform, psychiatrists at Bryan could typically arrange to get a patient who needed more time to recover into one of the 231 beds at the Lincoln Regional Center within a day or so, Miers said.
Reform efforts changed that.
In April 2004, state lawmakers passed LB1083, the Nebraska Behavioral Health Services Act, in a move partly focused on accessing more federal dollars for mental health care.
Reform accelerated efforts to ensure people with serious mental illness wouldn't need to live their whole lives in state hospitals, Wittmuss said.
The state's regional centers had also been treating some people, such as those with substance abuse problems, who everyone believed were better served elsewhere, Wittmuss said.
After the law took effect, the state began closing off parts of the regional centers in Norfolk and Hastings and put $31 million that had been funding care at the centers into community services.
But the regional centers remained in use with new focuses.
Norfolk's regional center treats sex offenders. Hastings' center treats juveniles with substance abuse issues.
The Lincoln Regional Center at West Van Dorn and South Folsom streets serves mostly patients who were found not guilty by reason of insanity or who are being treated to make them fit for trial. It also houses some sex offenders and has 90 beds for people who are committed from the community as a last resort.
Mental health board commitments to state hospitals declined by 44 percent and emergency protective custody cases declined 8 percent between 2011 and 2016 amid an effort by state officials to de-escalate crises and treat patients at the community level when possible, according to the 2016 University of Nebraska Medical Center report.
The table above shows Lincoln Police Department mental health investigations and emergency protective custody cases between 2000 and 2016.
Therapists accompany law enforcement on mental health crisis calls in some parts of the state to assess whether someone is a threat to themselves and diffuse situations that might otherwise end in protective custody, Wittmuss said.
And mental health boards have committed many people on an outpatient basis so they wouldn't need the most restrictive level of care, she said.
WAIT TIME HAS DOUBLED
While the number of mental health commitments and emergency protective custody cases has decreased, wait times for those who need care at the Lincoln Regional Center have spiked.
The longest waits exist for patients who have been ordered by a judge to be evaluated in a criminal case.
Court-ordered patients now wait an average of 70 days before admission, according to DHHS. That's nearly double the average wait from 2016.
Meanwhile, demand for court-ordered treatment has increased in recent years, which officials say they can't attribute to any particular development.
The number of patients committed to the Lincoln Regional Center by the court has more than tripled since behavioral health reform, facility operator Stacey Werth-Sweeney said.
To reduce wait times, the center sends a psychiatrist out to jails and homes to meet people who need evaluations to determine their best treatment.
"He literally goes all across the state," Werth-Sweeney said.
The wait times concern John Snook, who heads the Treatment Advocacy Center, an Arlington, Virginia, group that researches access to care for people with severe mental illness.
"Waiting to just get the (court) process started is a sign of just how broken things have gotten," Snook said.
Though Nebraska's wait is shorter than other states, Snook said "it's a very low bar to meet."
For men and women committed to the Lincoln Regional Center by a mental health board, the wait is shorter but the path can be more circuitous.
Someone in Lincoln placed in emergency protective custody at the Lancaster County Mental Health Crisis Center because they're mentally ill or suicidal or a danger to others may be stabilized at the center but then sent to a private hospital in Hastings, Kearney or Omaha before ending up at the regional center, said Scott Etherton, who runs the crisis center.
They're treated in short stints at private hospitals, and if they still need care, they are put on a list for the Lincoln Regional Center, he said.
That wait is about eight days.
Private hospitals only take patients for an average of 18 days, have wait lists of their own, and many won't take violent patients, Etherton said.
Once a patient does get to the Regional Center, the average length of stay is 251 days, or more than eight months, according to the 2016 report. 
However, stays for patients in the court system can stretch months or years because their time is dictated by a judge, Werth-Sweeney said.
Nebraska has longer-than-average stays at the Regional Center compared with other states, but Nebraska also has one of the lowest readmission rates, a sign treatment worked, according to the Treatment Advocacy Center.
Still, Snook maintains Nebraska's number of beds per capita should be increased.
The state has about 15 beds per 100,000 people, well short of 50 beds per capita rate prescribed to provide adequate inpatient care, Snook said.
Miers, of Bryan Health, said he thinks adding more Regional Center beds could alleviate pressure in other areas of the system and help patients recover sooner because they wouldn't bounce between care providers as much.
Despite the need, about 40 licensed beds sit unused at the Regional Center due to staffing, Werth-Sweeney said.
A nursing shortage has challenged the Regional Center, where Werth-Sweeney is trying to attract nurses by partnering with nursing schools, helping pay for additional training and accreditation and boosting pay to remain competitive.
She estimates she would need to hire 20 nurses to use the beds, a tough task as the state faces a nursing shortage across the health care system.
TOO FEW PROVIDERS
The Lincoln Regional Center's shortage of nurses comes amid a larger problem in Nebraska.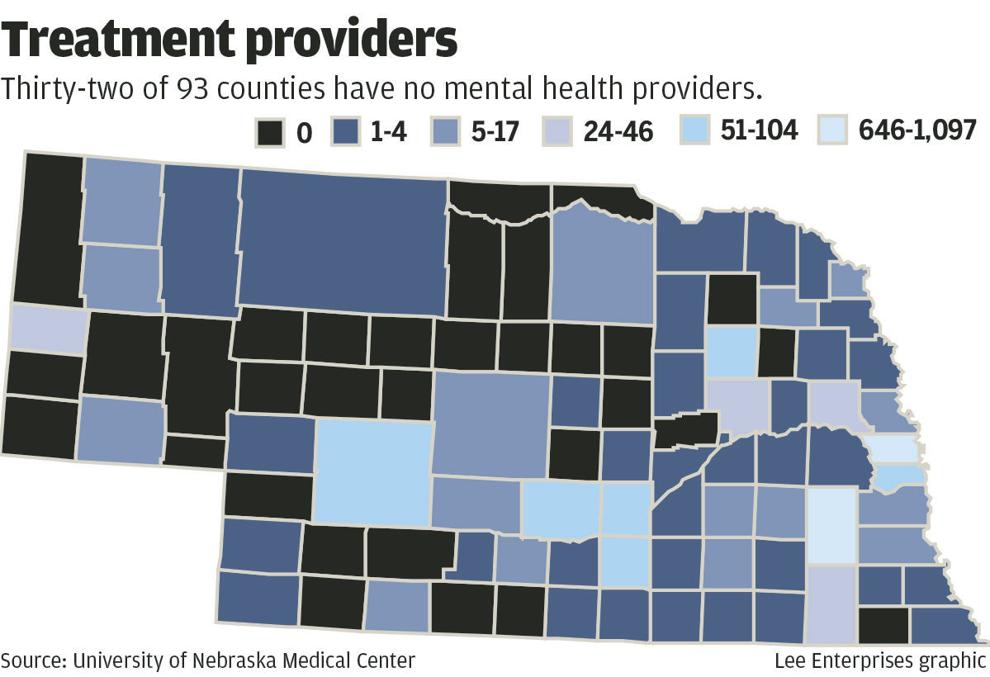 One-third of the state's 93 counties do not have any mental health care providers. And of the rural mental health care providers that do exist, more than half are 55 years or older, according to the 2016 report.
"We're in trouble," said Adams, who fears this shortage will keep some people from getting diagnosed and prevent others from continuing treatment because of longer drives for care.
For its part, UNMC has focused on educating more rural providers, boosting training and working to place more medical school graduates in rural psychiatric hospital residencies among other efforts.
UNMC officials see this shortage as a key barrier to realizing the promise that reform would allow people to access care where they live.
But wait times for outpatient services remain an issue at the community level, too, administrators for the state's behavioral health regions acknowledge.
Wait times and affordability of care remain issues on the radar of Moyer, who heads the Mental Health Association of Nebraska.
For the clients who use these services, a spate of program closures across the state has created turbulence for those trying to maintain consistent treatment, several officials said.
A task force in 2016 found another problem was the actual cost of providing care wasn't covered by the state divisions of Behavioral Health and Medicaid.
But problems with the contractor who reimburses providers who bill Medicaid meant many claims were delayed, and at least one mental health care provider had to take out a line of credit to cover its operations because of lagging payments, according to news reports.
Wittmuss of the Department of Health and Human Services said some of these issues are seen across health care and not unique to behavioral health or Nebraska.
"Towards that end, I think we have made a tremendous amount of progress," Wittmuss said. "It doesn't always seem that way when you're caught in the middle of the day-to-day because it's: 'I need a bed now. I need a place to move now.'"
SAFE HOME, STEADY JOB
The help most people with mental illness need is a safe place to live and a good job, Moyer said. Inpatient beds should be a last resort.
Reform has provided key funding for organizations like hers, she said, but she'd like to see the state expand its supported housing and employment programs.
Supported employment offers someone with serious mental illness a coach to help them get a job and keep it with an understanding of how it affects any state or federal benefits they receive, she said.
Gov. Pete Ricketts has asked the Division of Behavioral Health to expand the supported employment program, which served 695 people in 2015 and is set to serve 1,140 this year.
This is the kind of support at a community level that helps people with mental illness live productive, fulfilling lives, Moyer said.
"It should not have to be live on your own -- or live in an institution," she said.
Steve Lewis' battle with the mind-consuming paranoia of schizophrenia for 35 years has landed him in the hospital at times.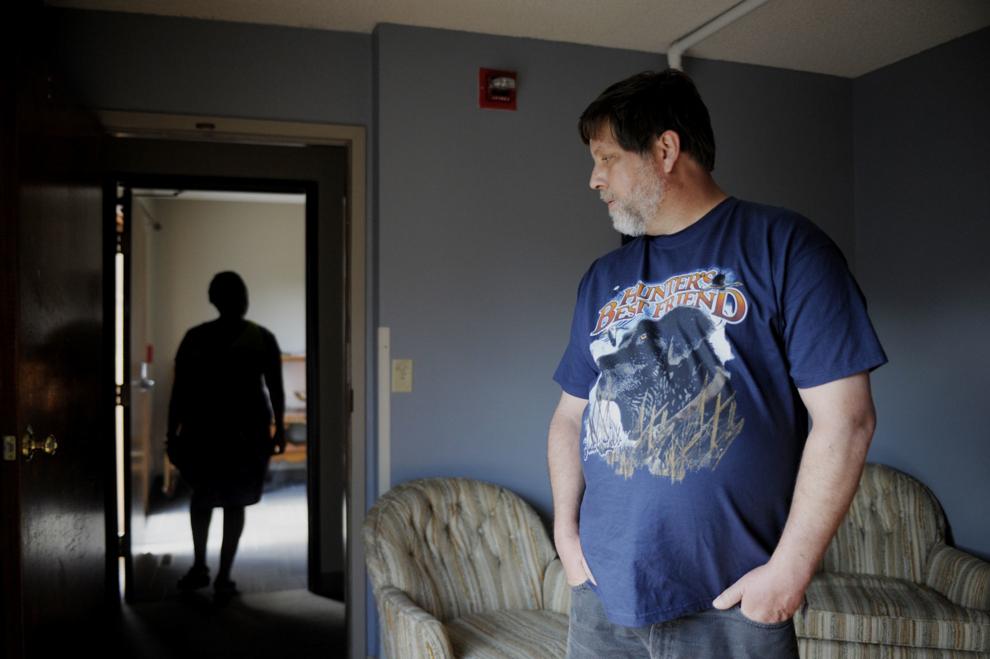 "It's a very scary thing," the 52-year-old said of the isolation, fear and confusion that can cloud his thinking. "Sometimes schizophrenics are looking for a way out."
Lewis feels he's finally found good footing thanks to transitional housing and a supported employment program through the Mental Health Association of Nebraska.
The Lincoln man takes medication and checks in with his doctor regularly. He receives Social Security disability and housing assistance.
But what's got him on track has been working.
He appreciates his employment specialist who helped him find a job washing dishes through the association's Hope Program.
He lives in his own apartment, pays his own bills and likes the satisfaction that comes from his self-sufficiency.
Bad days still come, but he grounds himself by remembering the good days.
"My life is on the right road," Lewis said. "I'm living in a good world."