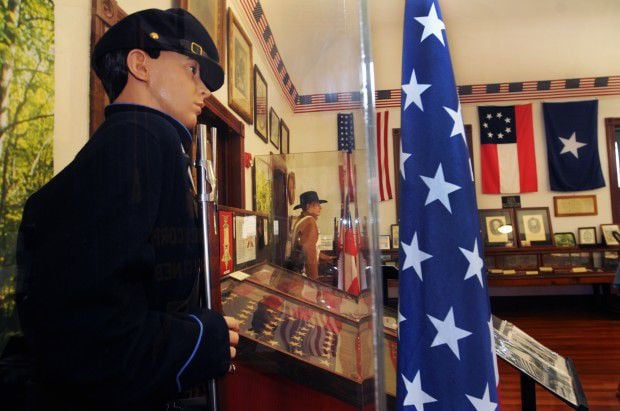 The Sons of Union Veterans of the Civil War will dedicate new headstones Sunday at the formerly unmarked graves of three Union soldiers in Thayer County.
At 11 a.m., members of the group from across the state, assisted by members of the Daughters of Union Veterans of the Civil War 1861-1865, local re-enactors and history buffs, will perform a ceremony based on rituals from the late 1800s. There will be an optional procession from the Belvidere schoolhouse to the cemetery at 10:30 a.m.
It's all part of this year's Thayer County Historical Society and Museum's Fall Festival, which is scheduled from 8 a.m. to 5 p.m. Descendants of the soldiers have been invited to attend.
New headstones at the formerly unmarked graves of Richard Furry (who died in 1908) of the 74th Indiana Infantry, William McKillip (1913) of the 85th Illinois Infantry and John Williams (1910) of the 48th Iowa Infantry will be dedicated.
"It is an honor for us to dedicate monuments at the final resting places of these veterans," said Mark Nichols, Commander of the Department of Nebraska of the Sons of Union Veterans of the Civil War.
"Not all veterans had the means or even other family members nearby to supply a headstone when they died. More than 19,000 men who served in the Civil War are buried in our state, and about 200 graves are still unmarked, so we appreciate communities like Belvidere that help keep evergreen the memory of the boys in blue."
There will be cannon demonstrations at 10 a.m. and at 1 p.m., depending on weather conditions, and military drills for young recruits at various times throughout the day.
The Sons and Daughters also will recognize Thayer County Museum curator Jackie Williamson for her role in securing marble military headstones for these veterans.
The Sons of Union Veterans of the Civil War is a fraternal organization dedicated to preserving the memory of the Grand Army of the Republic and the sacrifices made by soldiers, sailors and marines who served the Union in 1861-1865.