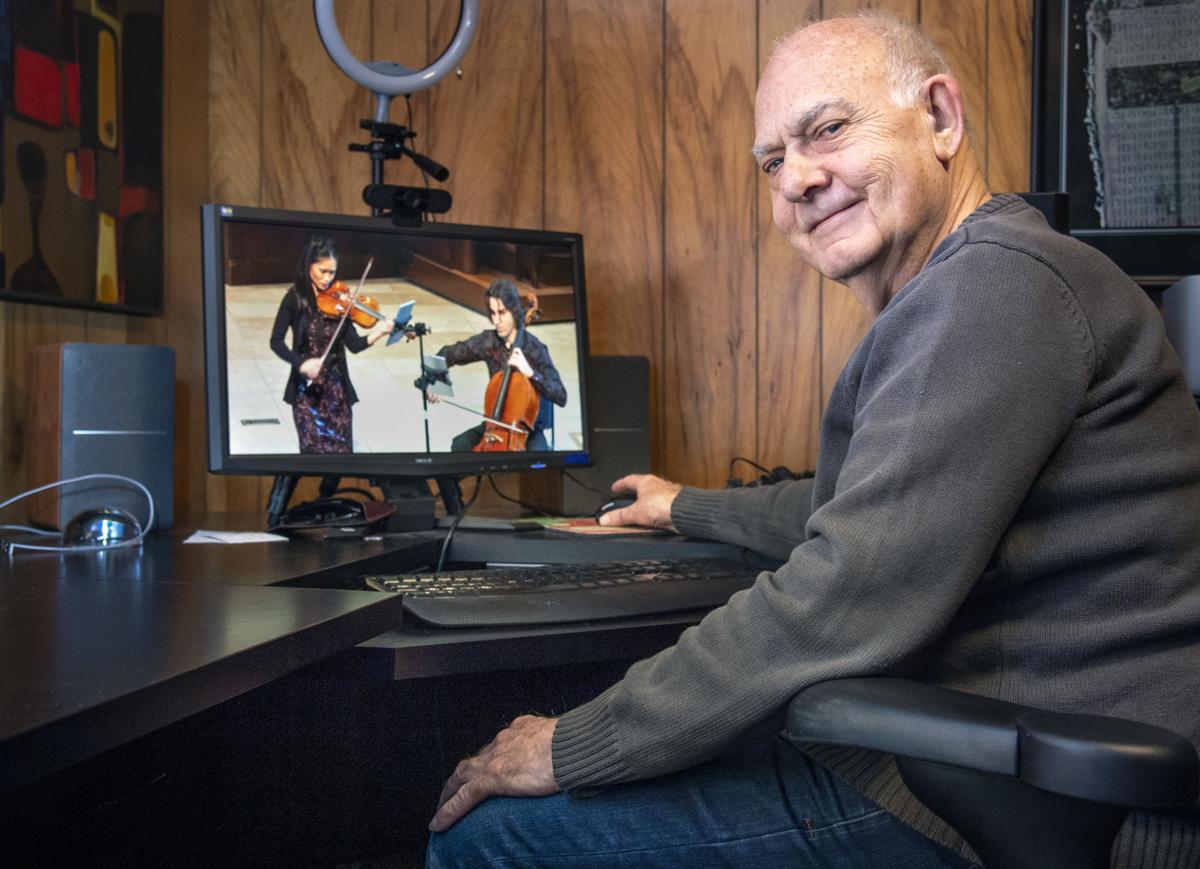 The YouTube channel wasn't a new thing, but all those viewers sure were. 
Hymn lovers from across the country — and around the world — finding a spiritual salve in the music from First-Plymouth.
They came in droves that first month of the pandemic.
And they kept coming, listening and letting the Congregational church at 20th and D know how much the music meant to them. Songs like "It is Well with My Soul" and "Shall We Gather at the River" and "The Church's One Foundation."
Listening to this in early 2021, I know how much I miss making music together in a place and time where we don't have to worry about masks and distancing…
I needed this so much, my husband is very ill in the hospital…
I needed to hear this today, 2020 has been the worst…
John Casey is tuned into those online comments.
"You wouldn't think these hymns would affect people as much as they do," he said. "And sometimes in a profoundly personal way."
Casey is the man behind the many hymns — more than 1,000 — on the church's music channel. The volunteer uploads videos of choir performances and Abendmusik concerts. He edits, tweaks the sound, adds lyrics so viewers can sing along.
For a year now, he's been observing the blossoming of his longtime efforts to share First-Plymouth's musical offerings as churches everywhere have been shuttered or their congregations reduced in size.
"Churches all over the country use them for their services during the pandemic," Casey said. "We've had millions of hits."
"Which is a lot for a church music video, I'll tell you that."
Casey is a retired Lincoln pathologist. He grew up in Norfolk with a musical mother and a brother who still plays in a country band. In his boyhood, the doctor studied organ and piano, and sang in college choirs.
He joined First-Plymouth in 1988, drawn by its musical reputation.
And he signed up for choir, too.
"When you sing in the choir, you really can't hear what you sound like," the man with the deep bass singing voice said. "So I started uploading the performances."
He used them as a tool to improve his own singing. He sent them to fellow choir members and they shared them with friends.
Time passed and technology improved, too. Better cameras, better recording equipment.
Then a man named Tom Trenney arrived at First-Plymouth with a national reputation as a music director and organist.
The church's minister of music began sharing Casey's uploaded hymns with his social media circle.
"John is fascinated with the history of music," Trenney said. "He was one of the people I would learn from when I first came."
Last March, Trenney watched the numbers pop on the church's YouTube channel. More than 1,500 new subscribers. More than 705,000 new views.
"We became a refuge to people," he said. "This has been sort of a miracle to us in trying to help and share during the pandemic."
Trenney put it this way on Facebook as the pandemic took hold: "We discovered our music ministry does not begin and end in real time and in a defined space, but that the hope and peace and grace we sing about in these videos becomes sanctuary for people near and far…"
His office gets calls every day, he said, sometimes more than one, from people asking permission to use the music or for help finding music they're curious about.
They gladly oblige. An opportunity, Trenney said, to share the church's mission.
And the diligent work of Casey.
His work — week after week on YouTube since October 2010 — has been an inspiration, said Meg Lauerman, a communications volunteer at First-Plymouth.
"He has spent countless hours, with no fanfare, doing this important work and is probably surprised at the scope and scale of his influence," she said.
He loves the process. Sitting in his home office, listening, editing, smoothing, creating a seamless rendering of a beloved hymn.
He loves seeing — and now hearing about — the joy they bring.
The true stars are the singers and conductors, the organists and musicians and videographers, Casey said.
He's just the assemblyman.
"Which is great fun, by the way."
And in the year of the pandemic — with no live concerts to assemble for YouTube — he's enjoying the fruits.
He's awed by the scope of those using the music — from small churches that might record their videos on cellphones singing along to First-Plymouth choir recordings on Zoom to requests from the Church of England to play a selection for an online service.
"Sometimes you think, 'Oh gosh, is it really worth it?'" Casey said. "And then all of the sudden, it really is worth it."
The numbers tell him. And the words that go with them.
People from across America and from 82 countries, tuned into the sanctuary of a church in Lincoln, Nebraska, during the year of the great pandemic.
Watching the choir file in, the pews full in a video capturing the past we once knew.
A huge blessing for us to remember what worship was like before COVID — and what it will be like again…
FIVE COLUMNS FROM A CRAZY 2020: