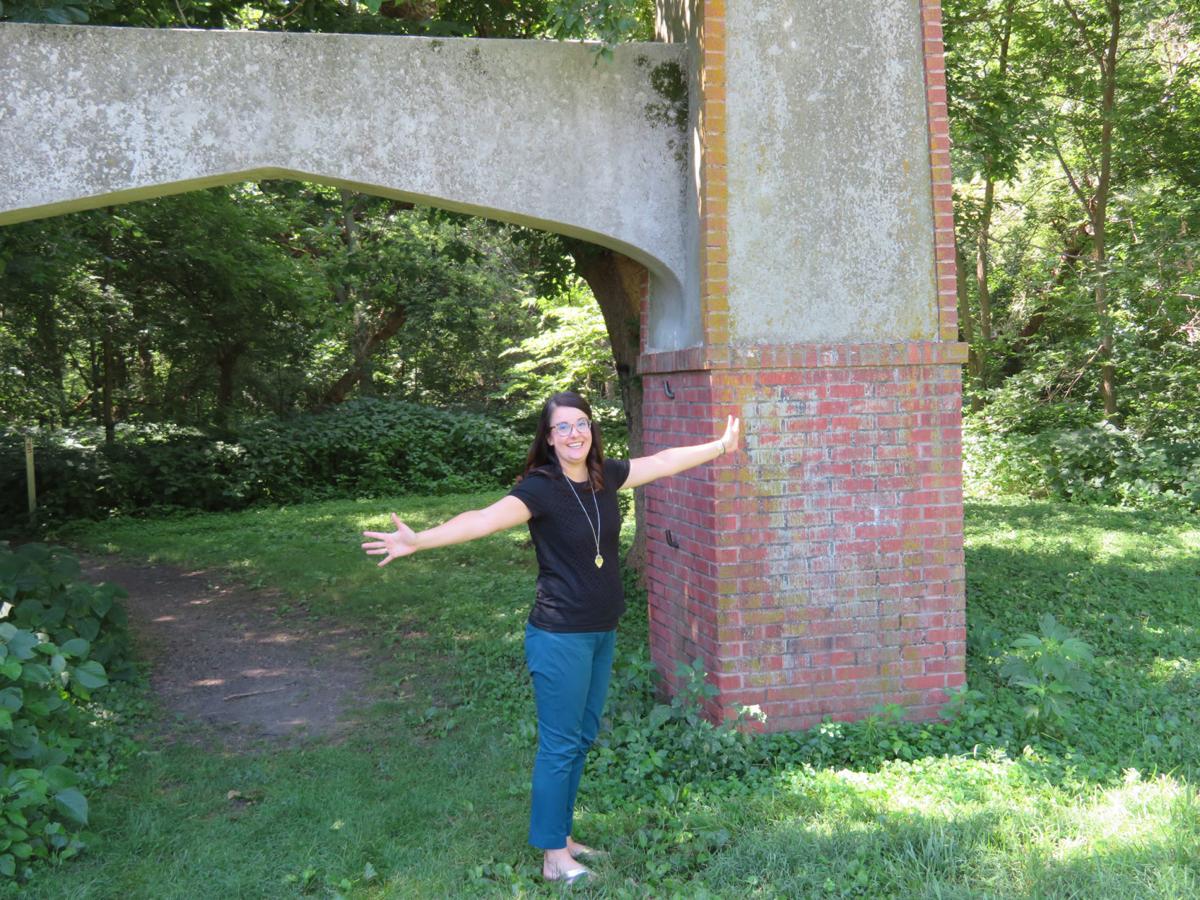 There were cars from Colorado, Illinois and Utah in the parking lot the morning we met to talk about Lincoln's parks and the foundation she heads. I'd suggested that Maggie Stuckey meet me at Sunken Gardens for an interview. She readily agreed. After all, she's the executive director of the Lincoln Parks Foundation. What could be more appropriate than meeting in one of Lincoln's stellar surroundings?
"I just love what I do," noted Stuckey. "What could be better than sitting on a bench at the Sunken Gardens, talking to people about our parks?" As we talked, her story unfolded, suggesting that everything in her life had prepared her to make a positive impact on Lincoln.
Born and raised in Lincoln, Stuckey has quite an interesting history with Lincoln's parks. As a child her parents, Scott and Nancy Stuckey, pushed her in a Lincoln Parks swing. They watched her play on a merry-go-round.
When she was a student at Southeast High School, she participated in the Youth Leadership Lincoln program. "I was in YLL No. 3" she proudly proclaims. Stuckey took a suggestion from Principal Brent Toalson and helped make it happen. That suggestion was to revitalize the playground at Antelope Park. Stuckey and the Student Council raised $25,000 to help turn the Antelope Park playground into the largest and most accessible play area in the region. Stuckey was there for the dedication in September of 2000.
After a couple of years at Boston University, Stuckey returned to complete her degree in Political Science at UNL. Then she was off to Washington to work with Sen. Chuck Hagel. She returned to Lincoln to work with the Arbor Day Foundation and the University of Nebraska Foundation.
"When I came back to Lincoln, one of the ways I reconnected with the city was to participate in the Leadership Lincoln Fellows Class," Stuckey notes. "I'm a two-time Leadership Lincoln participant, and I'm going for my third time." Stuckey plans to participate in the organization's Executive Cohort in the near future.
You have free articles remaining.
So, 17 years after she'd helped raise money for the playground at Antelope Park, Stuckey became executive director of the Lincoln Parks Foundation. She's helping raise money and leading other assorted tasks to establish the Prairie Corridor on Haines Branch. This new park will be a tallgrass prairie passage connecting Pioneers Park, the Conestoga Lake Recreation Area and the Spring Creek Prairie Audubon Center.
And, if that weren't enough, she's involved in helping fund the newest urban park in the South Haymarket, and she's beginning to raise funds and seeking public input for revitalizing Lincoln's Bicentennial Cascade Fountain (also known as the Retired Teachers Fountain) across the street from the Sunken Gardens. And the list could go on.
Even as she focuses on the Prairie Corridor, the South Haymarket Park and Cascade Fountain, Stuckey has uncovered some little-known points of interest about our parks.
"Did you know there's a place where playground equipment goes to die?" she asked. "Yep, when we replace well-worn equipment, it's taken to this little-known spot.
"Did you know that we're 60 years into a 100-year bequest that will one day help fund a brand new park for Lincoln?" she went on to note.
"Ever hear of Epworth Park?" she quipped. "That's quite a story, and the grand entrance still stands in what we now call Wilderness Park."
As we concluded the interview, I suggested we hop in a car and visit the Epworth Park entrance. If you type in "Epworth Park" on Google maps, you won't find it. But if you ask Maggie Stuckey, there's a good chance she'll take you there. And, as you head that way, you'll hear stories from someone who's making Lincoln better.