With one final swing of his red pool noodle, Josh Vinson Jr. — nicknamed "Little Josh" by the crowd — won the inaugural Battle of the Joshes on Saturday.
Hundreds of people — some from as far away as Washington and New Jersey — circled around him as a Burger King crown too big for the 4-year-old's head fell to his shoulders. His dad — Josh Vinson Sr. — shouted "lift him up," and a man proudly lifted Little Josh on his shoulders. The crowd cheered as Little Josh showed his championship belt.
"It's pretty awesome," said Vinson Sr., reflecting on his son's new fame.
The idea for the event originated a year ago with a Facebook message to people named Josh Swain. The original Josh Swain — a college student from Arizona — wanted Joshes to battle to determine the real Josh Swain and picked random coordinates and a date to meet.
The coordinates placed Swain in Lincoln, and Joshes from across the country gathered at a green area in Air Park and swung pool noodles to determine the one true Josh.
A Josh Swain from Omaha showed up, but lost a game of rock-paper-scissors, and thus his chance of being named the real Josh Swain.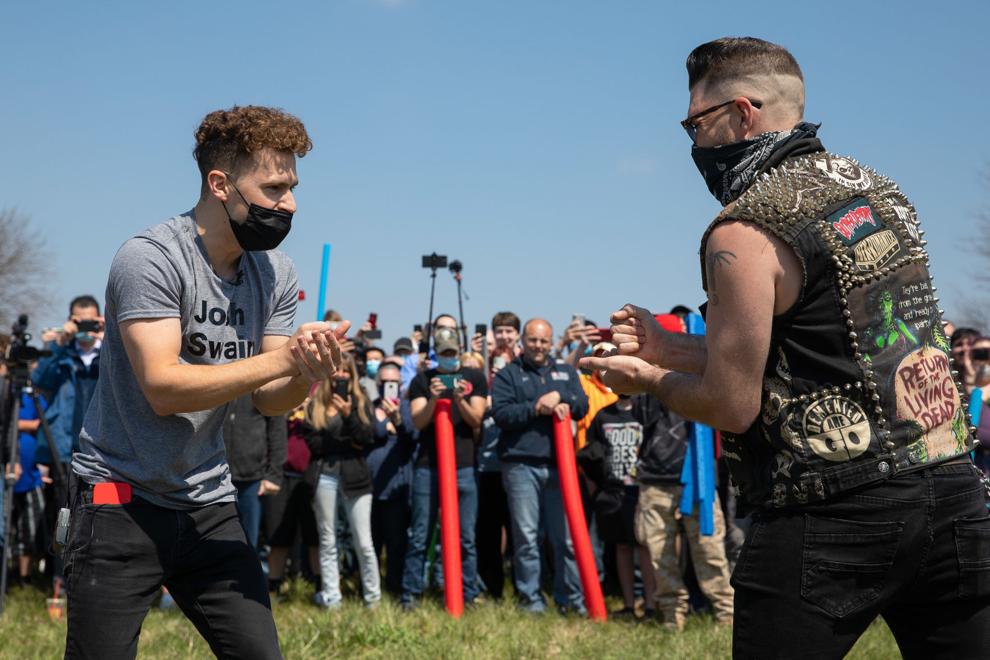 In addition to the pool noodle battle and rock-paper-scissors duel, people donated nearly a ton of food for the Food Bank of Lincoln and raised more than $8,000 for the Children's Hospital and Medical Center Foundation in Omaha. "Little Josh" suffered from seizures when he was about 2 years old and received treatment at Children's Hospital, so his victory seemed meant to be, his dad said.
With the donations, large turnout, superhero costumes and well-designed pool noodle weapons, the event exceeded most everyone's expectations, including Swain's — the one from Arizona.
"I am having, like, an out-of-body experience," he said. "I'm sitting in my hotel room alone, just trying to act like I wasn't with 2,000 people just fighting for their name. It's incredible."
Ryan Wall — a sophomore majoring in physics and theater at Nebraska Wesleyan University — became the public spokesperson for the event after a TikTok he created received 1.3 million views. He helped Swain by shopping for masks and other supplies.
Before the TikTok, he didn't think he would attend. But now he's glad he was involved. 
"It's something that's very rare to happen in Nebraska, for this many people to come together and do something silly like this," he said.
Swain also posted a Reddit message asking for help to contact local food banks. Betsy Walker, a 20-year-old from Lincoln, stepped up and helped Swain spread the word about food donations. By the end of the event, she had four carloads of food and supplies.
"It's been such a really good show of people coming together for a good cause, but also something just really fun," she said. "I think after everything we've been through in the past year, it's really good that we've had this."
Connor Hogan came from Montrose, Colorado.
People who were at the event will remember Hogan as the guy with the drills. In a stroke of genius, Hogan attached pool noodles to cordless drills so the noodles could spin around him, instead of him having to physically swing the pool noodles.
Though he is not named Josh, he said he was stepping in for his friend named Josh. That Josh doesn't know he came to represent him, but Hogan believes he would be OK with his representation.
"Better to ask for forgiveness later than permission now," he said.
High school friends from St. Louis also reunited at the battle of Joshes. Josh Kelsey — who was shirtless with "Big Josh" written on his chest — drove to Lincoln from St. Louis thinking that if the battle was a bust, he could at least hang out with his friends.
Kelsey quickly became popular, as several people asked to take a picture with him. His friends — Union College students David Gutierrez and Finn Stevens — also were there. The friends said the event exceeded expectations.
"I was expecting 30 people at max," Kelsey said. "This is insane."
As people wandered through the crowd, they signed a plaque to prove they witnessed the battle and asked for autographs from people named Josh. The Joshes signed anything from a can of corn to pool noodles. Swain had a line of hundreds of people who all wanted a photo with him.
"I'm just a dude," Swain said. "I'm just a guy, and people are like 'Oh, my god. Can I get your autograph? Can we get a picture?' I'm like, 'Yeah, I guess.' It's so weird. It's so bizarre."
"Little Josh" has also gone viral on Twitter and has been the center of many new memes, including one where he is compared to Jesus. His father took him to the event after hearing about it on Facebook, and he certainly did not expect for his son to receive so much attention.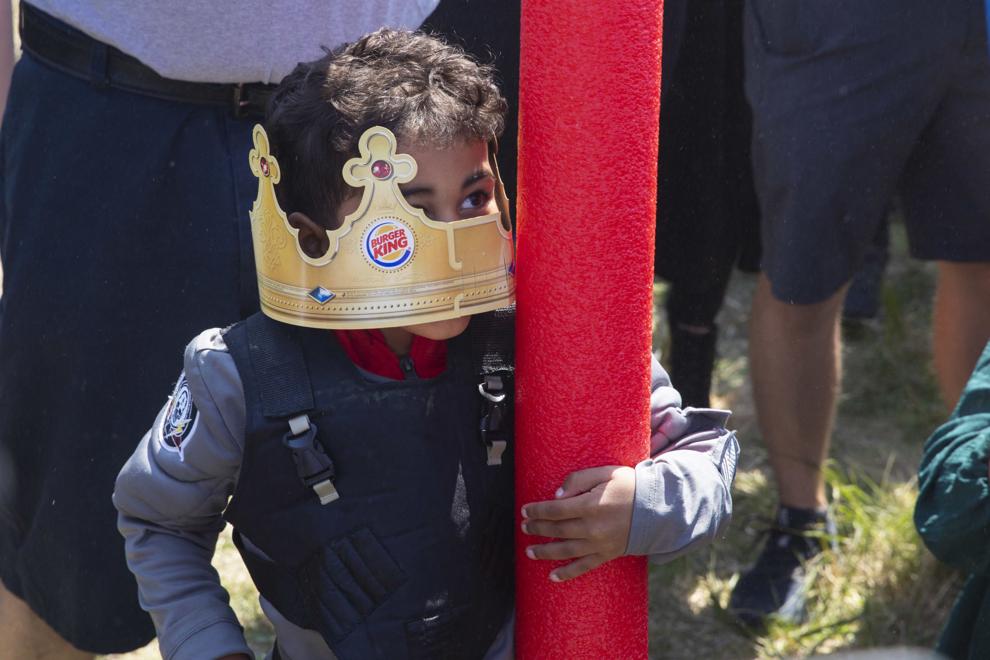 "He loves attention," his dad said. "He's always wanted his own YouTube channel, so there he is. He's famous."
Swain encourages people to continue to donate to Children's Hospital, and he's thrilled that so many donated food.
"It just shows how Lincolnites — how incredible they are, how incredible the internet is," he said. "It's bizarre, but (in) such a good way."