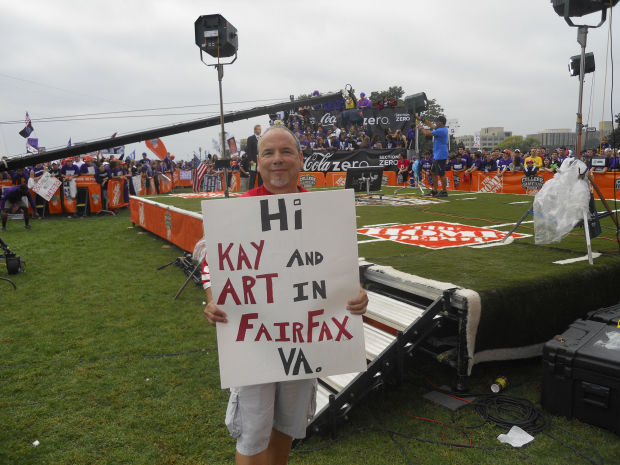 Editor's note: Cindy Lange-Kubick wrote this column in 2013. We're reposting it because of "GameDay" returning to Lincoln.
A Husker fan in Virginia was on a message board three weeks ago when someone chimed in.
GameDay just said a Nebraska fan was credited with holding up the first sign!
A link appeared next: A clip from that Saturday's "College GameDay" show in Georgia, a 6-minute salute to nearly 20 years of signage -- the Sharpie art that has become ESPN's "GameDay" signature.
A sea of signs bobbed across the screen. Clever signs. Obtuse signs. Giant Kirk Herbstreit and Lee Corso cardboard head signs.
Signs ribbing commentators. Lee Corso's not wearing pants.
Trashing teams. Clemson can't even protect a rock.
Calling out coaches. Bo Pelini: Hates fans. Loves Cats.
And then ESPN reporter Tom Rinaldi's voice as a man in khaki shorts and a red No. 15 jersey walks behind a GameDay stage in a grainy video.
"It all started, by our best guestimate, with this guy," Rinaldi says. "We don't know who he is. We don't know what his sign says. But, oh, what he created."
At home in Fairfax, Va., Art Ladenburg watched.
He pecked out a message to his fellow online Husker fans: I know that guy!
Then the 1960 NU grad and retired CIA agent -- the man for whom that first sign was intended -- called Lincoln.
Bob Mersed's house on Washington Street is white with red trim. His garage is a shrine to the home team.
The 56-year-old is a Husker lifer.
On Aug. 28, 1994, he was at the Kickoff Classic in New Jersey to watch Tom Osborne's Huskers play the Mountaineers of West Virginia.
That's where he met Art, the CIA agent, and his wife, Kay.
The game was over, a Big Red blowout led by Tommie Frazier.
And Bob and a buddy bonded with a pair of equally fervent fans.
"We are in the lobby and it was crowded, and somebody said, 'Hey, you can sit here.'"
So Bob and Ralph and Art and Kay, tipped back a few, relished the victory, exchanged phone numbers.
A few weeks later, Bob called Art: Watch ESPN. I'm going to send you a message.
"College GameDay" was a national pregame show -- predictions and prognosticators -- in its second season traveling from football mecca to football mecca.
For its third road show, the crew rolled into Lincoln and set up stage on a grassy oval east of the stadium, now a parking lot.
In the old footage, a lone man with a sign appears behind hosts Chris Fowler and Norm Hitzges, a stalker in a red No. 15 jersey.
Viewers couldn't make out the words, but 19 years later, in an email to the show's producers, Bob recounts the message he'd inked in red and black: HI KAY AND ART IN FAIRFAX, VA.
Not exactly a sign of things to come, but, still, a sign.
Nebraska beat UCLA that day: 49 -21.
And after the first sign, the signs just kept coming.
"It happened organically," Rinaldi said Friday. "The next week there were a few more and the next week a few more."
This summer, a producer for the network scoured every road show searching for signs for the segment that aired Sept. 28.
You have free articles remaining.
The first signs were fan-based. Pride for the home team.
"And then they started having fun at the expense of other teams, players."
And then sign holders just let loose: non-sequiturs, pop culture references, politics.
Rinaldi has his own favorite sign: Mark Richt hates the middle class
And he's pretty fond of Bob's, too.
"It's the most humble sign in the world."
"I still have the original jersey," Bob said this week. "And it still fits."
In 1994, he was working on campus in computer support. He'd heard ESPN was coming to town, figured he'd make Art's day.
Out came the poster board and markers. He drove downtown early, the first fan on the scene.
"There wasn't a whole lot of people there."
Climbed on top of a friend's shoulders with his sign.
Last Saturday, there were thousands of fans -- and hundreds of signs -- when the Mystery Sign Guy showed up in Evanston, Ill., a VIP guest of "College GameDay."
Northwestern vs. Ohio State.
Bob had sent this year's "GameDay" video to an old friend, Dave Dyson, the tennis coach at Westminster College in Missouri.
"He saw it and cracked up and said, 'We gotta do something about this."
Dyson's athletic director contacted a Westminster graduate who works at ESPN who passed on their information to the show's producers who checked out the story -- and invited Bob on down.
Bob hopped on Amtrak and met Dave the day before the show.
He waited behind the "GameDay" stage for two hours Saturday in his red Tommie Frazier jersey.
He stood on stage during the commercial break before his appearance for what felt like two hours -- roundly booed by the crowd.
"They thought I was an Ohio State fan."
The mood changed when he whipped out a second sign, in red and purple: Respect from Nebraska. Go NU!
"The place went crazy; they were my best friends."
Bob held up the sign that started it all: HI KAY AND ART IN FAIRFAX, VA.
The George Washington of "GameDay" signs waved it.
Chris Fowler called him by name.
Back home in his Lincoln living room, Bob shows the video clip.
More signs than an anti-war protest. A forest of signs. Lee Corso Picking the Cubs Since 1908. Ohio State Will be Shutdown Like the Government. Please Move You're Blocking the Library
He shows the sign that started it all, autographed by Corso and Herbstreit and Fowler and Desmond Howard.
Actually, it's a replica of the original, Bob says. The first sign ended up in a trash barrel behind Memorial Stadium.
Because that Saturday in 1994, as he held up his sign, a campus police officer approached.
"He said, 'GameDay' said, 'Put down the sign.' They don't want you to hold the sign."
'GameDay' setup this week in Lincoln
ESPN College GameDay set construction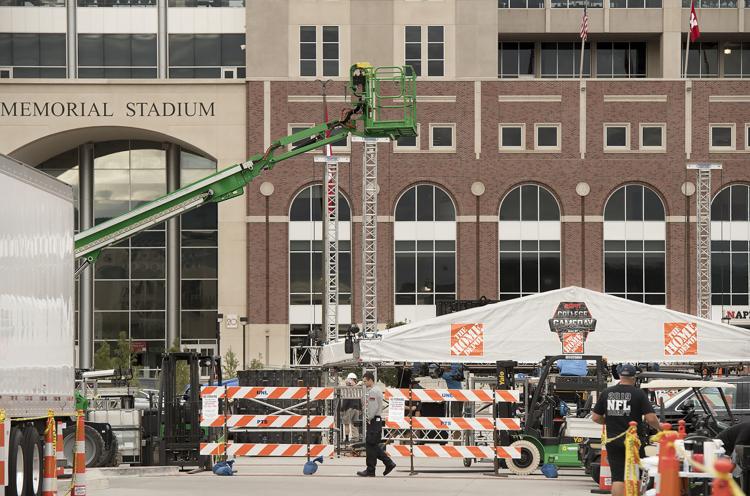 ESPN College GameDay set construction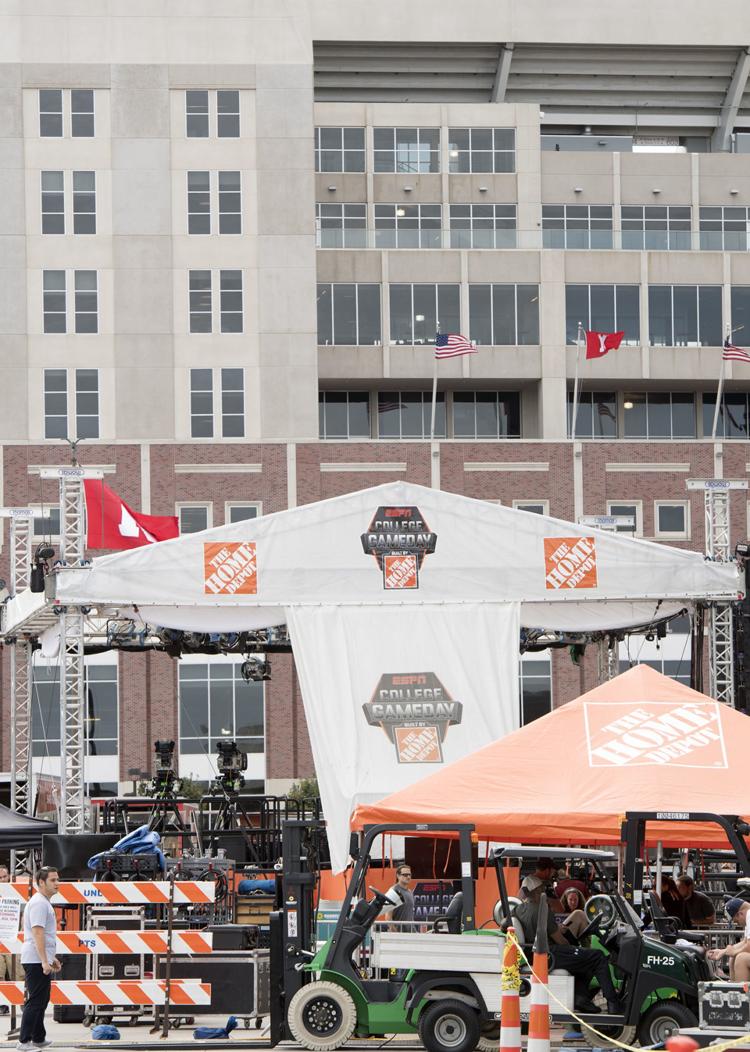 ESPN "College GameDay" set construction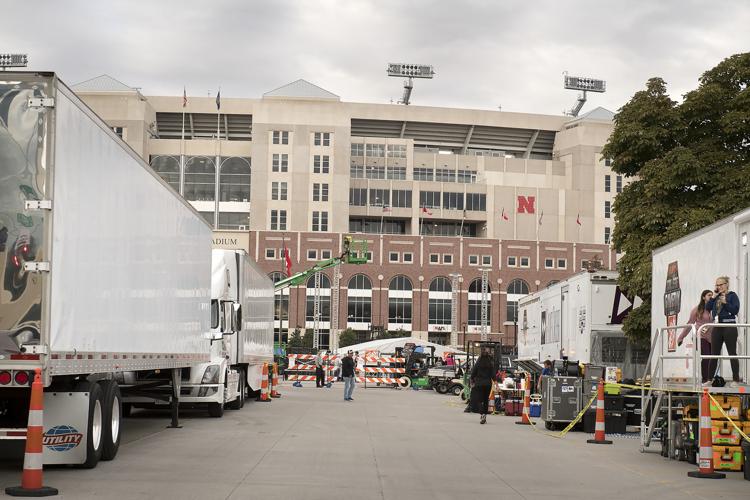 ESPN College GameDay set construction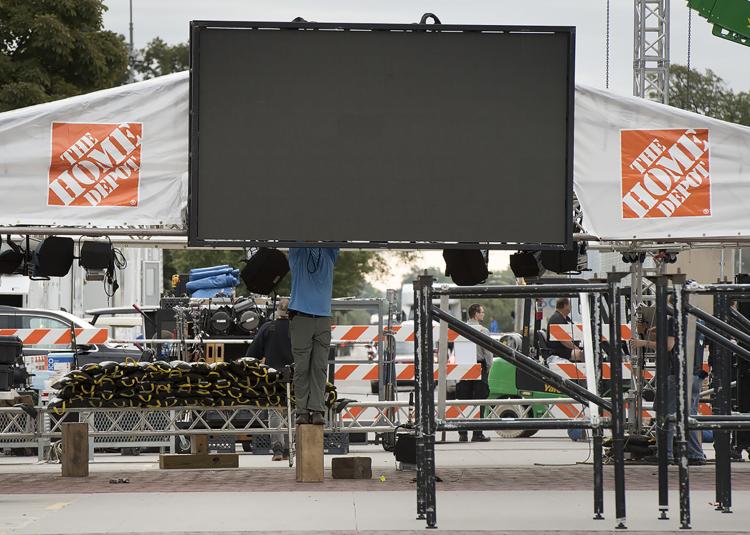 ESPN College GameDay set construction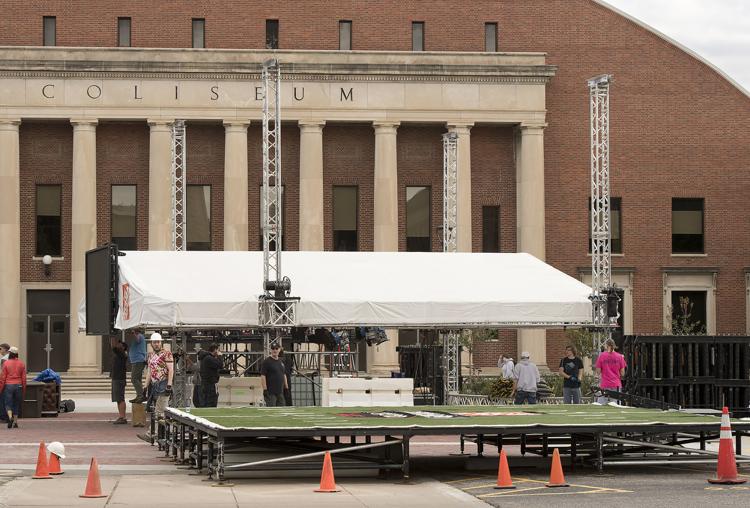 ESPN College GameDay set construction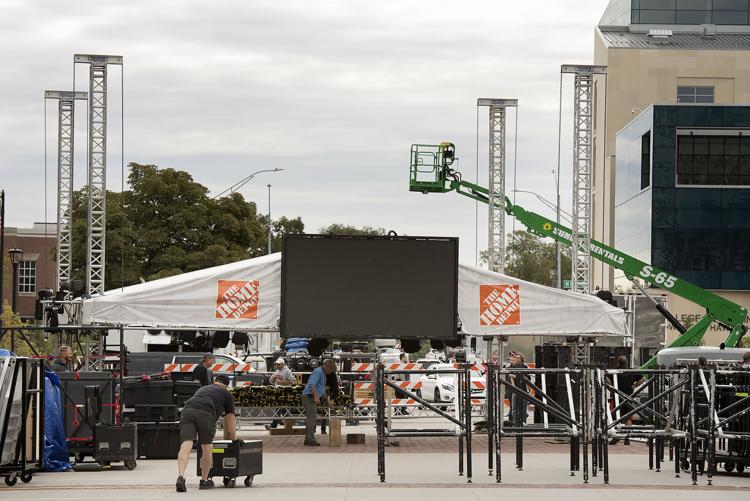 LFR is ready
Watch: GameDay setup on Thursday
ESPN College GameDay set construction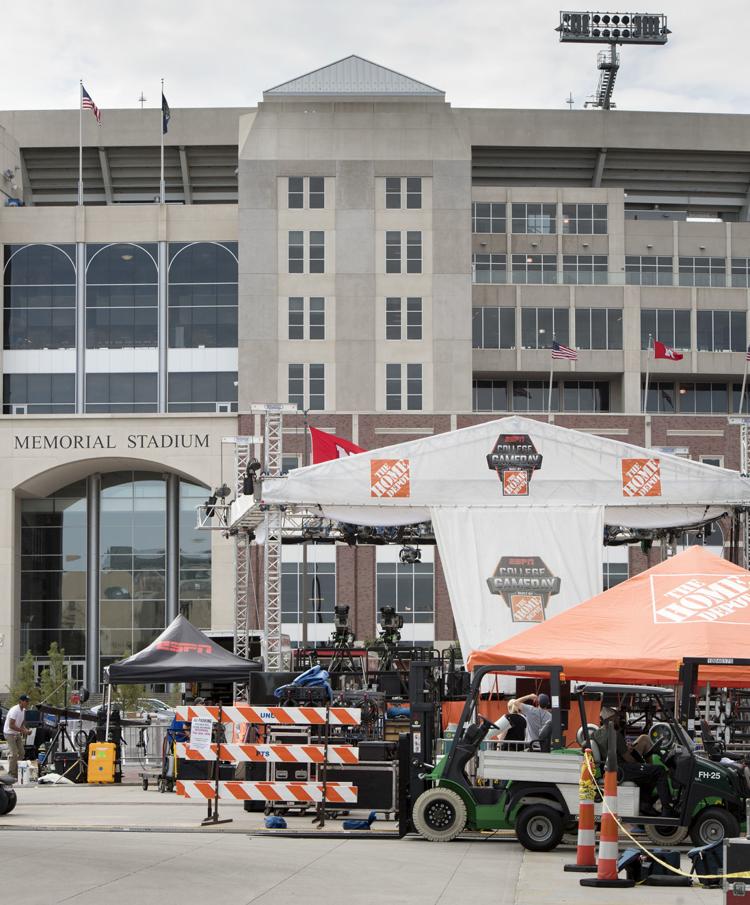 GameDay setup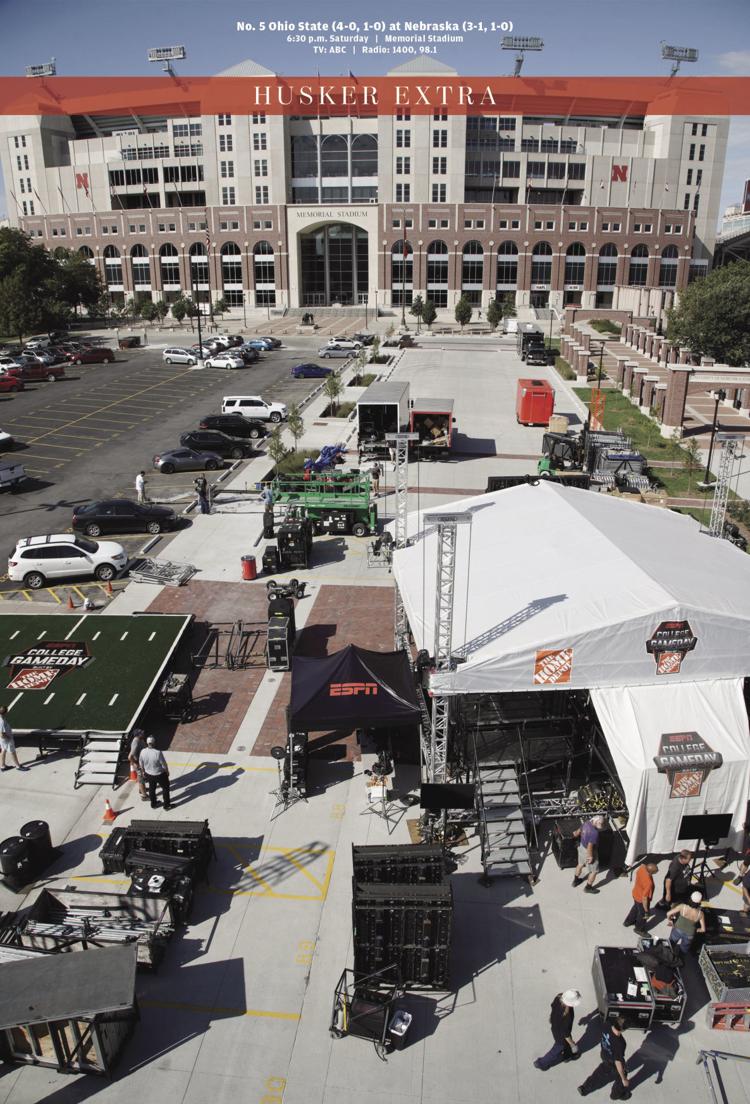 NU unveils location for ESPN's Saturday morning 'College GameDay' broadcast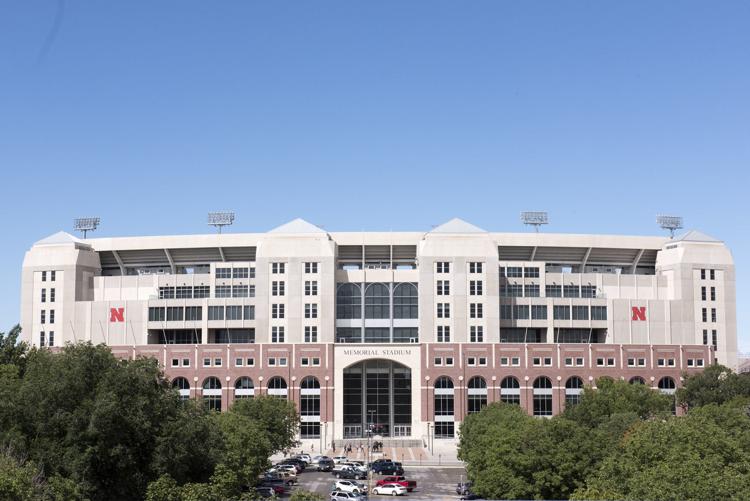 ESPN's "College GameDay" will broadcast from just outside Memorial Stadium. 
The university announced Monday evening that ESPN's flagship pregame show, which will be in town as Nebraska hosts No. 5 Ohio State on Saturday night, will set up shop just outside the East Stadium near the Coliseum. 
It will be the first time since 2007 that the show will broadcast from Lincoln. 
UNL students will have access to the area beginning at 5:30 a.m. Donor parking lots open at 6 a.m., but reentry is not permitted, so anybody attending "College GameDay" should plan to park in public lots if they're planning on leaving and returning closer to game time, according to an NU news release. 
"College GameDay" airs from 8-11 a.m. on ESPN. 
The site is also where ESPN's College Football Live will be broadcast at 2 p.m. Friday. 
Big & Rich - Comin' To Your City (Video)