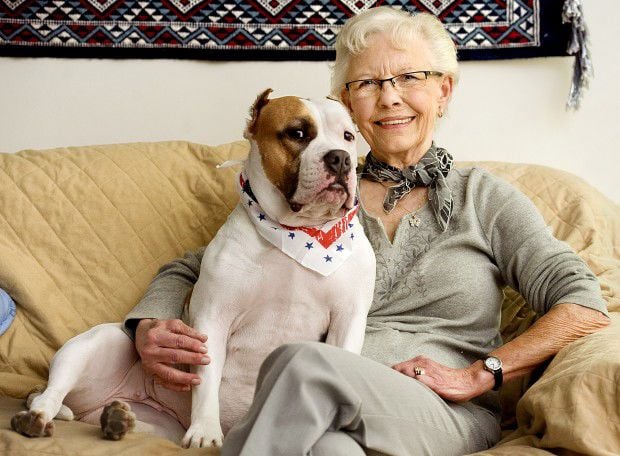 When Elizabeth Meyer adopted 2-year-old Lily Belle, she was already a great-grandmother.
The elegant, white-haired Lincoln woman was in her 70s and had fallen in love with the white spotted pit bull who was found abandoned in a horse trailer with her four pups in the spring of 2012.
A neighbor who volunteered with Nebraska No Kill Canine Rescue was fostering the mama dog and Meyer and her granddaughter quickly fell in love.
And when it was time for her forever home, Lily went to live with Meyer. The pups found homes, too. One of them, a male named Mickey, was adopted by that neighbor, Pam Webb.
That year, Lily and Meyer achieved minor fame as the poster children for a pro-pit bull documentary that came to town courtesy of Nebraska No Kill, a local nonprofit.
Lily grew fat and happy. Her big marshmallow with caramel topping, Meyer would say.
Eventually, Lily went to live at the Grand Lodge at the Preserve with Meyer and her two cats.
Then Meyer was diagnosed with terminal cancer and, earlier this month, she died.
Her obituary listed her many careers, her world travels and her gumption. "She was the cherished matriarch of her biological and 'adopted' family members, loved animals and befriended anyone she perceived to be in need."
The news broke the hearts of the volunteers at the nonprofit, said Karl Skinner, one of the rescue's founders and a board member who attended Meyer's funeral Monday.
"We just always adored Elizabeth," Skinner said. "This woman was amazing."
The pair had kept in touch and when Skinner called Meyer in March, she told him that she'd been meaning to call him to talk about Lily.
You have free articles remaining.
"We talked and through the tears she said she was needing to re-home her again."
Meyer was 84 and the cancer was sapping her strength, she said. She'd found homes for her two cats and needed to let Lily go, too.
When dogs are adopted through the canine rescue, adopters sign a contract promising to turn the dog back to the nonprofit if they can no longer care for it. It allows the rescue to make sure the animal does not return to a shelter or a neglectful home.
They knew Lily had a knee problem and would need surgery, but would first need to lose weight. While they pondered the dilemma, Skinner got a text message. It was from Webb.
She was living in Kansas now with Mickey. She'd heard about Meyer and said she could foster Lily.
One of Meyer's granddaughters offered to meet her at the halfway point with the 9-year-old pit bull.
"She said Lily wants to play more than Mickey does," Skinner said. "He seems to know there's something very familiar about Lily after all these years."
Lily was so dear to Meyer, he said.
"Everytime the subject came up, I could see how heartwrenching it was to her. This gave Elizabeth a lot of peace of mind."
In Meyer's obituary, the family requested memorials be made to Nebraska No Kill Canine Rescue or Teammates.
And before Meyer died, the rescue board met and came up with a plan. Skinner called to tell Lily's devoted companion the news.
They'd decided to create a special fund, he told her. A fund for dogs who need to come back into their care or who have medical needs.
They hadn't settled on a name then, but they have now, he said Thursday.
For the Love of Lily — a fund in memory of Elizabeth Meyer.