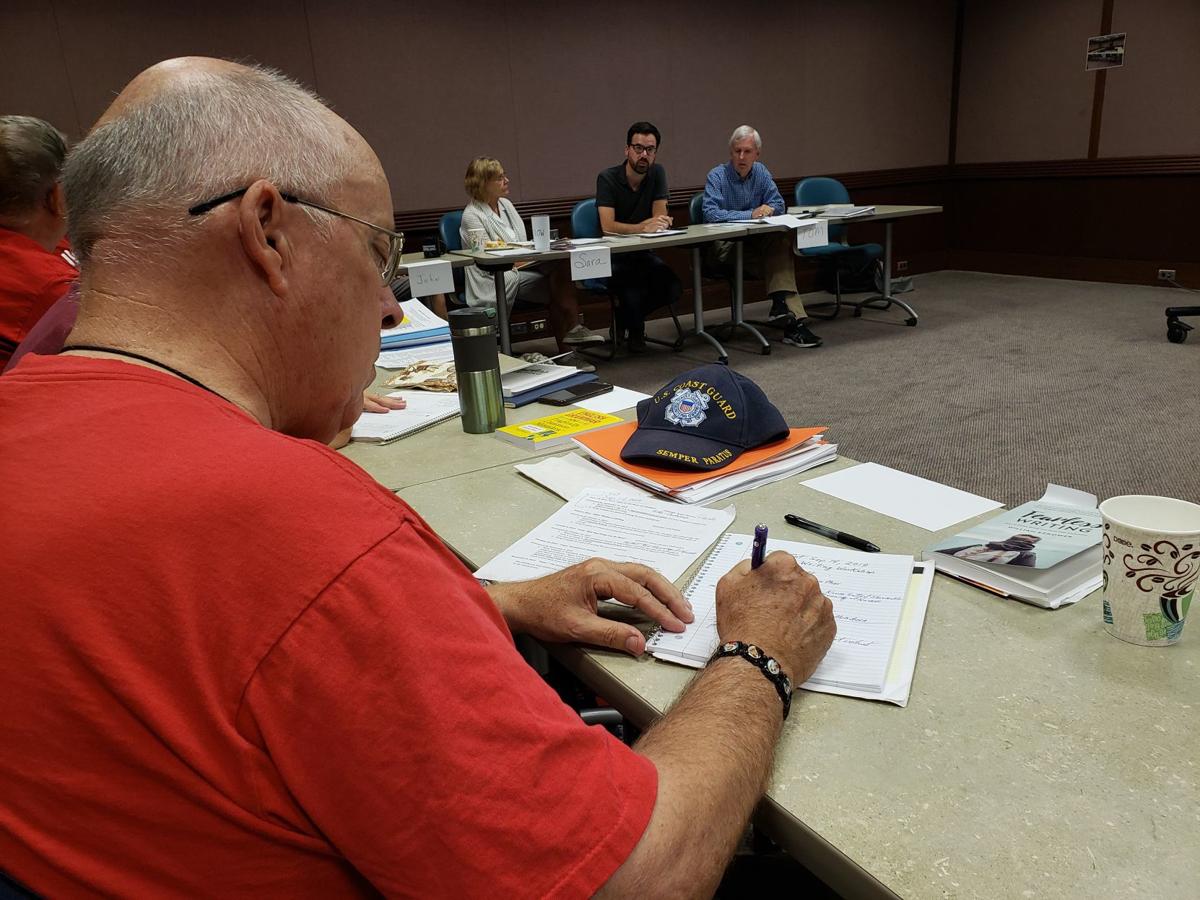 A group of veterans is cloistered in a small meeting room in the VA clinic just off 70th Street early Saturday morning to write.
One writes poems about the life of a marine. One writes about his spiritual journey in Vietnam. One writes about a monster that dissolves into a pile of purple goo.
That's just a sample of the work that comes from those who attended Nebraska Warrior Writers, a writing workshop for veterans and active-duty personnel. The workshop, hosted by Humanities Nebraska, the Nebraska Writing Project and the Veterans Administration, allows participants to write in whatever genre they choose, whether it be related to their military experience or not. The program has grown each year since its launch in 2014 — it began with only six members, but now also includes sessions in Grand Island and Omaha.
Vietnam veteran John Costello has attended the workshop for about a year. During that time, he's been working on an essay detailing his time in Vietnam from 1965-66. Costello said spirituality plays a major role in his essay, making his story unique.
"It's not a war, Rambo, story," he said. "It's my search for a spiritual home."
Costello said he's nearly done with the essay, but he's reached a fork in the road.
"I'm kind of like a car spinning its wheels in the mud right now," he said.
That's where the workshop can play such a pivotal role. During each weekly session, the class breaks into small groups to go over what each writer is working on.
They're all enthusiastic and excited to hear the work of their peers. And the writers feel comfortable sharing that intimate work with a group that understands them better than anyone.
"There's not a worry for judgment," Marine veteran John Petelle said. "I approach what I bring here differently because it's a safe place."
Fellow writer and veteran Joe Vaverka takes a funnier, fantastical approach to the short fiction he writes. His most-recent story focuses on a young police officer on foot patrol who stumbles upon a monster that takes the shape of whatever it eats.
"That's one of those stories that came to me at 3 or 4 o'clock in the morning on the toilet," Vaverka said.
Vaverka has a collection of more than 70 short stories that he's written in the past three years. Eventually, he hopes to publish the stories and is working on cover art for the book now.
Vaverka said he gets inspiration from a variety of places.
"I hear stuff on the news or TV, and I go 'Oh, I can make a story out of this,'" he said.
Whether it be writing a short story or a novel, each participant comes to the workshop because writing is therapeutic, longtime member and veteran Andy Cveck said. 
"It is more than a family," said Cveck, who has been coming to the workshop since it began. "The group and the writing gives us a home." 
Petelle believes the workshop allows veterans to approach and explore difficult topics.
"There are dark corners and dark crannies that we don't talk about, and the only way to overcome that is to talk about it."
Get local news delivered to your inbox!
Subscribe to our Daily Headlines newsletter.