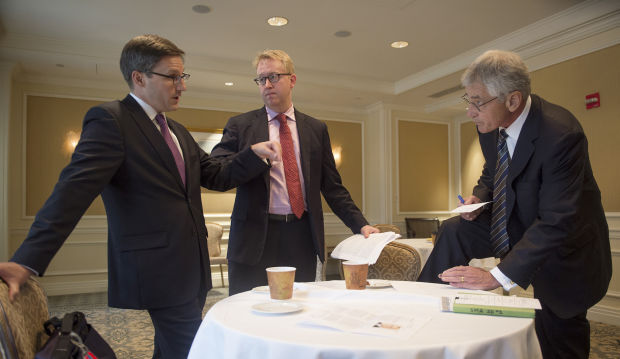 There is much work to do.
After four years of policies that weakened alliances and scarred relationships with U.S. allies capped this month by domestic turmoil in America that triggered insurrection inside the halls of the U.S. Capitol, Derek Chollet says he remains an optimist.
"We're going to get through it," he said Monday during a telephone interview from Washington. 
Chollet, who grew up in Lincoln and graduated from Lincoln Southeast High School, will play a key role in the process as State Department counselor to incoming Secretary of State Tony Blinken.
They will assume their duties upon the inauguration of President-elect Joe Biden on Wednesday.
"We will restore alliances (and) put diplomacy back front-and-center," Chollet said, resuming the U.S. role of "working with countries around the world while turning the page on a pretty turbulent era.
"The U.S. brand has suffered during the last four years," Chollet said, capped by that stunning assault on the U.S. Capitol this month.
"It has really shaken the world," he said, especially friends and allies who have looked to the United States since World War II and all through the challenges of the Cold War for partnership and leadership.
"Most countries want the U.S. to succeed," Chollet said. "They look to us for strength and hope. Our reputation for competence and stability will need a rebuilding effort now."
Blinken will require Senate confirmation, but Chollet can hit the ground running this week.
His role as counselor is wide and deep: special adviser and consultant to the secretary of state on major foreign policy issues; sometimes conducts international negotiations; performs special assignments.
"I'm like a middle linebacker who roams the field," he said.
Eventually, once required confirmations clear the Senate, "we can turn the seat belt sign off and gain altitude," Chollet said.
What's on the front burner?
* COVID-19, working with countries around the world to combat the raging pandemic while vaccinations are working their way through the State Department workforce.
* Climate change, with Biden prepared to immediately bring the United States back into the global Paris climate accord and his administration viewing global warming as "a quite urgent issue."
* China: "There is no question that China raises a host of challenges."
* Iran: both in terms of dealing with it as a national security threat and revisiting the 2015 nuclear agreement negotiated by former President Barack Obama and scrapped by President Donald Trump.
"The inbox is quite full," Chollet said, and it includes trade policy.
In many ways, he said. "it's a rebuilding effort, returning to the solid fundamentals in old-school Nebraska football terms. And we're going to get there."
Chollet served in the Obama administration as assistant secretary of defense for international security affairs from 2012 to 2015, working with Secretary of Defense Chuck Hagel, a fellow Nebraskan, during most of that time. 
Hagel, who represented Nebraska in the Senate for two terms, is "a mentor of mine," Chollet says.
Chollet's parents live in Lincoln: his father is a retired University of Nebraska-Lincoln professor of biochemistry; his mother is a nurse at Bryan West Campus.