Joe Huffman's heart needed the exercise, but his knees didn't appreciate the hourlong walks on his lunch break.
So in April, he took his first ride on one of the city's new rental bikes.
Then he took his second. And then his third. And by the end of last week, he had taken more than 430 rides through and around downtown, logging 900 miles — the most by any BikeLNK member during the program's first summer of service.
He's not a hardcore cyclist. He's a 47-year-old computer technician whose doctor was worried about his blood pressure and whose patellar tendons had been tired by basketball.
"It's not like I'm doing the Tour de France or anything," he said. "I'm just puttering around downtown."
It's convenient. He hates to pay for parking, so he drives to downtown's east edge and checks out one of the program's 100 bikes from a kiosk near 18th and N streets. He'll ride around, as time permits, and return the bike to a dock near his office building at 14th and M.
At lunch, he'll check out another bike, grab a sandwich at Wendy's or Arby's, and spend his break pedaling around downtown. After work, he'll ride back to his car, taking a long way if he has time.
His $80 annual membership gives him unlimited rides, and it's worth not having to haul a bike around in his car. "The convenience factor is awesome," he said. "It's almost riding for free."
Huffman wasn't trying to log BikeLNK's most miles, at least not at first. But then he realized the program's website listed the top 10 users. And he realized he was eclipsing the rest of them.
He started challenging himself, setting a 1,000-mile goal for the summer. That's easily in sight, he said.
"Initially, I was competing against the other top 10 people, but after a while it was more of a competition of when I am going to hit the next 100 miles?"
His body has benefited. His knees seem 90 percent better, and his blood pressure dropped by 30 points.
"I feel a lot better," he said. "I just enjoy riding around."
You have free articles remaining.
Since BikeLNK launched in April, its stable of Trek three-speeds have logged nearly 15,500 trips for a total of more than 46,000 miles, manager Jamie Granquist said.
They measure more statistics: By their calculations, BikeLNK riders have burned more than 1.8 million calories and prevented nearly 45,000 pounds of carbon emissions.
"It's going very well," Granquist said. "It's even surprised people who thought it would be great."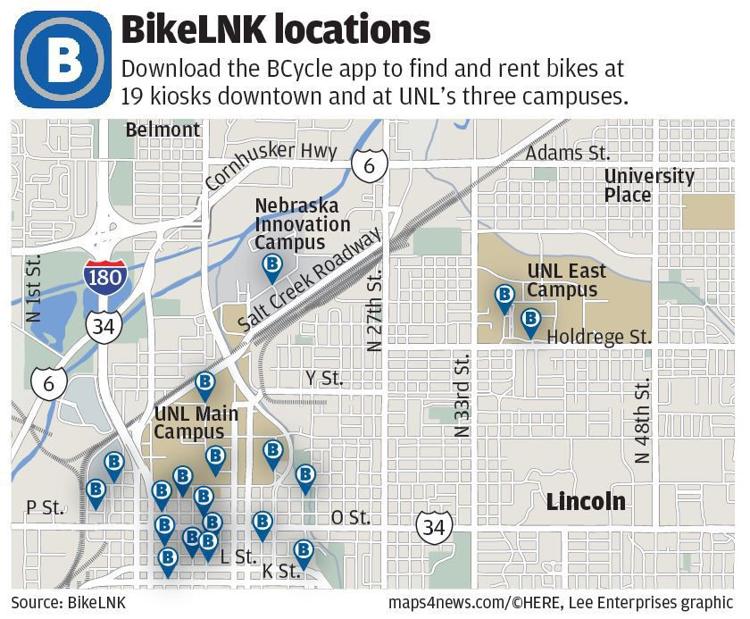 June had been the program's best month, with 3,700 trips. The number dropped slightly in July, to 3,352, likely because of heat, rain and vacation season, she said.
Riders in August took more than 4,000 trips.
With a summer nearly behind them, the BikeLNK staffers are learning the program's rhythms: Morning demand from commuters at the edge-of-downtown docks. A busy lunch hour. Bikes returning to the edge of downtown after work. At night, bikes carrying people from restaurants to theater to bars.
The student union on City Campus is one of the busiest kiosks, and staffers are talking to the university about adding bikes at the Kauffman Center near 15th and U and the Woods Art Building near the Sheldon Museum of Art, she said.
And that's part of the bike-share program that most people don't think about, Granquist said. Behind the scenes, her staff is always hauling bikes from kiosk to kiosk, trying to keep up with demand while maintaining open drop-off points.
BikeLNK's two techs, Brody Steffen and Jason Earp, have made more than 4,300 trips — with bikes in the back of their pickup and bikes on their trailer — to the 19 docks around downtown and at UNL's City, East and Innovation campuses, she said.
"It's a balancing game, for sure," Granquist said. "Moving bikes from one place to another to balance stations."
For football season, they've added a pedal-powered trailer that can haul a half-dozen bikes, so they don't get stuck in gameday traffic while trying to stock stations.
They're applying for grants to add more bikes and they're keeping track of requests for additional docks. Customers want them near the Lincoln Children's Zoo, and at Holmes Lake, the North Bottoms, SouthPointe Pavilions and south of downtown, near the F Street Recreation Center.
They haven't lost any of the $1,200 bikes yet, though some disappeared temporarily on what was call extended checkout.
The bikes are distinctive, she said, and they eventually return.
"They're not really lost, they're not really stolen, but they've been out longer than we expected them to be."