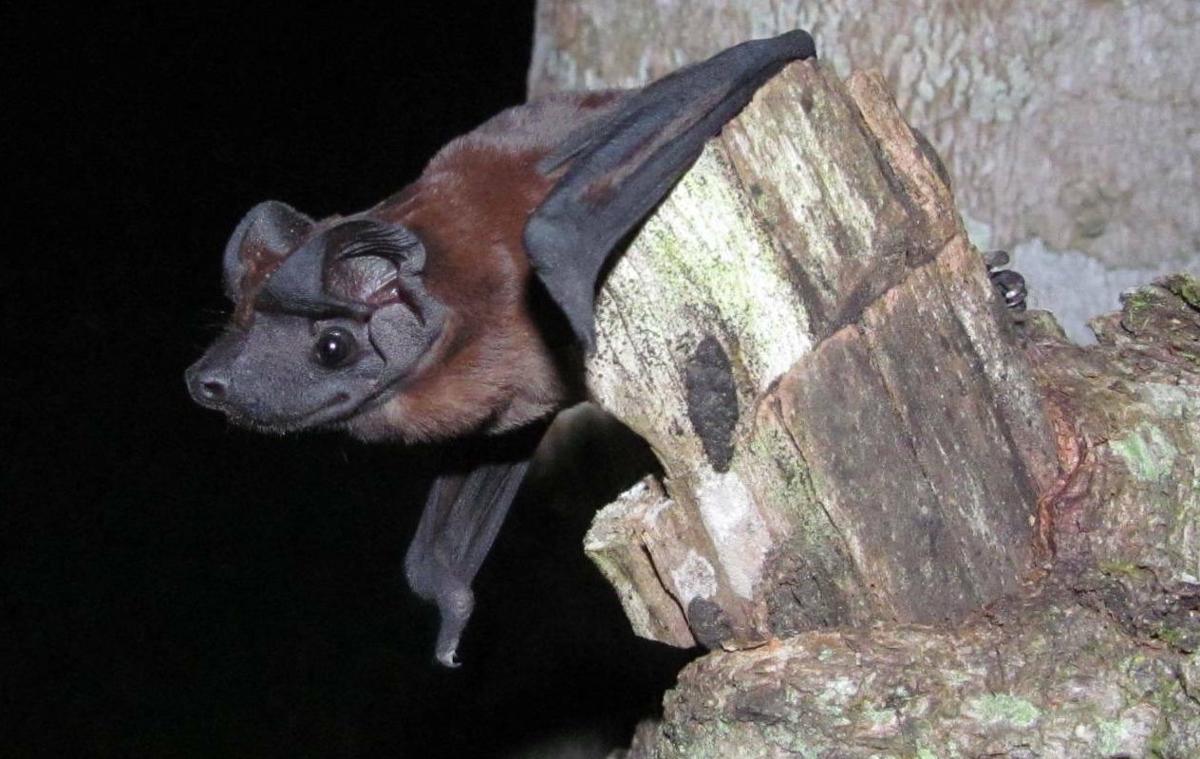 She's never met her namesake, at least not alive.
But Trish Freeman is certain she must have handled a specimen or two at some point in her decades as a bat researcher, long before a team of younger researchers struck scientific gold recently and identified two new species of the fast-flying insect-eaters.
And before they gave Freeman perhaps the second-greatest gift a biologist can receive — a species with her name on it.
"It would be nice if someone gave you a million dollars," said Freeman, who retired from the University of Nebraska-Lincoln in 2015. "But that doesn't happen."
She learned about the newly named Cynomops freemani, or Freeman's dog-faced bat, earlier this year, when a friend and fellow bat expert in Canada surprised her with an email.
"He said, 'Congratulations. You don't always get a species named after you.'"
"I couldn't believe it. I said, 'Wow.'"
Freeman's dog-faced bat looks like it sounds, a tiny bundle of red fur, puppy-dog eyes and a Scooby snout. The high-flying and hard-to-catch critter lives in the Panamanian tropics.
"It's a neat little bat," Freeman said. "But all bats are cute. Maybe it just takes a bizarre appreciation."
And hers started early, the summer after getting her undergraduate degree. During a field trip to Mexico, she helped collect bats and rodents. "That's pretty much where I learned how to catch them, and I learned how to take them out of the net, and I learned how not to get bit, which is nice."
You have free articles remaining.
Later, as a graduate student in New Mexico, she figured the best way to get the attention of her adviser was to study bats, because that's what he studied.
It became her career. She served at the Field Museum of Natural History in Chicago and the American Museum of Natural History in New York. She moved to Nebraska in 1981 to become curator of zoology at Morrill Hall, and joined the School of Natural Resources as a professor in 2003.
Much of her doctoral research focused on the free-tailed bat family, aerial insectivores that eat bugs in mid-air.
"The bats that I studied are the fastest fliers, the narrowest wings, the jet airplanes of bats," she said.
She spent much of her career measuring skulls and teeth, noting the shapes of wings, drawing distinctions between species of free-tail bats and comparing their food habits.
She published her illustrated research in 1981, and the scientists who discovered the new species called her work a bible.
The bats that would become Freeman's were first caught in 2012 by a group of Smithsonian researchers, and they were confirmed to be a new species last year. The researchers published details of their discoveries in the March issue of the journal Mammalian Biology.
They named the species after Freeman to honor her decades of research, which was instrumental in helping them understand the bats they were studying, one of the scientists told the university.
Freeman is still researching, still active with the museum and the School of Natural Resources. She's part of a team of biologists tracking the distribution of bats in Nebraska, and determining how that has changed over the decades. She's also monitoring the progress of white-nose syndrome, a bat-killing fungus that surfaced in the state four years ago.
She'd like to meet a live Freeman's dog-faced bat at some point, but until then, she plans to get a framed photo. Because she's honored, she said.
Scientists are discovering new insects all the time. "But with mammals and birds and reptiles, we've named nearly all of the species on earth," she said. "The fact they found two new ones was pretty inspiring."