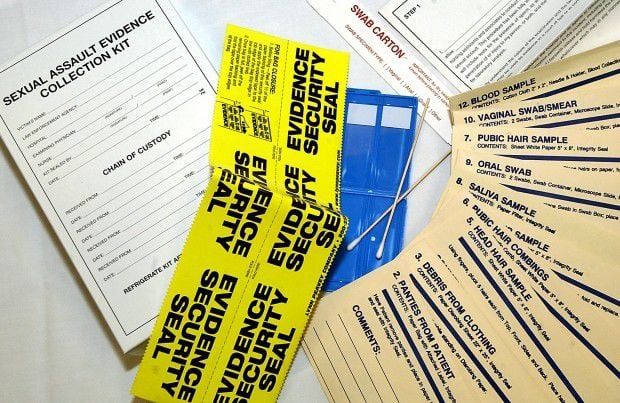 DNA evidence inside 353 rape kits collected since 2004 remains untested, sitting in the Lincoln Police Department's property storage room despite national pushes to test every kit.
Police Chief Jeff Bliemeister's staff reviewed the cases associated with those rape kits at the end of 2018 as part of an internal audit.
Nearly all were cases where the alleged offender was known to the victim, meaning testing the DNA evidence would only confirm there was sexual contact and not render a scientific answer on whether it was nonconsensual, he said.
Rape kits in all cases where the victim doesn't know the identity of the rapist are sent for testing, according to department policy, and other cases are left to the discretion of investigators "once the case facts have been gathered."
"There are no untested kits in our property unit that hold investigative value specific to the allegations" of the cases reported, Bliemeister said in an interview in February.
Advocates nationally have pushed for law enforcement to test every sexual assault kit in an effort to potentially identify serial rapists and signal to victims their cases matter and that perpetrators will be held accountable.
In December, the Omaha Police Department announced it had received a grant to test its backlog of 1,500 rape kits.
This month, prosecutors in New York City announced their three-year effort to test previously unexamined kits resulted in more than 1,000 arrests and hundreds of convictions, according to media reports.
Meanwhile, at the Nebraska State Patrol's Crime Lab, a backlog has been growing as forensic scientists work to test more rape kits alongside evidence from other cases. 
But two new scientists will begin an effort to analyze an estimated 2,200 previously untested kits and end that backlog, and Lincoln police officials are reconsidering their protocol.
"We are evaluating best practices from the National Institutes of Justice, meeting with community stakeholders and making a determination if all biological evidence should be sent to the lab, even when the facts and circumstances of the investigation we are working don't require the analysis," Bliemeister said last week.
The rate of rapes reported in Lincoln — nearly 1 per 1,000 residents — has increased in the past several years and ranks high among Lincoln's peer cities.
Victim advocates and law enforcement officials have attributed that to a willingness of sexual assault survivors to report the crime that historically has been under-reported.
When someone submits to a sexual assault exam at a hospital, they don't do so lightly, Michelle Miller of the Nebraska Coalition to End Sexual and Domestic Violence said.
These exams must occur within 120 hours of the assault, and many victims are undergoing the invasive swabbing within hours of the trauma, she said.
"Victims have them (rape kits) collected for a reason," said Miller, the coalition's sexual violence program coordinator.
That DNA from some rape kits isn't tested can be upsetting to some victims, who may feel their sexual assault "doesn't count" or isn't as important as other cases like highly publicized stranger attacks, she said.
Bliemeister said he and his officers acknowledge that perception exists, but they work to document every report, allow anonymous reporting, work with victim's advocates and do what they can to keep communication lines open during the process to establish trust and rapport.
The swabs and clothing stored in the kits are just one aspect of the overall rape kit submitted to police, and Bliemeister said the questioning done by a nurse and any injuries noted during the exam are equally valuable to the investigation.
His investigators are expected to review all of the evidence, including interviews and other information, to reach a logical conclusion.
But in nearly nine out of every 10 cases, Lincoln police are unable to make an arrest or otherwise clear a case, he said.
They don't close the cases they're unable to resolve, and detectives are expected to communicate to victims their conclusion and that there isn't a statute of limitations for rape in Nebraska, he said.
Police investigators know there's a backlog at the State Patrol lab, but they're not making decisions regarding whether to test rape kits based on the workload or the cost.
In fact, Bliemeister said, his department has paid more to have some rape kit evidence tested at other labs.
At the State Patrol lab, most biological evidence is tested on a first-come, first-served basis, Forensic Lab Manager Jason Linder said. It takes forensic scientists six to seven months to complete analysis on DNA samples in rape and other violent crime cases.
That wait time had been winnowed to three months for a time, but increased demand for testing previously untested kits and the departure of a senior scientist created a "perfect storm," Linder said.
Cases with an impending court date or significant public safety risk can be expedited and have testing completed in 30 days, he said. Murder cases receive expedited treatment automatically.
In the lab's biology unit, two forensic scientists are assigned full-time to testing and another staffer tests part-time. The lab processed more than 900 cases last year, with some cases needing close to 20 samples analyzed, Linder said.
Two more full-time scientists hired using a $750,000 grant from the National Institute of Justice are completing training and will soon begin testing only previously untested rape kits, Linder said.
Those scientists check rape kit samples with unknown assailants against a national database that can help link sex assault cases to each other or the same suspect, he said.
In cases with a known suspect, the scientists check the rape kit sample against a sample from the suspect provided by law enforcement, and if it's usable, the rape kit sample is later submitted to the national database, he said.
End the Backlog, a federal initiative by the Joyful Heart Foundation, pushes to have every rape kit tested — even in cases with known offenders — because that testing may identify serial offenders.
In known-offender cases, Lincoln police have focused their efforts on the case reported to them, unless they've uncovered other information that would lead them to broaden their scope, Bliemeister said.
Chief Deputy Lancaster County Attorney Bruce Prenda said evidence of a prior, unrelated sexual assault in the prosecution of a known-offender case wouldn't automatically go before a jury and would need to be scrutinized at a pretrial hearing. 
Still, if charges are filed, Lancaster County prosecutors submit a rape kit for testing as a matter of due diligence, Prenda said.
Test results, for example, may reveal a third DNA profile in the sample that could change the prosecution or come up as a defense, he said.
Plus, juries want to know.
"If we have biological material in our possession, then jurors expect us to have it tested with the most current technology, and they expect us to present that information so they can consider it in the context of all the other evidence," Prenda said.
Amid the push to test all rape kits, communities and policymakers should consider the privacy considerations of entering the DNA of someone who may never be arrested into a national DNA database, Bliemeister said.
He personally doesn't oppose broad DNA collection, but noted that lawmakers in Nebraska and elsewhere have debated which criminal convictions should warrant mandatory DNA collection.
Miller, of the Nebraska Coalition to End Sexual and Domestic Violence, believes testing all rape kits is logical evidence processing that at the very least sends a message that sexual assault investigations are a priority.
"I don't know that it always has been," Miller said.