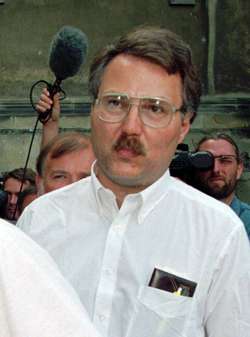 A Lincoln man's self-proclaimed dedication to free speech has led him to host nearly 60 Web sites, mostly for racist, anti-Semitic organizations around the world.
Of course that's not how Gary Lauck would describe his customers.
"One man's free speech is another man's hate," he said.
Lauck, Lincoln's own neo-Nazi, has apparently become one of the Internet's most prolific hosts of Web sites promoting racist beliefs.
The 54-year-old self-described leader of the American branch of the National Socialist German Workers Party said the Web sites are mostly for groups based in Europe. He said he hosts at least one Russian group's Web site.
Among the reasons those groups have sought out his services, he said:
n Hosting such Web sites is illegal in their own countries.
n Some fear the governments that do allow them will change their minds and shut them down.
n They want to prevent their Web sites from being shut down by Internet viruses or e-mail attacks.
Lauck has always been ahead of the curve when it comes to producing and distributing Nazi literature, according to Brian Marcus, director of Internet monitoring for the Anti-Defamation League.
The league, which fights Jewish discrimination, has been tracking Lauck's activities since the 1970s and considers him the largest supplier of neo-Nazi materials in the world, Marcus said.
Lauck's company, RJG Engineering, has more than 120 Web sites registered in its name, Marcus said.
Before the Internet, Lauck was using dial-up text services to spread his message of hatred, Marcus said.
"He's always been somebody who's been on the cutting edge as far as that," he said.
And he's always been adept at finding creative ways to reach new audiences, including selling video games with a decidedly racist bent.
On his Web site, he sells audio materials, books including "Mein Kampf," German marching music, posters and Nazi newspapers in 12 languages.
Now, he's just taking the next logical step in a long career of publishing and distributing racist literature, Marcus said.
By offering to host Web sites for groups that promote racist beliefs, Lauck is also making money. He charges $20 a month for the service.
Lauck said he can register a domain name of a client's choosing with a U.S. Internet service provider and doesn't even need to know the identity of his customers.
He said it's often difficult to create such Web sites in Europe as a result of political repression. In the United States, Lauck said, the First Amendment protects free speech and provides protection to those seeking to escape repression in their own countries.
He said he'll host just about anyone's Web site.
"In practice, it's typically nationalistic," he said.
Jonni Hansen, party leader for the National Socialist Movement of Denmark, said his group asked Lauck to host its back-up Web site, although the group is a legal political movement in Denmark.
That wasn't always the case. In the early 1990s, when the movement was outlawed, it called upon Lauck to print its newspaper, Hansen said.
"The picture has changed a little bit," he said by phone last week from his offices in Greve, Denmark. "It's more tolerant now."
Even as a legal entity, the group faces Internet attacks from opposition groups, Hansen said. In recent years, those fears were realized when the group's Web site was hit by a spam attack.
With Lauck hosting its back-up site, the group's Internet presence wasn't affected by the attack, Hansen said.
Daniel Höglund, leader of the National Socialist Front, a Swedish neo-Nazi  group, said his group began paying Lauck to host two of its Web sites after the Swedish government shut them down.
"We have been forced to find a server owner that doesn't take our government's illegal threats seriously and is brave enough to continue hosting us," he wrote in a recent e-mail. "Gary Lauck has been that server owner."
Lauck's recent efforts to circumvent other countries' laws aren't his first.
In 1974, he was deported from Hamburg, West Germany, for illegal political activities, including posting Nazi decals and a pro-Nazi speech. In 1996, he was sentenced to four years in a German prison for inciting racial hatred and distributing anti-Semitic material.
While no major studies have been done on the effects of hate speech, anecdotal evidence has suggested hate material has helped drive people to murder, said Marcus of the Anti-Defamation League.
He cited the well-known case of Benjamin Smith, an Illinois man who went on a multi-state killing spree that ended in the death of a black basketball coach and an Asian university student.
Smith later said he was influenced by an Illinois hate group called the World Church of the Creator.
With the advent of hate Web sites like Lauck's and those he hosts, the message of hatred is everywhere and easily accessibly to anyone with a computer, Marcus said.
"It's instantaneous. It's global," he said. "It's also persistent."
Lauck's own hate speech has been found in the possession of those who have committed crimes, according to the German government.
In 1992, German authorities say, they found literature supplied by Lauck in the possession of a man who shot three foreigners and himself in a discotheque in Nuremberg, West Germany.
In 1993, German officials said, Lauck supplied materials found during investigations of 72 crimes in Germany.
Lauck himself does not see what he does as perpetuating hate speech. He sees it as perpetuating free speech.
"If people talk about free speech, why don't they do it?" he asked. "I do it. It's a matter or principle and solidarity."