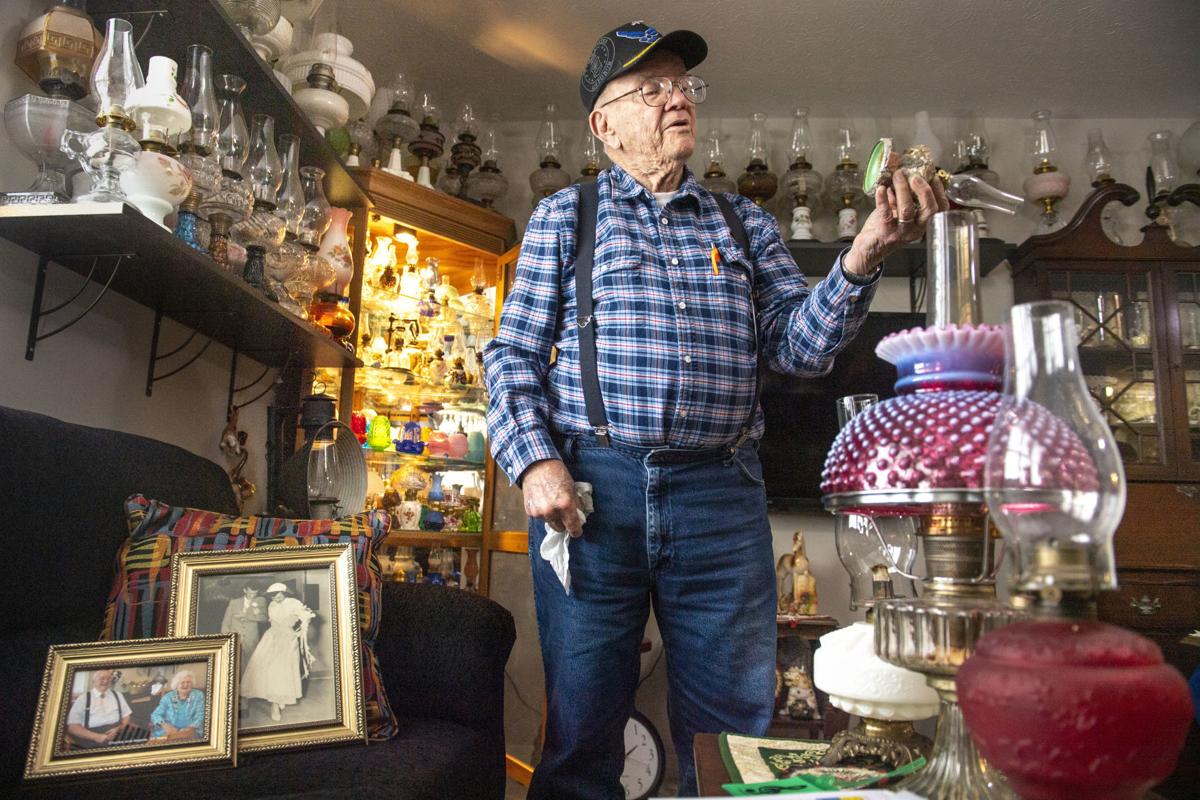 When Phil Phillips isn't running the Pemberly Place gift shop — stocked with retirement home essentials — he might be out on the hunt for another lamp.
Or he might be reading books filled with glossy photos, studying up on oil lamps from the Victorian era or from the Civil War days or pondering the wonders of the piano lamp or the ship lamp or tiny fairy lamps.
Or he might be giving a tour of his room, a shrine to his ever-growing lamp collection.
You'll know it when you see it.
I met Phil on Tuesday, and we wandered down from the gift shop to his first-floor room, pausing at a little nook outside the front door and an antique case brimming with lamps.
The lamp collector was wearing blue jeans and suspenders, an Air Force cap on his head.
"This right here," he says. "This is the start of it."
Phil is a widower. His apartment has two bedrooms and two bathrooms. Lamps are everywhere.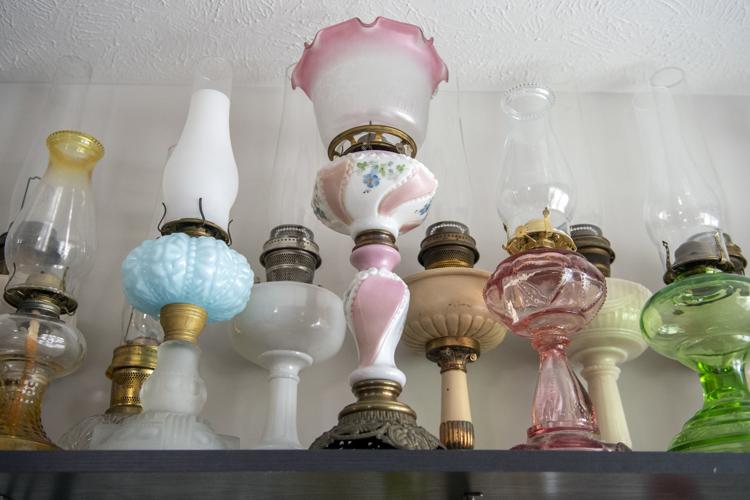 Aladdin lamps and hurricane lamps and finger lamps and stem lamps, neatly lined on shelves, the lamps that helped save him after Argene died.
They'd been married 65 years.
It's been two years since he lost her. His grief was deep. He'd tell his family: I just don't care anymore.
A little more than a year ago, Phil's family helped him move from the assisted-living apartment he and his wife shared to this senior community on the south side of town.
They told the staff about the antiques Phil and Argene had always loved, pieces they'd hunted together over a lifetime, the glass bowls and cookie jars, bureaus and buffets, art and knickknacks, Argene's 7,000-piece thimble collection.
The Pemberly Place people told him to decorate away.
"They said, 'If you can hang it, we can patch it when you leave.'"
I'm chatting with Phil in his living room, surrounded by walls that will one day need patching, all the lamps he never lights.
They all have stories, Phil says. And then he tells them.
The inverted chimney lamp. "That's one of a kind."
The Goddess of Mercy lamp. "We picked it up in 1965 in Japan."
"This lamp right here is a ship lamp."
"That's a World War I tent lamp there on the commode."
"This one is called turkey feathers."
"That is what you call flash glass."
"Shell lamps from Napoli, Italy."
The lamps are more interesting than I had imagined, talismans of other times and places and the lives lived in their glow.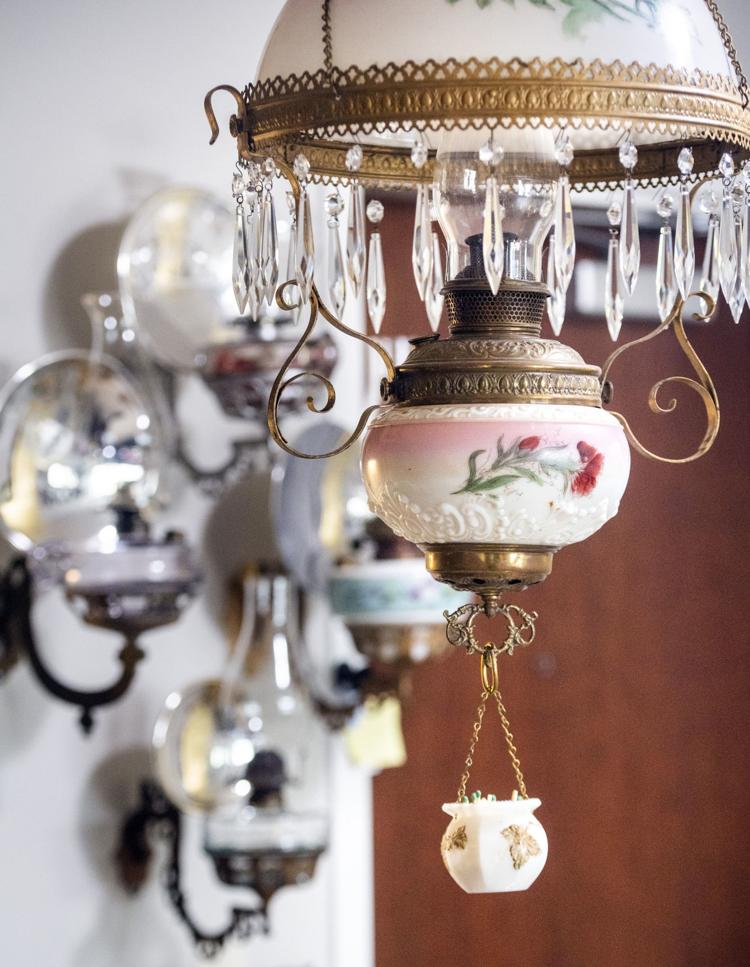 But I want to know about him.
He was an Air Force air traffic controller, Phil says. Argene was a homemaker. The oldest of their three boys attended 13 schools in 12 years.
The couple met in Atlanta on a blind date. The man from Missouri was stationed on a nearby Air Force Base. She was a secretary from South Dakota. A month later, they were engaged. Three months after that, they were married.
The widower brings a framed photo out from his lamp-lined bedroom: Phil and Argene on their wedding day, smiling under a shower of rice.
"Look at those skinny rascals!"
There's a newer photo, too. Phil a little rounder; Argene with a thick wave of snowy white hair.
"She was the heart of the family," he says. "I was the hardhead."
They raised those boys, became grandparents and great-grandparents. They retired to Spearfish, South Dakota, and a home filled with antiques they'd collected the world over.
They moved to Lincoln to be closer to family when Argene's health began to slip.
Phil talks about the end table from Turkey and the Last Supper in bronze from Spain and the thimble Argene had custom made from Montana agate.
He talks to her, he says. He tells her about the lamps.
"When Mom passed, it was so sudden, so I didn't adjust very well," he says. "My family was looking for something to help me."
Phil had four lamps when he moved to Pemberly Place.
He's pushing 400 now, says Kathie Phillips. Collecting them in Argene's memory.
Kathie is married to Phil and Argene's son, Don.
To help Phil through his abiding grief, the couple began taking him on lamp-hunting trips to Iowa and South Dakota and Missouri and all over Nebraska, too.
With each lamp, the cloud of darkness began to dissipate, Kathie wrote in an email.
"This hobby and collection has brought him from a place of despair to one of joy and active learning."
Last year, he learned to use a computer so he could work in the gift shop, says Bobbie Scissors-Meyers, community relations director at Pemberly Place.
He ushers residents — who sometimes return with their families — on tours of his lamp-museum apartment.
He wants to learn to play the dulcimer.
"He is an old hillbilly, and he loves having a hillbilly musical instrument," his daughter-in-law says. "You are never too old to learn, and he is a great example of that."
I learned a lot about oil lamps at Pemberly Place on Tuesday.
And about an old man who learned to love life again, after losing the love of his own.
Get local news delivered to your inbox!
Subscribe to our Daily Headlines newsletter.