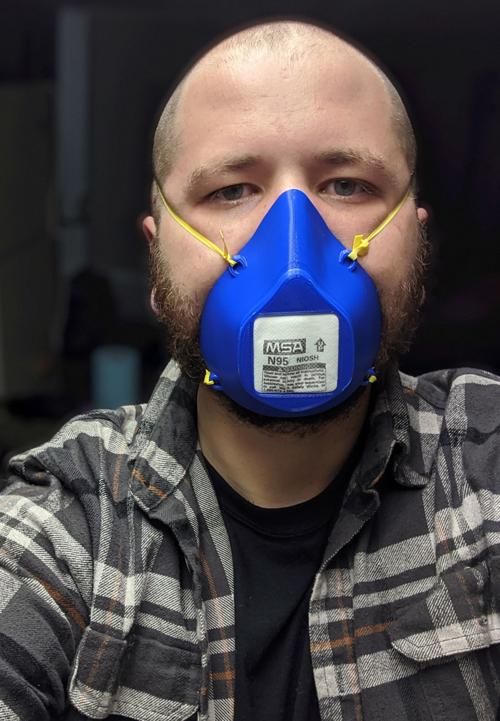 After his 3D printer sat in a box for almost two years, Nolan Miska finally had a reason to take it out.
He'd seen videos of people in Italy producing ventilators with 3D printers for medical professionals and decided he wanted to do something similar in wake of the novel coronavirus pandemic.
"I had never used it before but decided to learn how to make masks and face shields," said Miska, a 31-year-old Lincolnite who works at Schaefer's. 
On March 21, he started testing designs for face shields. A couple days later, he did the same for masks. Then, all Miska needed was supplies.
Stephaney Lynne Peterson and her husband were looking for someone with a project such as Miska's in hopes of funding it.
Peterson came across Miska's project through a Facebook group intended to help people request and offer help in response to COVID-19. 
There was a post asking if anyone had a 3D printer. Through it, Peterson learned of Miska's project.
"I had been trying to figure out how to help Lincoln in everything that's going on because it's horrible," Peterson said. "But then I saw that post and knew I wanted to help him."
Miska and Peterson started messaging about things he needed. She asked how much money he would need for the project.
"He said he'd only need $150 for his goal, but I knew he'd need more than that," she said.
The original goal was $500, but they met that within three days. Now, the goal has been quadrupled to $2,000. As of Monday, $1,355 had been raised. 
"I'm overwhelmed and motivated, and I can't believe the amount of support I'm getting," Miska said. "It's unbelievable." 
But the support doesn't end there. 
A business in Eagle is also helping Miska produce masks and face shields. 
Christopher LeFrois, owner of 3D Printer Filaments, has provided Miska with three new 3D printers, thanks to the GoFundMe donations, in addition to the products needed to print masks and face shields. LeFrois is also using two of his printers to help with the project.
With the five printers, Miska said they are able to speed up production. He said it takes 12 hours and all five printers to make about 24 masks or face shields.
The masks and face shields will be donated to hospitals and care facilities around Lincoln and Omaha, as well as shipped wherever there's a need for them, according to Miska.
He hopes word gets out to more people with 3D printers so that more masks and shields can be made. He's already been contacted by several hospitals and first responders in need.
Miska will keep at it because he believes in the cause, and Peterson said that makes him the perfect man for this job.
"He's one of those people that you look for in times like these because they give you hope and restore your faith in humanity."
Videos, photos: Creating community during the COVID-19 crisis