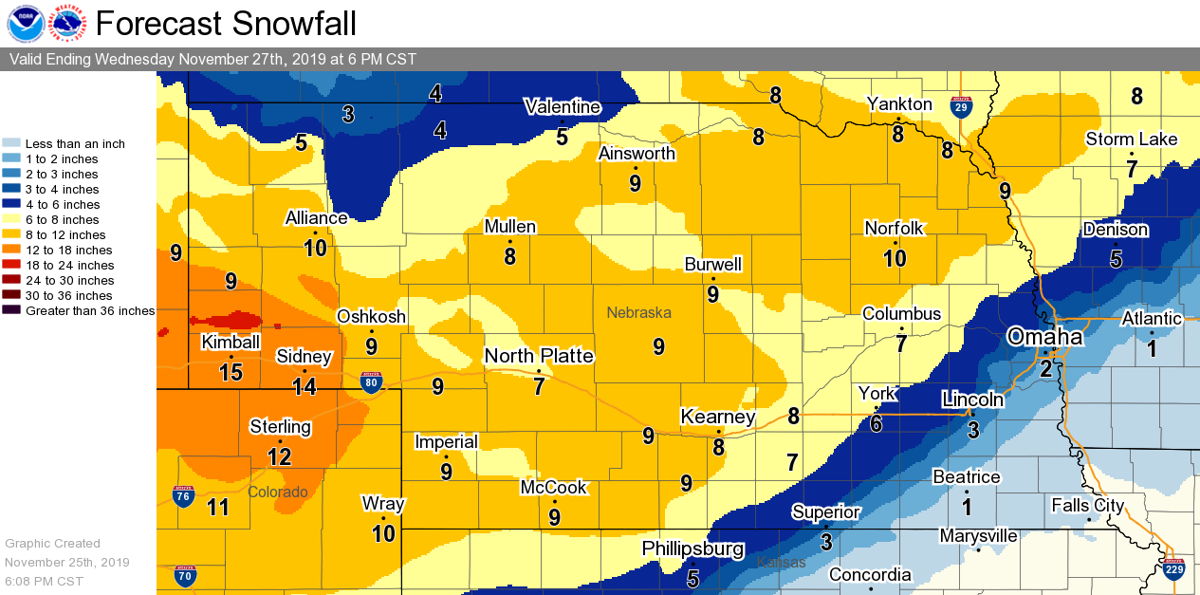 If you're dreaming of a white Thanksgiving, there's a good chance you'll get your wish.
A major winter storm was forecast to sweep across the state, with snow starting Monday afternoon in western Nebraska and extending through Wednesday morning along the Missouri River.
When it's done, the storm could drop a foot of snow across the southern tier of Panhandle counties, with at least 6 inches likely falling across a wide swath of the state west and north of an Alma-to-Hastings-to-Tekamah line. That area is included in a winter storm warning.
As of 7 p.m. Monday, Lancaster County was in a winter weather advisory, with snowfall totals in Lincoln dependent on when rain changes to snow Tuesday and whether the track of the storm shifts, forecasters said.
While Tuesday's games are expected to go on, the weather affected travel for followers of teams in the state high school football championships at Memorial Stadium.
Scottsbluff High School, which played in the Class B title game Monday night, canceled buses that were going to take its band, cheerleaders and students back and forth across the state.
Jeff Smith, superintendent of Oakland-Craig Public Schools, made a similar decision after weighing options for the Knights' Class C-2 championship game Tuesday afternoon.
The school canceled two school buses set to bring the band, students and staff to Lincoln.
"It is stressful," Smith said Monday while weighing the decision. "You want to make a good, safe decision for everybody, but you also want to support the team."
Tuesday's games at Memorial Stadium pit Wahoo against Pierce at 10:15 a.m., Oakland-Craig against Sutton at 2:45 p.m. and Omaha Westside against Bellevue West at 7:15 p.m.
Forecasters expect warmer temperatures Tuesday to keep precipitation as rain for several hours in Lincoln, possibly as late as sunset.
You have free articles remaining.
Still, the forecast calls for 2 to 4 inches of snow along the I-80 corridor from Lincoln to Omaha, with 1 to 2 inches from Omaha east into Iowa. 
The snow that does fall is likely to make travel difficult, with the weather service warning of "near whiteout conditions" in some areas.
In the Lincoln area, winds could gust near 40 mph Tuesday night and near 35 mph Wednesday.
As of Monday afternoon, several flights to Denver from both Omaha and Lincoln scheduled for Tuesday had been canceled. The Denver area was forecast to get up to a foot of snow Monday night into Tuesday.
The Denver Post reported that several airlines, including United, which flies to Denver from Lincoln and Omaha, and Southwest and Frontier, which fly to Denver from Omaha, were offering fee waivers, allowing passengers to change their flights.
The University of Nebraska at Kearney announced Monday that it would be closed Tuesday and Wednesday because of the forecast, which calls for 6-8 inches of snow in central Nebraska. The university also announced that a women's basketball game scheduled for Tuesday was postponed, while a men's game against Wayne State College was moved to Wednesday.
Hastings College also canceled classes Tuesday, as did several area school districts.
While the heaviest snow is forecast to fall Tuesday, there are chances for widespread snow of up to 2 inches Thursday.
In fact, Lincoln could see measurable snow on Thanksgiving for the first time since 1995.
"This is a white Thanksgiving for almost all of us," said Mike Moritz, a meteorologist with the National Weather Service in Hastings.
Temperatures are forecast to climb into the mid-40s, with rain possible, for the Nebraska-Iowa game at Memorial Stadium on Friday.
Photos: Historic snowstorms in Nebraska