The loneliness caught up to him early in his 200,000-mile road trip.
Mikah Meyer has climbed Hawaiian volcanoes, flown into the most remote areas of Alaska, snorkeled the seas off the Virgin Islands. He's documented it all for his 70,000 Instagram followers — his smile in the foreground, majestic landscapes in the background.
But there were moments his camera didn't capture.
"It's been pretty lonely," he said this week, back in the U.S. from a quick trip to Guam and getting ready to return to Nebraska this weekend. "Being alone in the low moments or being alone in the high moments, no sunset can replace the right person."
He found an important reason to keep going, though, to finish what he started in 2016, when he gave up his jobs and his home in Washington, D.C. At the time, he'd bought a van and made a plan — to be the youngest traveler to see all of the National Park Service's nearly 420 official sites, and likely the only visitor to do it in one continuous trip.
The 2004 Lincoln High School grad's pilgrimage was inspired by what his father had missed. Larry Meyer, the longtime pastor at UNL's Lutheran Student Center, died when he was 58, before he could enjoy retirement.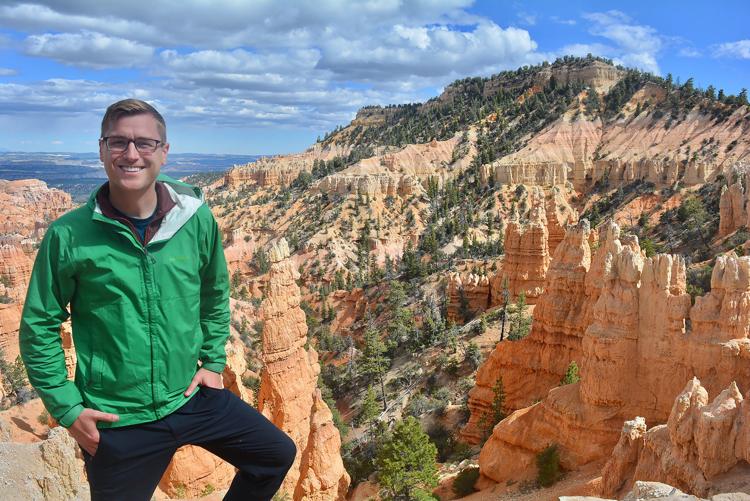 After the funeral, Mikah Meyer took a long, grief-clearing drive in his father's Hyundai, and then a few years later, he took a longer one. He vowed to retire this way, a little at a time before it was too late.
His third trip started simply. How about visiting all 60 national parks? Then it became more ambitious: Why not bag all of the park service's nearly 420 units? Its parks and parkways, memorials and monuments, historic sites and seashores, trails, riverways and recreation areas?
His boyfriend at the time joined him for much of that first year, the two of them marking up a map in the 70-square-foot van they shared. "A lot of married couples said, 'That's really impressive that you've made it that long,'" Meyer said.
But he was on his own after that first year. There were times when the van got too cold, or what remained of his trip seemed too daunting, and he found himself longing for his normal life.
"I've pretty much been there many, many times," he said. "And the only reason I've kept going is hearing from people from around the world about how this trip has inspired them and changed their life."
One message stands out. Two years ago, a 15-year-old reached out to him on Instagram. The boy was a student at a private Baptist school in Texas. He was gay, but he was afraid to come out.
The teen was inspired by Meyer, who had grown up, and come out, the gay son of a Lutheran minister. He was also inspired that a professional choir singer could upend his life to try to make travel history.
The student told him: Now I know when I grow up I can be ordinary. Now I know when I grow up I can also be extraordinary.
You have free articles remaining.
And Meyer was inspired by the teen — because even though he was out, he wasn't advertising it at the beginning of his journey.
"The first nine months, I was trying to hide the fact I was gay," he said. "This was the moment where I was like, 'I've got to be more open about being gay; I've got to be more open about who I am, so people like this kid don't feel alone.'"
He'd tried to find corporate sponsors before the trip, but he couldn't find any evidence the outdoors industry embraced the LGBT community. No gay couples in advertisements, no outdoorsy campaigns during Pride Month, no gay people with endorsements.
And one of the few sponsors he'd found terminated the contract, saying Meyer was doing too much LGBT outreach, he said, though he declined to name the company.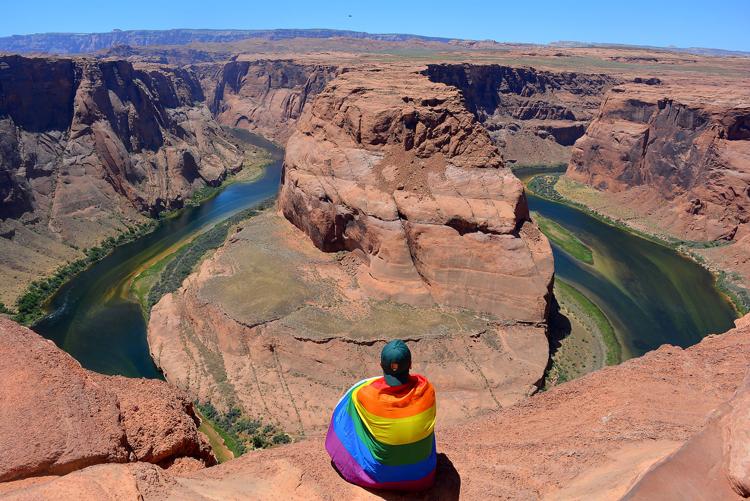 He was undaunted. He started posting more photos with his rainbow flag — at Chimney Rock, Denali, Arches, beneath the redwoods — and those became his most popular.
Without the sponsorships he'd hoped for, Meyer found another way to pay his way. In 2017, he was invited to sing at a church in Fort Lauderdale, Florida. Then, a few minutes before the service, the pastor's son learned he was expected to preach, too.
"I talked about my parks journey, growing up gay in the church, what it's been like after coming out and tied it into the gospel somehow — and that sermon has been evolving since."
That Florida pastor called another pastor, who called another, who called another. Since then, Meyer has spoken and preached and performed in about 150 churches.
He appears for free, presenting a donation box when he's finished. "It's always been enough to keep me on the road," he said. "It's pretty magical."
And even though REI gave him a sponsorship late last year — maybe making Meyer the first openly gay spokesman for an outdoors company — 95 percent of his trip's funding has come from outside the industry.
He's logged nearly 200,000 miles by van, plane, boat and train. In Alaska alone, he spent 77 days visiting its 23 park service sites, flying to 17 of them on bush planes — including Aniakchak National Monument, the service's least visited unit. More people climb Mount Everest every year than visit the volcanic crater.
He recently flew through China to return from Guam, where he visited the War in the Pacific National Historic Park, number 389 on his list of 418 sites.
Which means his trip is coming to an end. He'll speak and perform in Omaha and Lincoln this weekend, and then he'll be in the homestretch. His remaining sites are within a two-hour radius of Washington, and he'll finish at the Lincoln Memorial on April 29 — three years to the minute he began his trip, and the 14th anniversary of his father's death.
And he's looking forward to that moment. He added a countdown clock to his website.
"Honestly," he said. "I'm pretty exhausted."