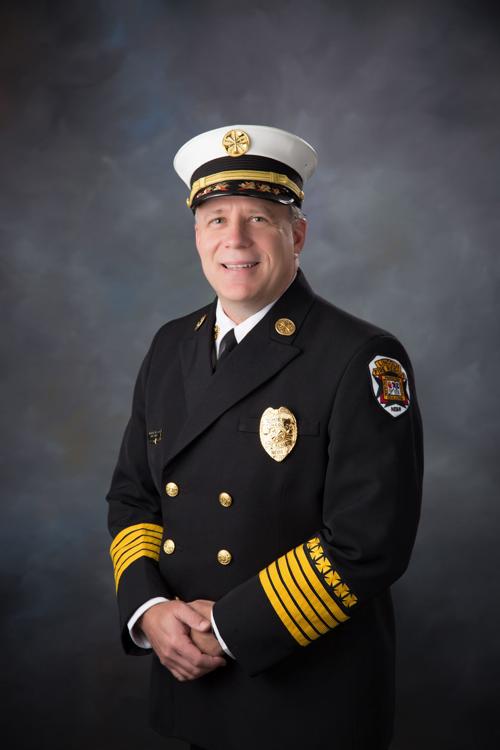 Fire Chief Micheal Despain will retire in March 2020 after leading Lincoln Fire and Rescue during two mayoral administrations.
Despain's retirement will conclude his three-year tenure in Lincoln after a 32-year fire service career in California.
Then-Mayor Chris Beutler tapped Despain in 2016 to succeed John Huff, who retired in June 2015. 
Despain came to Lincoln hoping to equitably manage the fire department's resources and improve emergency medical and fire service at the best cost to taxpayers, he said. 
In announcing Despain's retirement, Mayor Leirion Gaylor Baird thanked him for his work maintaining one of the best cardiac survival rates in the nation, replacing 13 outdated fire rigs, implementing the fire station relocation plan and improving response times by 8% despite an 18% increase in workload.
"We have been fortunate to have his leadership at Lincoln Fire and Rescue during a time of growth and change," Gaylor Baird said in the release.
"I appreciate the good relationships he developed with the community, elected officials and the employees of LFR. His hard work, data-driven approach and commitment to excellence have helped to make Lincoln a safer community."
Despain said he is providing his retirement notice now to allow adequate time to recruit his replacement and to help with the transition. His final day at LFR will be March 6, 2020.
"I've been extremely honored and blessed to work alongside the men and women of Lincoln Fire and Rescue, and even more blessed to be welcomed into the community by friends, neighbors and colleagues," Despain said in the release.
"However, after 35 years in the fire service, it's time to transition into the next phase of life while I'm still healthy and LFR is in a good place."
He said his family intends to stay in Lincoln and "explore more ways to give back to the community we've come to love."
Under Despain, LFR received more than $3 million in grants, and the cost of fire service per capita remained 31% below the regional comparative average. The ratio of female-to-male firefighters is now almost triple the national average. The city's fire insurance rating was upgraded for the first time since 1974, reducing costs for property owners, the news release said.
He expressed gratitude to Beutler for bringing him to Lincoln and to Gaylor Baird for her leadership since she became mayor in May.
The search for a new fire chief will be the mayor's third department director search since she took office.
She is also seeking permanent directors for the Lincoln-Lancaster County Health Department and Lincoln Transportation and Utilities.
LFR has a staff of about 325 and provides emergency response to fires, vehicle crashes and medical emergencies and emergency ambulance transportation; delivers fire safety education; promotes fire prevention to local residents and businesses; and is the host agency for Nebraska Task Force One, an Urban Search and Rescue Team serving as a component of FEMA's national disaster response system.
Lincoln City Councilman Bennie Shobe said Despain was well-liked among city leaders and rank-and-file firefighters. 
"I hope we can find someone to replace him that has the same passion and can continue to move Lincoln forward," Shobe said.
Get local news delivered to your inbox!
Subscribe to our Daily Headlines newsletter.