As the days got shorter and nights cooler, James Mowbray and Dorothy Walker packed up their belongings at the Sweetest Thing, the acreage on a hill near Denton they'd loved for years, and headed for the Florida Panhandle with their dog, Sophie.
The longtime couple, both retired attorneys, had spent winters bouncing around to different RV parks. But they finally had decided to officially make the move to soft, sandy beaches and Februarys in the 60s.
On Labor Day, they unpacked boxes at their new home, three blocks from the beach, in the Magnolia Bluff area of Port St. Joe.
Just more than a month later, though, they'd be on their way back out of town in their RV, headed for Troy, Alabama, and out of the path of an approaching storm.
"We consider Hurricane Michael our welcome wagon, and he came in with a bang," Walker said in a phone call last week, a day before she and her husband finally were able to get back home.
On Oct. 10, the hurricane, said to be the third most-intense Atlantic hurricane to make landfall in the U.S., swept through their new, little town. Folding over the steeple of the church and leaving homes and businesses that had been there for years in pieces like piles of sticks.
In a post the next night on Facebook, Walker told friends:
"Our sweet little town of Port St Joe Florida has been destroyed as have other towns nearby. There is much work to be done to recover from the brutality of Hurricane Michael. Keep us in your thoughts. And give what you can to the Red Cross. There are many people here who have lost everything and had very little before the storm. Hold this sweet little town of 2,500 in your thoughts and hearts."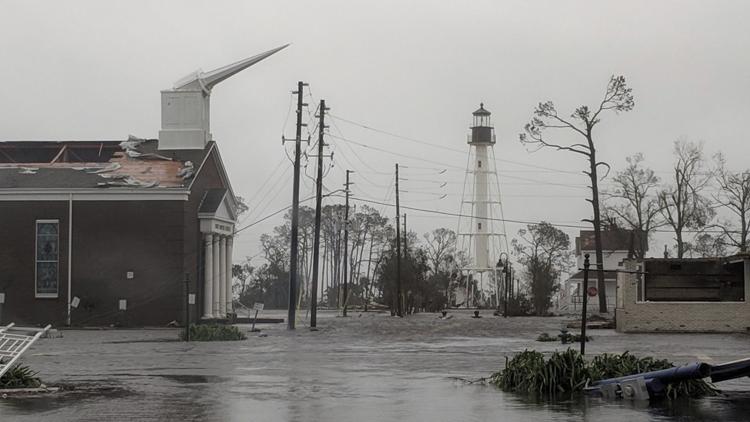 Just a few days earlier, they'd snapped pictures on the beach.
Now, whole swaths of their town and Mexico Beach, just three miles from their home, looked war-torn, victims of unrelenting 155 mph gales and a 10-foot storm surge from the Gulf.
"The water just rolled through these homes and took everything out with them," Mowbray said. "The damage, it's just incredibly bad."
Corrugated steel was everywhere, like bits of toilet paper, he said. Winds uprooted oak trees, tipping them over like bowling pins. Power poles were snapped and lines scattered all over.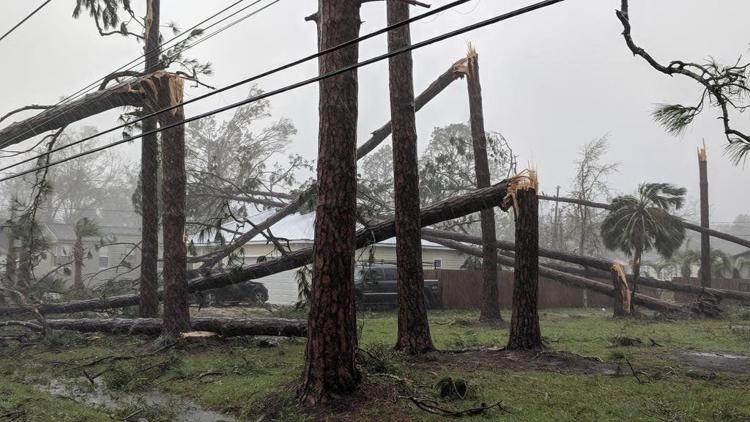 Beautiful homes just destroyed, Walker said.
When the hurricane still was at sea building up steam, then a Category 2, Mowbray said they decided to take their trailer and get out. By the time it had turned into a Category 4, their whole neighborhood was part of one big text message, letting others know if they were staying or going. Only one couple stayed.
After the storm hit, from an RV park in Alabama, they waited to hear news of their home, to learn if the newly built modern home they had closed on just two weeks earlier was still standing. They got news from the neighbors' texts and from a Port St. Joe group on Facebook.
Mowbray said someone posted a link to satellite images from after the storm and they were able to zoom in and see their roof still intact. A big relief. But they weren't able to get back in as easily as they had left.
That Friday, they spent 12 hours driving 90 miles or so from Troy to Port St. Joe, only to be turned back by police at the bridge into town. They couldn't get in until Sunday.
In a Facebook post that day, Walker gave family and friends an update:
"After seeing our home for the first time since … we felt blessed that we had only minor damage."
Mowbray said they bought a house on a bluff 21 feet above sea level. But almost everything else in town is just a foot or two above sea level.
Walker said it was such a beautiful community, with tall trees and beautiful houses. She remembered saying to Jim on a visit she thought she could live there.
"It's just a very sweet area," she said.
It's not big. There aren't high-rises like at nearby Panama City. Walker describes it as a kind of humble area.
"And though it looks pretty hurt right now, we're not going anywhere," she said.
Wednesday, they and Sophie finally were able to stay home. They hoped to have electricity back soon.
Before the storm, Mowbray said, they had met their next-door neighbors and said hi to some of the others. Now they know the entire neighborhood.
"Now not only have we met them, but we have something in common. You're not strangers anymore," he said.
Three neighbors brought over tools, since his haven't made it yet from Nebraska, and helped him with a temporary fix for the front-porch ceiling. Others took out their trash and kept an eye out for looters.
The local grocery store, left without power like the rest of the town, figured out a system to shop for people. The gas company was giving out propane tanks so people could grill.
Mowbray said everyone has been coming together trying to help everyone else.
Walker said it hasn't all been easy, but they're all right. So many others have nothing, she said. She encourages people to donate to the Red Cross if they can.
She and her husband both said they think everybody in town got a little bit closer after the storm.
"I think it's going to be the community I thought it was," Walker said.