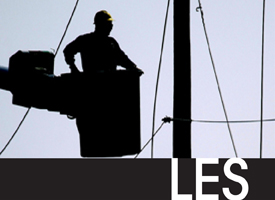 The No. 1 issue for the nation's electric industry is an Obama administration plan to reduce greenhouse gas emissions from power plants that burn fossil fuels, said Sue Kelly, president and CEO of the American Public Power Association.
The Clean Power Plan calls for reducing carbon dioxide emissions 32 percent nationwide by 2030. Each state gets its own 15-year goal. For Nebraska, that's a 40 percent reduction using 2005 emissions as a baseline.
Kelly, the featured speaker at an energy summit Tuesday in Lincoln sponsored by the Lincoln Electric System, said the nation has struggled for years without success to develop a national energy policy.
"This is an energy policy," she said. "Like it or not we have one now. EPA formulated a national energy policy -- not Congress."
The United States has about 2,000 public power systems that make up 14.4 percent of sales to electricity consumers. The association represents more than 1,400 of those systems.
Nebraska is the only all-public-power state in the nation, meaning that every electric utility is publicly owned. For example, the city of Lincoln owns LES.
Increasing the efficiency of coal plants, switching to natural gas, which has fewer carbon emissions than coal, and adding more renewable energy are among ways states can meet their goals. Trading emissions with other states is also allowed under the plan.
States have until Sept. 6, 2016, to submit preliminary plans to the U.S. Environmental Protection Agency on how they'll reach their goals, and final plans are due in three years.
Nebraska is one of 24 states suing to block the federal effort, but it is also working to develop a state plan to reduce emissions.
"The states are deeply involved ... but they are deeply conflicted," Kelly said, citing a legal battle brewing in Washington, D.C.
Over 100 petitions for review have been filed by states, coal companies, electric utilities, trade associations including the American Public Power Association, manufacturers and the U.S. Chamber of Commerce in the U.S. Court of Appeals District of Columbia Circuit.
Some states and environmental groups support the goals of the Clean Power Plan, while other states and groups oppose it and are asking the court to issue a stay, Kelly said.
Climate change is a real issue that needs to be addressed, but the American Public Power Association has some concerns about the Clean Power Plan, said Joe Nipper, the group's senior vice president for regulatory affairs.
"The final rule that was issued places a very heavy and costly compliance burden on a number of states, and so we're concerned about the cost impacts to consumers as a result," he said by phone Tuesday. "We believe the EPA has substantially overstepped its authority here."
Kelly said President Obama will certainly block any congressional effort to undermine the Clean Power Plan and it is "almost inevitable" that the issue will end up in the U.S. Supreme Court.
"All eyes are on the D.C. Circuit," she said.