I met Brad Stewart in the spring of 2019. He was paying the bills by making sandwiches while trying to get a Sunday night comedy showcase at the Zoo Bar some much-deserved ink.
It was hard to believe that less than a decade earlier, he was considered one of comedy's up-and-comers.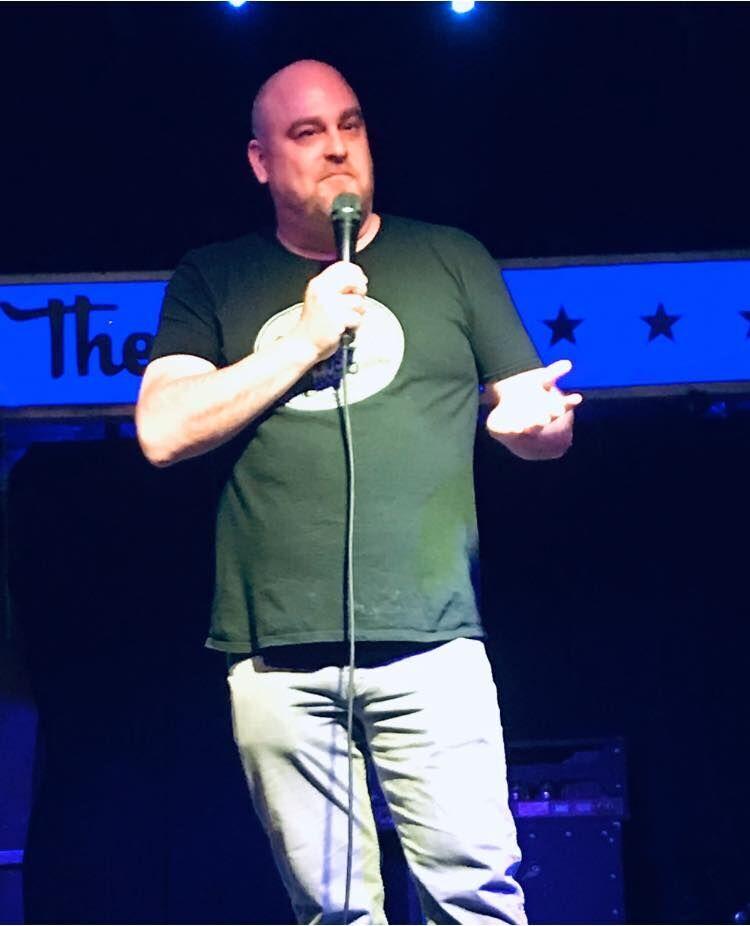 He'd left Nebraska days after his 21st birthday, a few too many credits short of his bachelor's degree at the University of Nebraska-Lincoln, in search of acting fame in Southern California.
He quickly discovered stand-up comedy. Just as important, it discovered him.
He was opening for the late Joan Rivers, which was beginning to open doors for the native of Arapahoe.
Coming back to Nebraska was never in the plans. Then again, neither was his father's Lou Gehrig's disease diagnosis or the help his elderly mother needed in caring for him.
Stewart came home without having to be asked twice because that's who he was. Family came first.
Stewart, 48, died on Monday. Damn cancer claimed another good one.
He might not have realized the comedy stardom he'd hoped for, but he leaves behind a lasting legacy in the Zoolarious showcase that was becoming known nationally.
In eight years of promoting – and hosting – the Sunday night shows, he brought in a number of well-known comics, including Derek Sheen, Eddie Pepitone and Alonzo Bodden.
"He put his heart into it and it was amazing to watch," said Pete Watters, owner of the Zoo Bar. "He was relentless in building it up. He kept going and going."
Stewart's logic about Zoolarious was spot on. If given a reason, comics playing a weekend set on the east or west coast might lay over in Lincoln for a Sunday night show on the way home. And playing a room like the Zoo Bar, with its rich jazz history and downtown charm, only added to the experience.
"Brad Stewart created Nebraska's hippest comedy show to date," said Pepitone, the New Yorker also known as "The Bitter Buddha" who headlined a Zoolarious showcase in July.
The Lincoln appearance by Pepitone, the subject of a television documentary who has also appeared in several sitcoms, brought pure joy to Stewart, mostly because he knew the people of Lincoln were in for something special.
"Brad was an undeniable talent who was also the biggest fan of standup I've ever met," said Sheen, who lives in Seattle and headlined Zoolarious last fall. "It's rare to meet a comedian who takes almost more joy in watching his friends discover one of his favorite comics than he did in performing himself.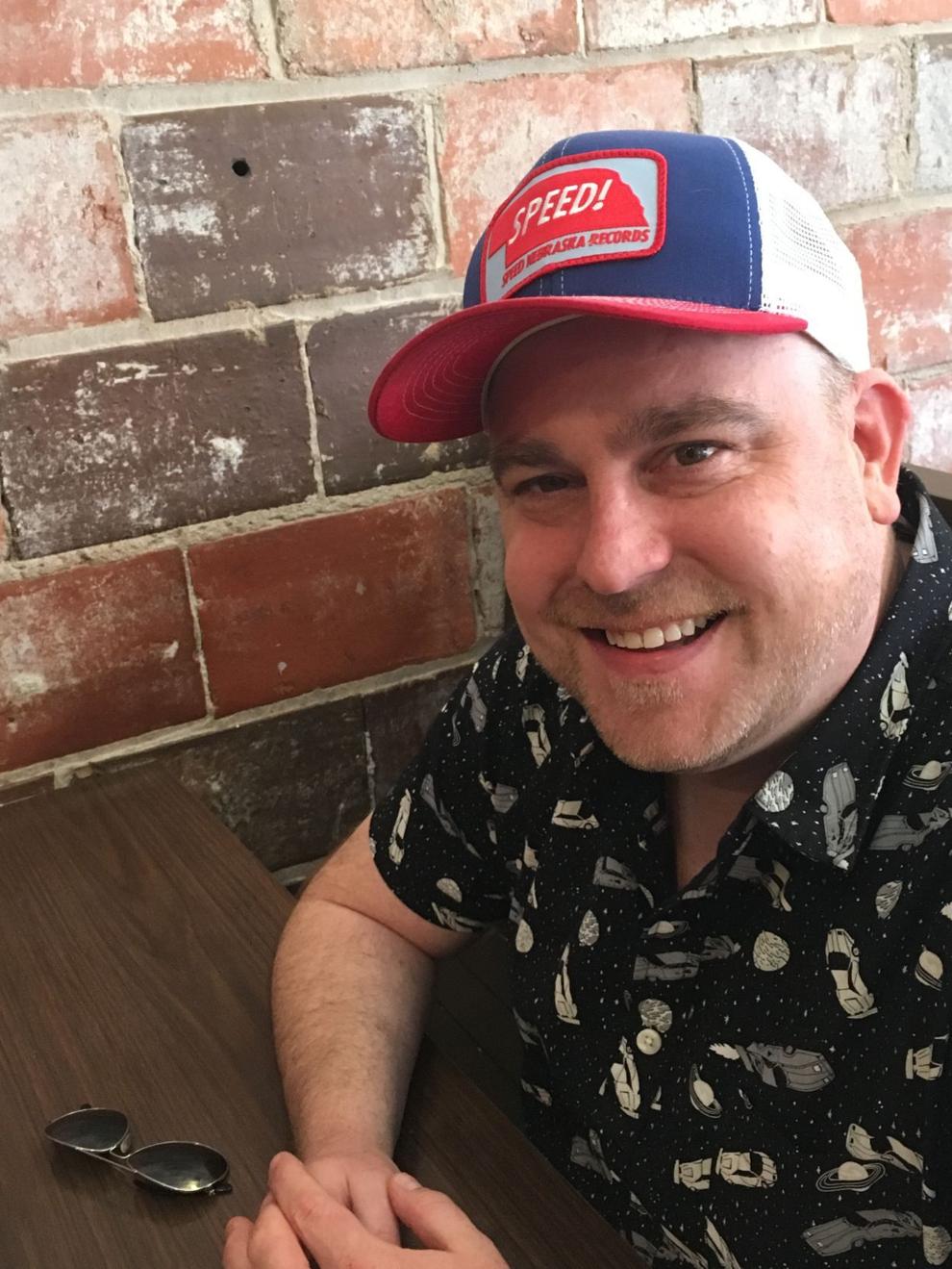 "Brad didn't just help create a comedy scene in Lincoln. He created a community. I miss him terribly."
Lincoln's comedy scene extended to local music and the arts and was one that Stewart talked about frequently – especially with his friends.
"His support was more pronounced than anyone I can think of," said Mike Semrad, a local musician and executive director of Lincoln's Jazz in June series. "We always talked about how we can make the scene better and more supportive of one another. It grows, we grow. His obsession for doing that was immense."
In February, Stewart's career took a distinctively different turn when Omaha Sen. Robert Hilkemann hired Stewart to be his administrative assistant.
"I've always been interested in local politics," Stewart said at the time. "… And it's a nice change from the food service industry."
That illustrated the self-deprecating charm and humor of Stewart. He didn't hide from his sandwich-making past. He embraced it.
Now we're left wondering what will become of Zoolarious. Not even Watters knows at this point.
"Comedy is just not my forte," he said. "If someone came up to me and said, 'Let's keep it going,' I would be all ears."
Maintaining what Stewart started seems like the proper way to keep alive his legacy. But Watters is right. It's going to take someone with the network of connections that Stewart had built, not to mention a lot of energy.
Finding someone like that will be no small task. Nor will it happen overnight.
Maybe today, the goal shouldn't be moving forward as much as it is remembering him, while honoring him with a small gesture.
Here's an idea: At the first Zoolarious showcase, Ed Salazar, an Omaha native who Stewart met in California, opened the show by high-fiving every member of the audience.
The preshow high-five became a Zoolarious tradition. No matter how big the crowd, the show didn't start until every audience member had been sufficiently greeted with a high-five from Stewart.
Give someone a high-five today in honor of Brad Stewart. He will be missed.
10 things to know about Larry the Cable Guy
How Larry came to be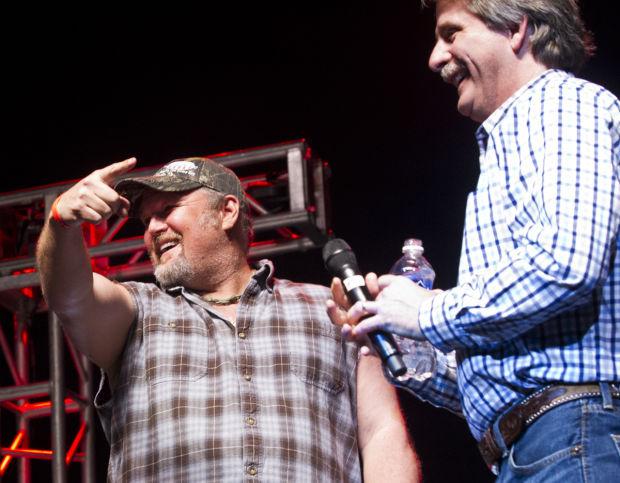 Dan Whitney toured for years under his own name and spent 13 years calling morning shows of 30-some radio stations -- including Todd and Tyler at Z-92 in Omaha -- five days a week.
"I knew I had to create my own breaks," Whitney said. "I couldn't sit back and let something happen. If I had an opportunity to do it, I did it. Sometimes, it paid absolutely nothing. But you never knew who would be in the crowd or what was going to happen."
He discovered the voice of Larry the Cable Guy while hanging with Jeff Foxworthy and other comedians at Atlanta Braves spring training baseball games. He has always been able to do a Southern accent, and "we were trying to crack each other up."
He began using the voice at a show in West Palm Beach in 1991 (or 1989 - accounts differ) because Whitney was "bombing, and it got a laugh," he told the Journal Star's Jeff Korbelik.
A radio friend in Tampa, Florida, heard him and asked Larry to call his show and use the voice. Larry pretended he was going to install cable TV. It took off from there, he told Korbelik.
In 1998, the up-and-coming comic performed at the now-closed Royal Grove in Lincoln.
"It's like a cult following," Whitney said in 1998 of his then-growing popularity. "I'm just as shocked as anybody else."
Owner of a bull, other interests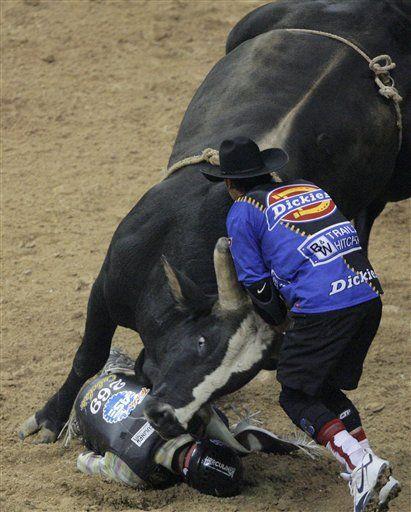 Larry the Cable Guy has an extensive merchandise line as well as CDs and movies. He also has done commercials for Prilosec heartburn medicine.
Larry and four-time Professional Bull Riders Stock Contractor of the Year Jeff Robinson also own a bull named Chicken on a Chain. The bull is being honored in 2015 as the brand of honor at the PBR Heroes & Legends Celebration in October. Chicken on a Chain competed in the PBR from 2005-2012 and was 2007 champion. 
Larry also was part-owner of a now-defunct sports bar in Omaha, the Scarlet & Cream Letter Club, with former Huskers. Last year, he partnered with 50 Cent and others to buy Hang w/, a social video app.
The man behind Larry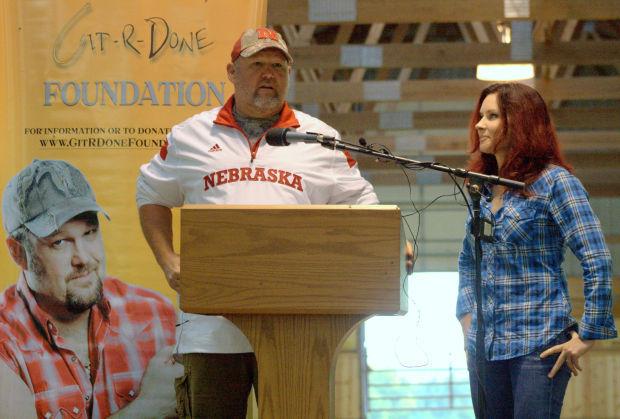 Dan Whitney was born Feb. 17, 1963, and grew up in Pawnee City. He is 52. He and his wife, Cara, got married in 2005 and live just east of Lincoln on a $2 million acreage. They have a son, Wyatt, and daughter, Reagan.
Whitney's family moved to West Palm Beach, Florida, in 1979 when he was a sophomore in high school. Whitney attended Baptist University of America in Georgia but didn't graduate before going full-time with his comedy career.
In Nebraska, his father was a minister in nearby Humboldt and Verdon and a guidance counselor at Wymore High School. The senior Whitney had been a guitarist for the Everly Brothers.
"My dad was a hard worker," Whitney said of the late Tom Sr. "He had a ton of jobs and never took a break. I guess I learned from him. Everybody (in Pawnee City) is like that. You just don't sit back and wait. You go out and make it happen."
Whitney was the youngest of three children. He played trumpet in the school band, and his family raised pigs.
After Whitney moved to Florida, he returned the next three summers.
"My friends in my graduating class, we literally were like a family," he said. "We had been together since kindergarten.
"When I moved to Florida, I never forgot my Nebraska roots."
And when he had kids, he moved back permanently to give them the chance to grow up the way he did.
Git-R-Done Foundation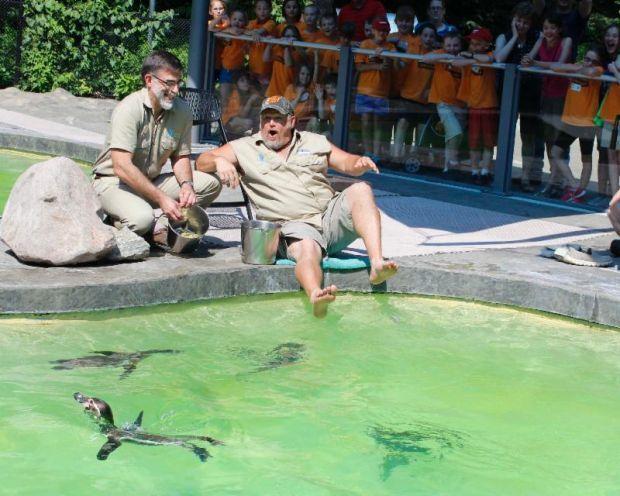 Larry started the Git-R-Done Foundation to benefit children and veterans. The foundation has a yearly golf event, this year benefiting the Bryan Health Neonatal Intensive Care Unit Rooftop Healing Garden. It also has donated to Morning Star Riding Center and Creighton University (for prosthetics) within the past year.
Larry has donated more than $7 million to various charities, including $1.2 million to Madonna Rehabilitation Hospital for a pediatric rehabilitation hospital and more than $1 million for the Lincoln Child Advocacy Center.
"I had the chance to see Madonna's work in helping kids overcome all types of injuries and illnesses, and after I met Alexis (Verzal) and saw the big courage in her little body, I knew we had to dedicate the hospital in her honor," he said.
Last year, Larry performed at a benefit for the Team Jack Foundation. When he turned 50, he used the occasion of getting a colonoscopy at Saint Elizabeth to make an online video to urge others to get checked.
"I don't want to die. I've got kids," he said. "Everybody's got somebody who loves them, so you need to get this done."
Larry also has made a series of Zoofari videos with the Lincoln Children's Zoo that have been sent free to hospitals and rehabilitation centers around the country so that children who can't get to the zoo can see what happens there.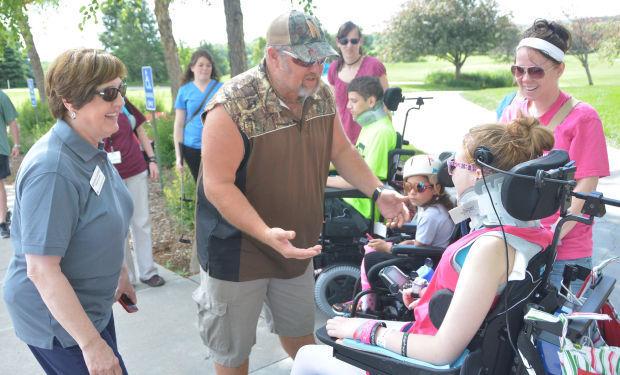 Famous facts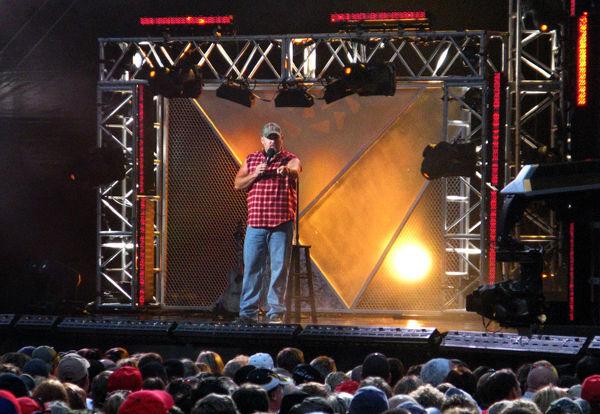 Larry is the voice of Mater in "Cars" and "Cars 2." The comedian has sold out arenas across the country.
He has won multiple Billboard Music Awards and was nominated for a Grammy Award. He worked with Jeff Foxworthy and Bill Engvall on the Blue Collar Comedy Tour and the Them Idiots Whirled Tour, with a recording of the show debuting at No. 1 on the Billboard Comedy Charts. Larry, Jeff and Bill also starred in CMT's animated "Bounty Hunters."
Larry had his own show in 2011, 2012 and 2013 on History Channel, "Only in America with Larry the Cable Guy," which featured an episode of him going to Washington and meeting with Rep. Jeff Fortenberry.
In March of this year, SiriusXM announced that Jeff Foxworthy and Larry the Cable Guy will lead their own 24/7 comedy channel called "Jeff and Larry's Comedy Roundup."
Larry has starred in "Tooth Fairy 2," "Witless Protection," "Delta Farce," and his first feature "Larry the Cable Guy: Health Inspector." 
On July 4, 2009, at Memorial Stadium, Larry performed in front of more than 50,000 fans and taped his Tailgate Party for Comedy Central. The show was a thank you to his fans and Nebraska for their longtime support. Tickets were sold for only $4 and the show sold out in one weekend. The comedy CD of the same name debuted at No. 1 on the Billboard Comedy Charts.
Famous Husker fan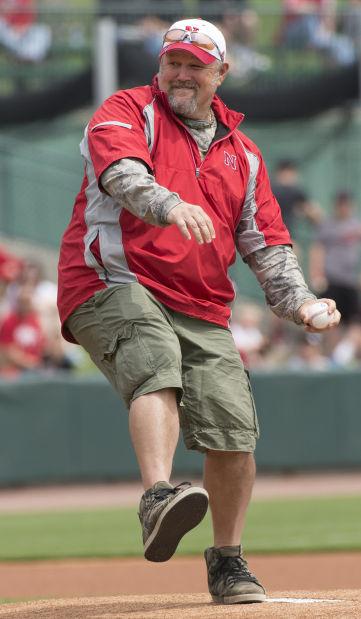 Larry made picks for football games in the Journal Star in the 2006 season. His list included some gems: "I went spearfishin' with a buddy of mine for the first time last week and got five 4-pound koi fish! Boy, the Henry Doorly Zoo really has no sense of humor!"
Larry is often spotted at Husker football games.
"I remember the old dudes at the sale barn when I was about 12 years old bitching about how (Tom) Osborne couldn't beat Oklahoma. They kept saying this thing ain't going to work. Then boom.
"I guess that's why they were pig farmers and not coaches."
Another time, he said: "I still remember how excited we got whenever Nebraska would score a touchdown, even before kindergarten. We never got to attend any games because we didn't have enough money to buy a ticket, but we were like every other person who lived in this great state. The Cornhuskers were our team, and we lived and died with every play."
Whitney's Florida home sported an outdoor basketball court painted in Husker colors, and the pickup he drove in Florida was covered in Husker paraphernalia.
"If you fly over Sanford, you can look out (the plane window) and see a red 'N' and a Husker logo in the middle of the woods," he said in 2006.
"Once a Husker, always a Husker."
Larry's list of the seven wonders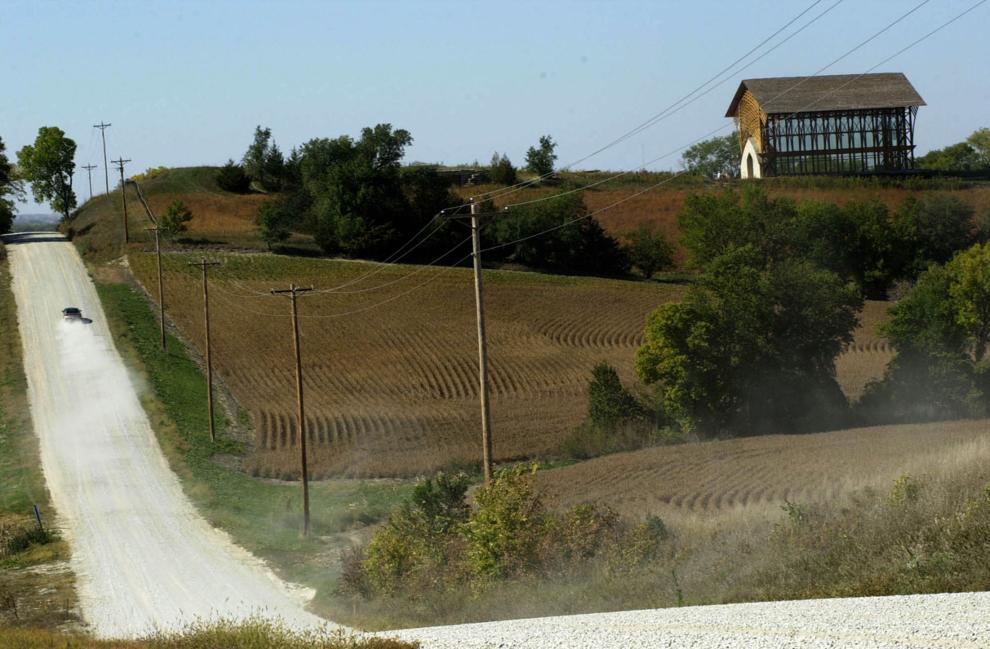 The Journal Star in 2007 asked comedian, native Nebraskan and current resident Larry the Cable Guy (aka Dan Whitney) what he considers the top Seven Wonders in the state.
No problem. He "Got-R-Done."
1. Runza Restaurants: Paris has the Louvre, we have Runzas. Who needs France?
2. The Waco grain elevators: I haven't seen such architecture wonders since the Louisville grain elevators.
3. The apple pie at the Beatrice Sale Barn Cafe: It's so good they actually coax cattle into trucks using a fresh piece of apple pie.
4. That Big Empty Glass Church on I-80 Between Lincoln and Omaha: I don't know what it is or how to get to it, but I have to include it as a wonder because for the last two years my wife and I wonder what the hell that is when we drive by.
5. The Nebraska farmer: They feed the world and keep everyone alive. Enough said.
6. Nebraska Cornhuskers in any sport.
7. The cartoon Marmaduke in the Lincoln Journal Star: Marmaduke hasn't been funny since 1973 and I "wonder" why it is still in the comics.
What others say about Larry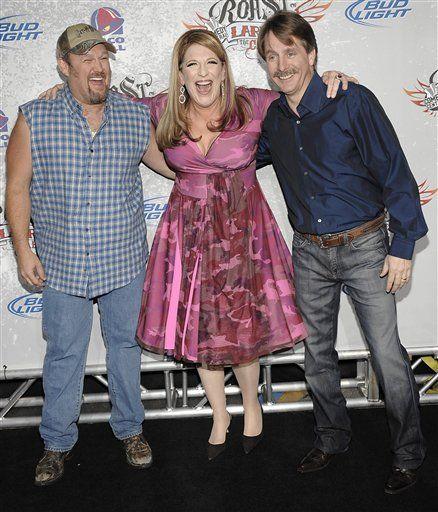 —  "We always tease Dan because he hasn't changed much, and I don't mean that in a bad way," said Pawnee City's Mike Habegger, a longtime friend of Dan Whitney. "He always was a smart aleck. Now, he gets paid for it."
—  "In all seriousness, working with Dan was a terrific experience," Rep. Jeff Fortenberry said after filming for an "Only in America" episode. "It was a pleasure having him visit the office. He's a very generous person who's done a great deal for those in need in our community."
— "Larry the Cable Guy has everything: sleeveless shirts, stupid catchphrases. He's Mr. T without the acting chops." -- Lisa Lampanelli, during a roast of Larry
—  "He busted everybody," former Oklahoma coach Barry Switzer said of a roast at the Champions Club, "and, obviously, he hated me. He's funny as hell. It was a great event."
—  "Don't you kind of feel like the Beverly Hillbillies moved in?" asked Colleen Quinn, manager of Omaha's Funny Bone Comedy Club, during a roast, about Larry's purchase of a Memorial Stadium skybox.
—  "Some people say Larry's only successful because he's pandering to the lowest common denominator, blatantly and not ironically exploiting people's racist and homophobic tendencies. Don't listen to these people, Larry. They're just bitter and jealous and right." -- Greg Giraldo, during a roast
Faith and family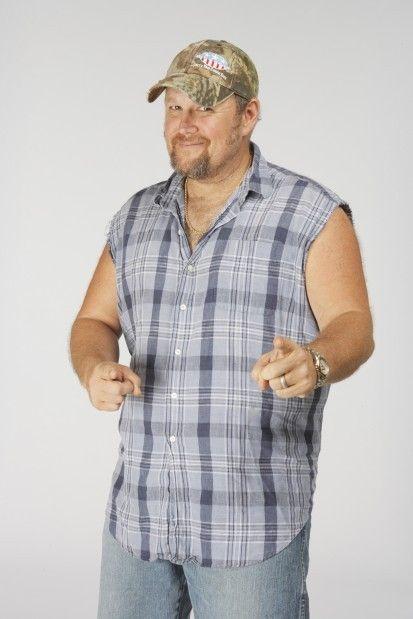 Dan Whitney says his family and his faith are two key drivers for him.
"When you have kids, it completely changes your life, in a good way. Your priorities change. It's not about you anymore. Everything you do is for those kids. You can't explain it to people who don't have kids. It's just funny how everything changes when you have people depending on you. It literally changes every aspect of your life. It's so awesome being a dad. I love every part of it."
During an interview with Randy York's N-sider, Whitney credited his upbringing with his faith.
"I respect the Midwest, and I respect the faith that people have in the Midwest. I have two cardinal rules in my stand-up act. I will not take the Lord's name in vain, and I will not use four-letter words."
Later, he said: "Bottom line, faith is very important to me. How I was raised and the atmosphere I was raised in is very personal.  I hope people understand that entertainment is entertainment. It's what I do to make people laugh and feel better. My concerts are designed to help people get through the day. They are not religious crusades, and they have nothing to do with my own spiritual walk. An act is exactly what it implies -- an act. I don't dig into it any deeper than that."
In the words of Larry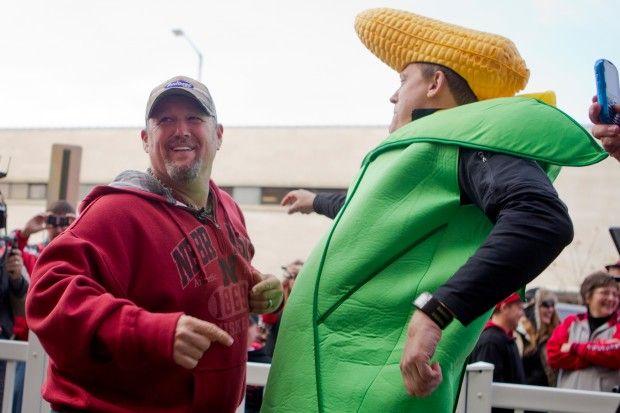 Larry (Dan Whitney) on himself and Nebraska:
— "I'm having the time of my life. It's really amazing. It's all because of my fans. I can't say enough about them. They mean that much to me."
— "Larry says what he feels, and he doesn't care if you like it or not. He tries to make people laugh. He loves everybody. He's not mean. He just calls them a certain way."
"Look, I'm not trying to change the world. I'm just doing comedy that makes people laugh. Goofy stuff. My act is nonsense. Everyday things. Other comedians would call it lowbrow. Who cares? That's what we laugh at. It's a guilty pleasure. I understand it's stupid. But I'm not running for president."
— "Oh man, the greatest days of my life was when I was a kid. I had a great childhood here and was friends with everybody."
— "You know what, I'm very thankful. I'm fortunate I have great fans who like what I do. I'm one of them. I grew up the same way they did."
— "I loved Pawnee City, and I loved every person I got to meet, even though most of them were much older. They took me in and shared their life stories, with a bit of adult humor thrown in for good measure. So I learned at an early age what I could say and get away with and what I couldn't say and not get away with. That sale barn may have been the most important experience I had for my entire approach to comedy."
— "I couldn't be prouder of my state. When I grew up there, it was the greatest time in my life. I'll always try to mention my home state."
— "It's like Dick Cavett says in all those commercials, 'There is no place like Nebraska.'" 
Larry's famous lines:
— "Git-R-Done"
— At July 4, 2009, Memorial Stadium show: "If you need to go to Wal-Mart, this would be the perfect time to go," he said, alluding to his fans' penchant for shopping at the department store. "They've been looking forward to this because it gives them a chance to restock the shelves."
— "Yeah, I love critters. I got a horse with a broke leg, so I had to shoot it." Beat. "Now it's got a broke leg and a gunshot wound." Beat. "What the h*** you shot 'em for?" Beat. "They say it helps the healing process." Beat. "If it ain't better next week I'm going to shoot it again."
— "I was seeing this good-looking girl in Miami for about three weeks. Then somebody stole my binoculars out of the truck."
— "I don't care who ya are, that's funny right there."